I was pretty excited for this event as I had never been to the summer season of Monster Mania. What kind of random and wacky moments will happen again, but in nicer weather conditions? (This convention is indoors, but that means the people dressed up in tons of make up or a full body furry costume are way more hardcore in this season). From my last adventure to Monster Mania, Zach and I didn't really know how to prepare ourselves for a Jersey Horror convention. We pretty much just drank and rolled the dice on the whole thing. We had an awesome time, and really enjoyed the craziness of the event. Like any good dice shooter, this time around I've picked up a on the vibe of Monster Mania. First, I knew that maybe I should come a little later than the opening time to avoid that awful mini game of find a decent parking spot. I was lucky the first day to get a spot near a light poll so I didn't back up into a drunk zombie stumbling around at night. It would've been a funny story to tell my car insurance rep, but not the police. Second, I didn't set a real goal to Monster Mania. I played it by ear and went with the flow. Monster Mania offers the choice of going to the celebrity room, the vendor hall and the panel of the hour in the main conference auditorium. Or you can relax in the movie room and check out a few scenes of a horror movie playing. However, since Monster Mania is kind of unpredictable at times, you get fun situations like celebrities wandering around the vendor hall or people trading stuff in the movie room. I actually sat in the movie room for a bit hoping someone from Return of the Living Dead might show up, but that didn't pay off.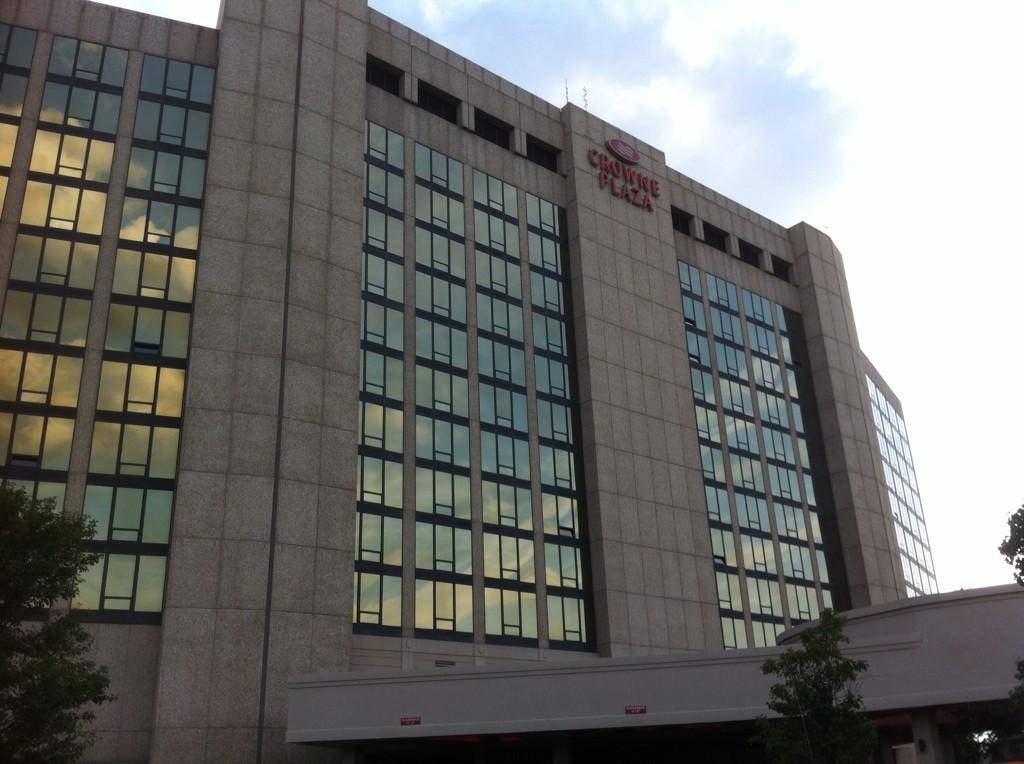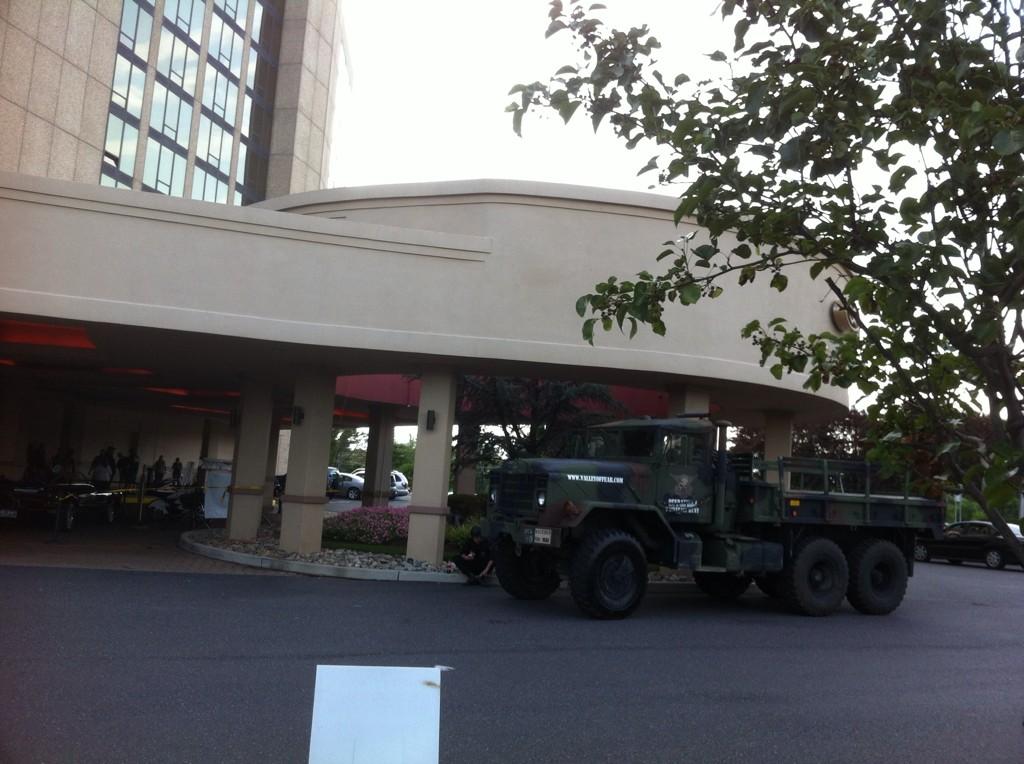 This time around I mostly hung around the vendor hall, bugging the Super Sox Shop seamstress Gina and getting my phone charged. It was a great place to people watch and chat with other horror fans, but it was like an Olympic sport to go fetch beer from the bar and make it back into the vendor hall without slipping a drop. People become obstacles and children are twice as deadly as they have no idea what personal space or walking speed is yet. Essentially, it becomes Lazy Man's Ninja Warrior.
Looking at the many vendors, one of the first booths that really caught my attention was the Gemini Crow Sauce. These guys created some pretty tasty hot sauces that are flavorful and provide a slow burn. They were offering a few samples and I bought a bottle of  "The Devil His Due", a hot sauce of apples & pears with a Ghost Pepper. (They went great with my eggs in the morning!).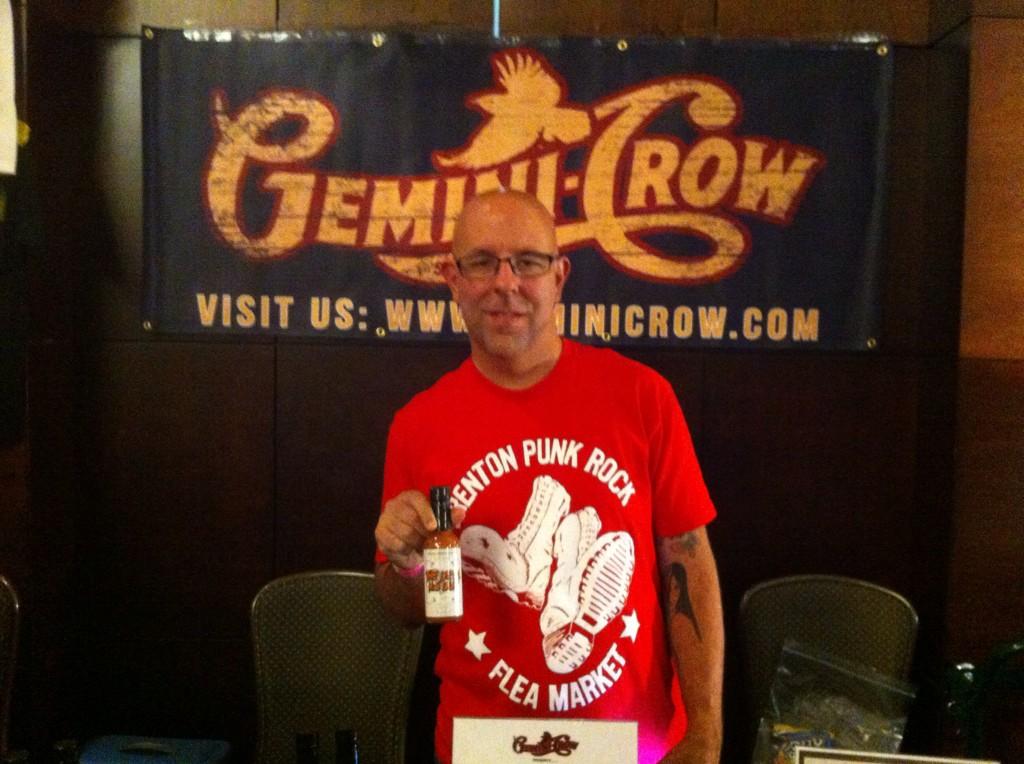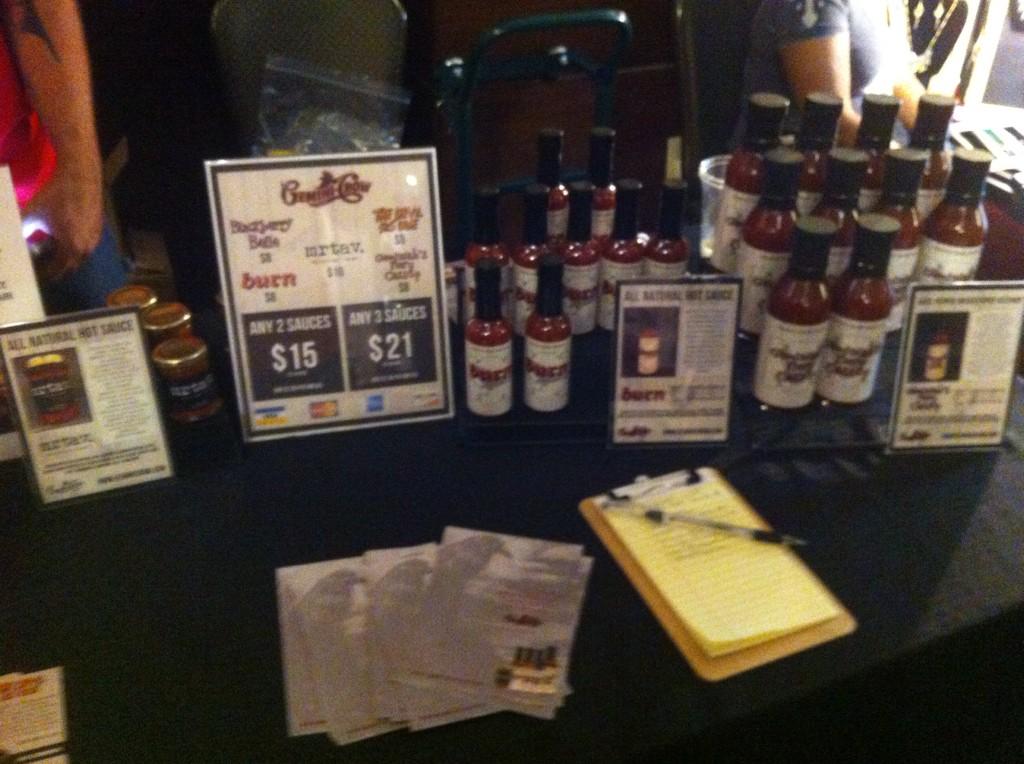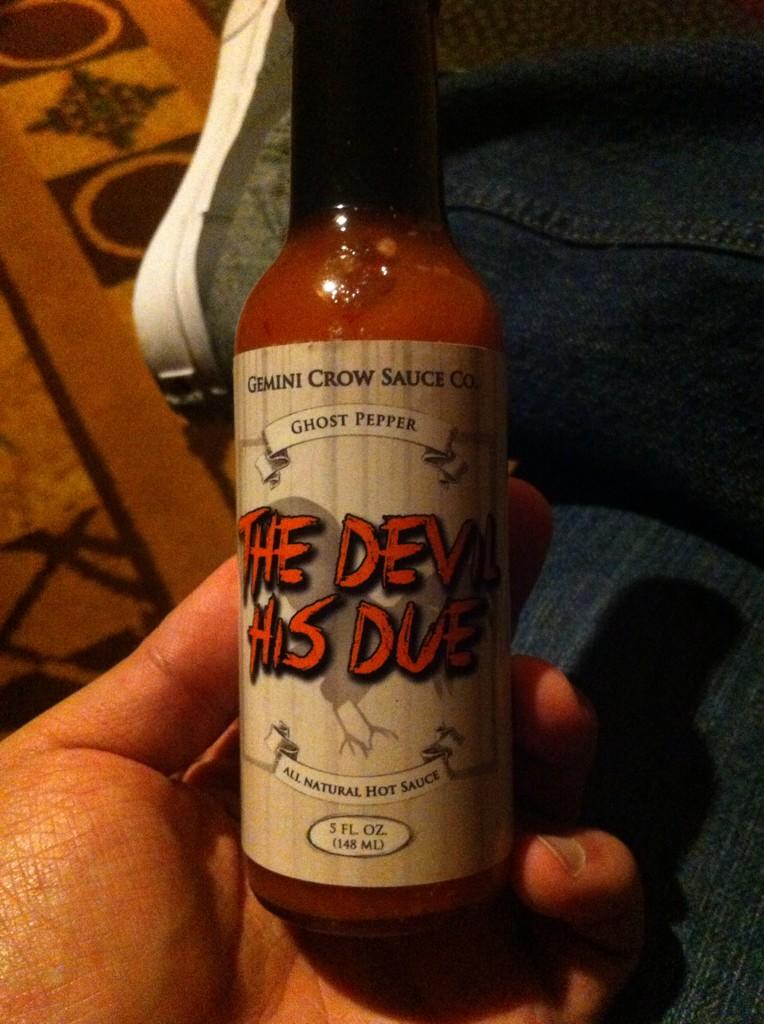 I stopped by the Troma booth to look at their fine bizarre movies and because my love of B-movie horror derives from The Toxic Avenger (The 80's version of Sharknado for all the youngens out there). It also helps that Toxie is the underdog hero of New Jersey.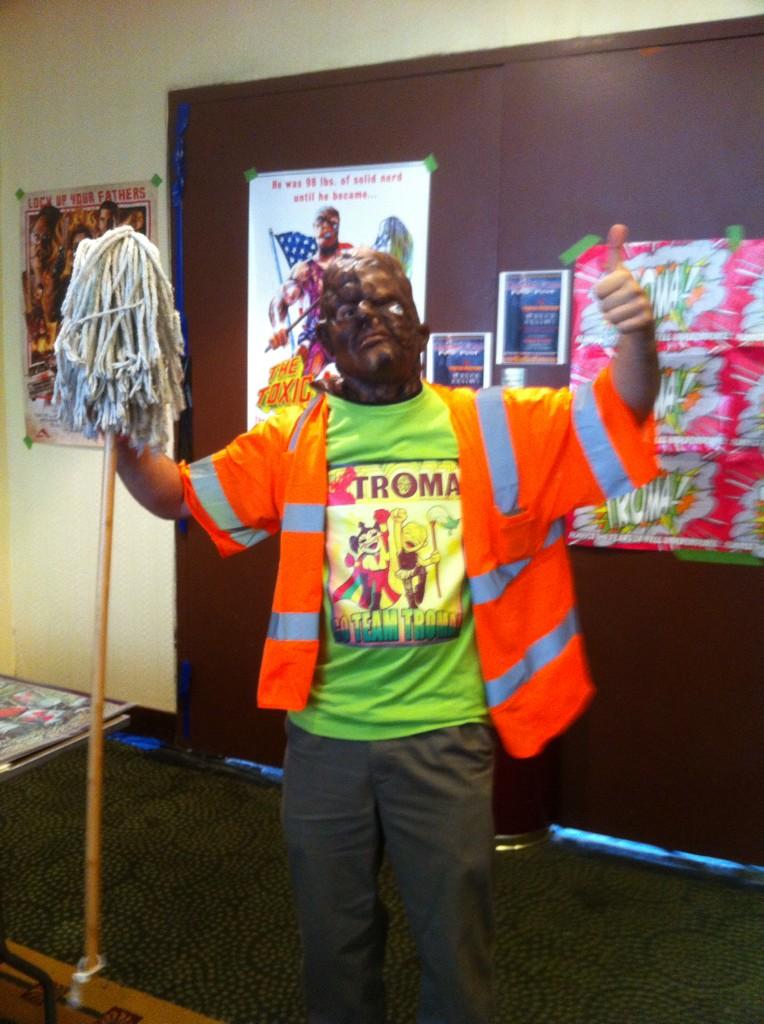 I also checked out the VHSPS booth and picked up a copy of Gleaming The Cube, something I saw from last Monster Mania and had to get if I found it again. The only thing monstrous about this movie is the sick skateboarding moves from Christian Slater.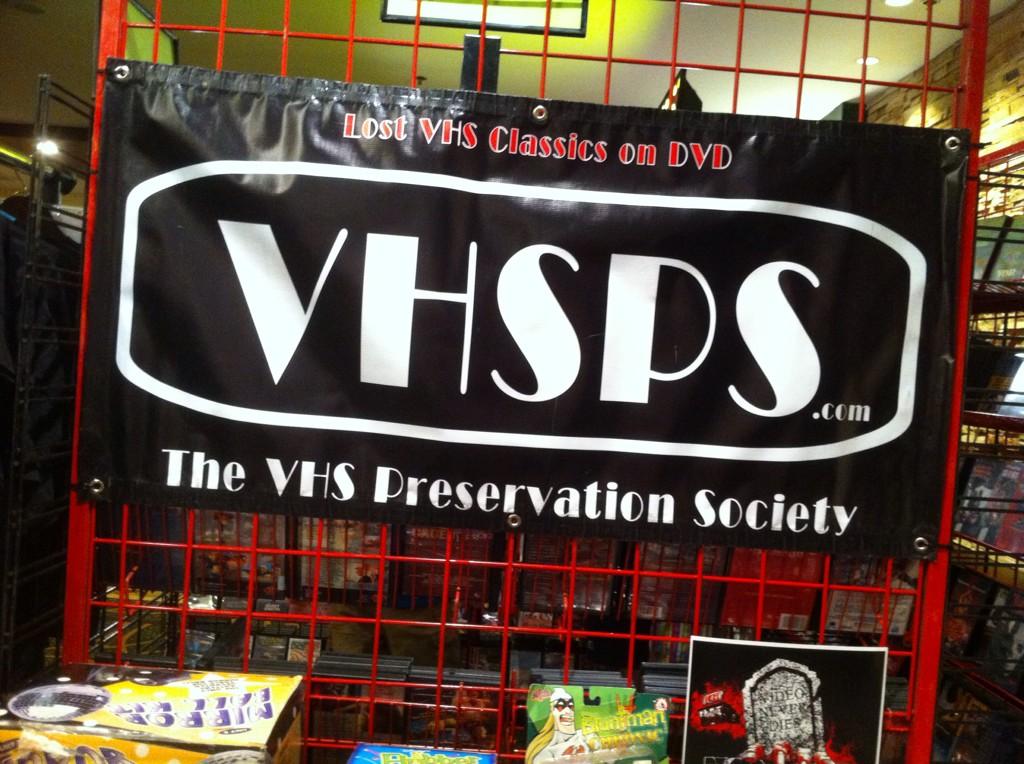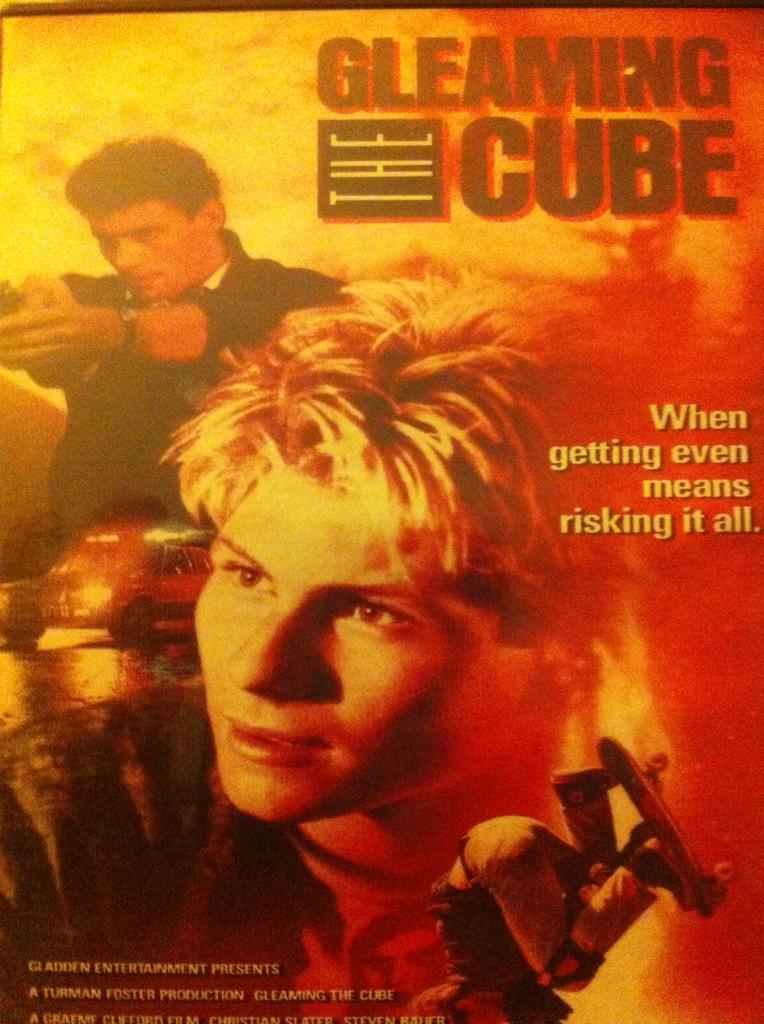 I meet up with Fanboys Anonymous Tony Mango and went to the Adam West and Burt Ward Q&A panel. This session was a general Q&A with anyone asking what ever questions that had about these two actors. Some people asked about Batman related stuff, some about Family Guy, some about Burt's dog rescue mission. However, the odd and hilarious thing no one could predict was Adam West's dirty uncle humor. When he could, he would mention that  he has a website where you can see relieving shots of him and Burt, and anyone can buy a copy. Not gonna lie about it, I would buy a photo just to have and mention like they are works of historical art.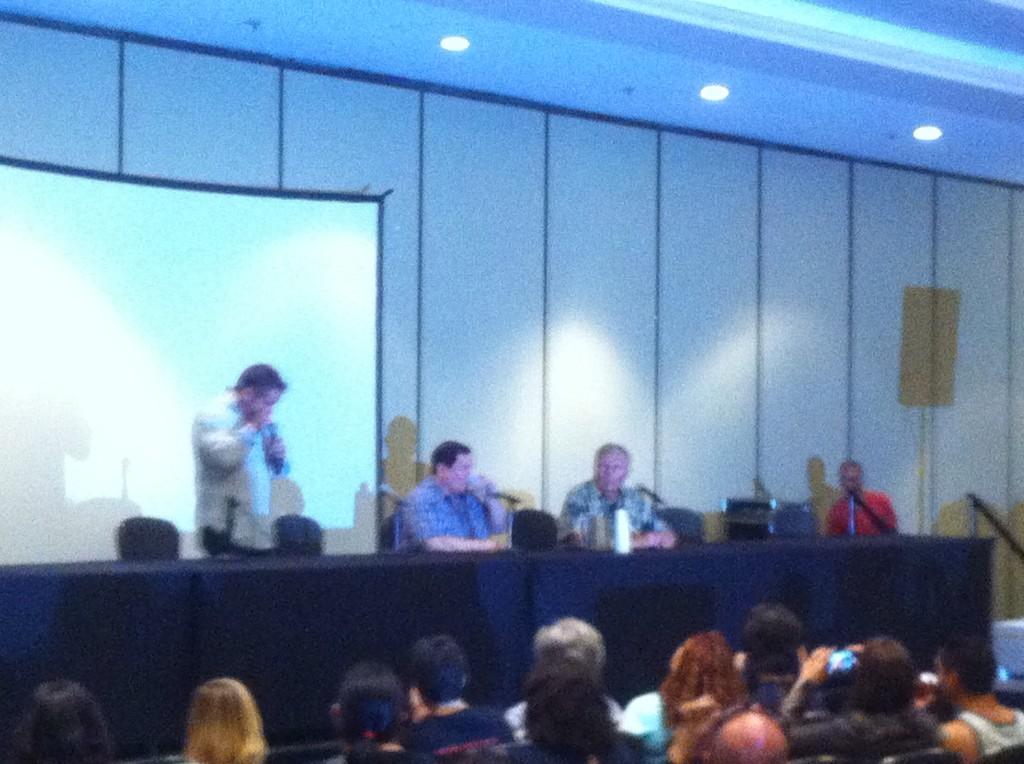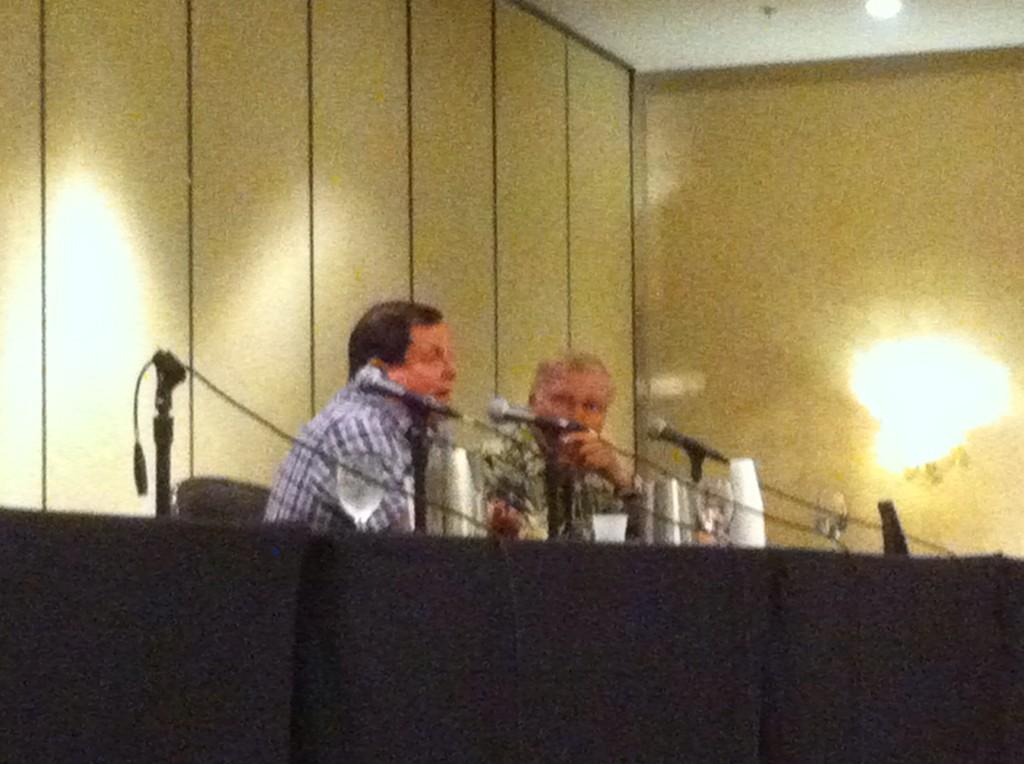 I ventured off to the celebrity room where I also got to meet and take a quick picture with Keith David:
Also stopped by Hacksaw Jim Duggan booth to say hello and shake this man's rock like hands. If you ever get the chance, meet this man and let him scream at you.
While walking around, you have to stop and take a few pictures of the attendees because you need to explain to other people how you spent the weekend. Here were the colorful cast of characters to see:
To top it off, a really good John Wayne Gacy clown. A little too real for comfort.
I almost dropped my beer on Verne Troyer while he was shopping. I was doing another beer run and didn't notice the group of people stopping and taking pictures. I tried to maneuver the crowd and almost tripped over Verne's scooter.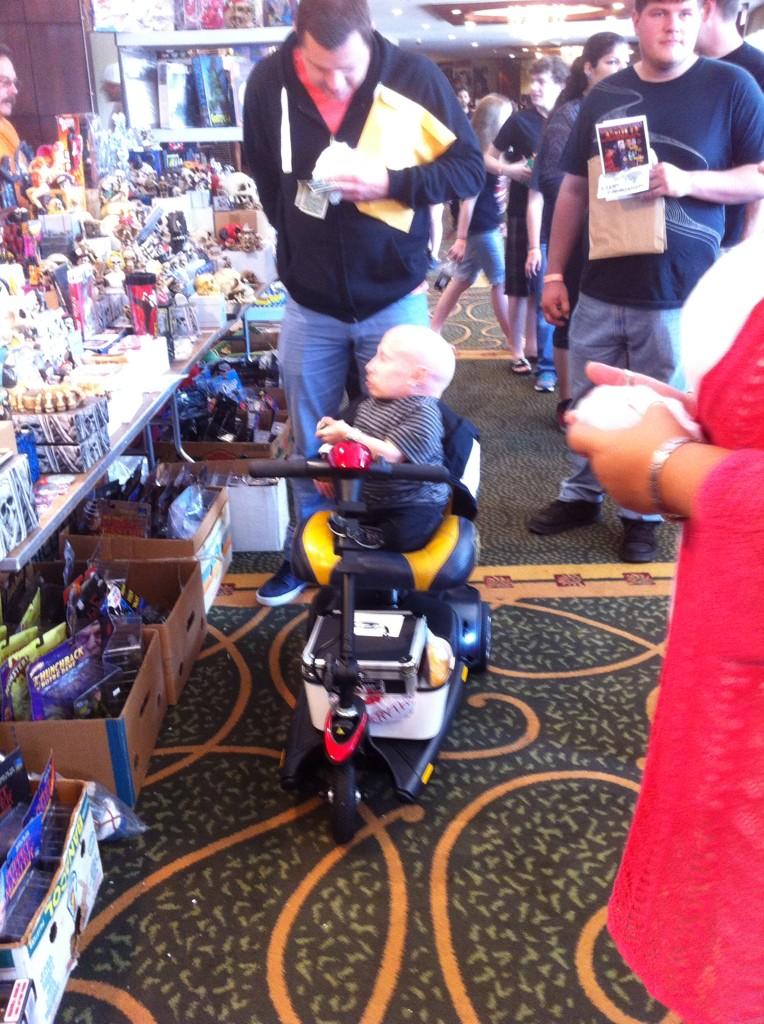 I also met up with the guys of Kreation X and Epic Scale Games.  We chatted and traded the oddities that we had seen for the day. Check out some of the cool horror theme mask you can get at KreationX.
Hunter's Guild Card Game is a neat  dungeon crawler style card game that is more fast pace than traditional table top games and it doesn't involve a lot of explaining to play. Check out this 9 minute demo to get a better understanding.

At night, the con settles down and people start breaking out the booze. I didn't make every panel that I wanted or even talk to ever celebrity, but there was always a gamble to catch a second chance to talk to celebrities in the main bar and lobby. I wanted to see what kind of whiskey Rowdy Roddy Piper takes shots of, or how bizarrely elegant Mads Mikkelsen drinks his beer in real life (Compare to watching him eat in Hannibal).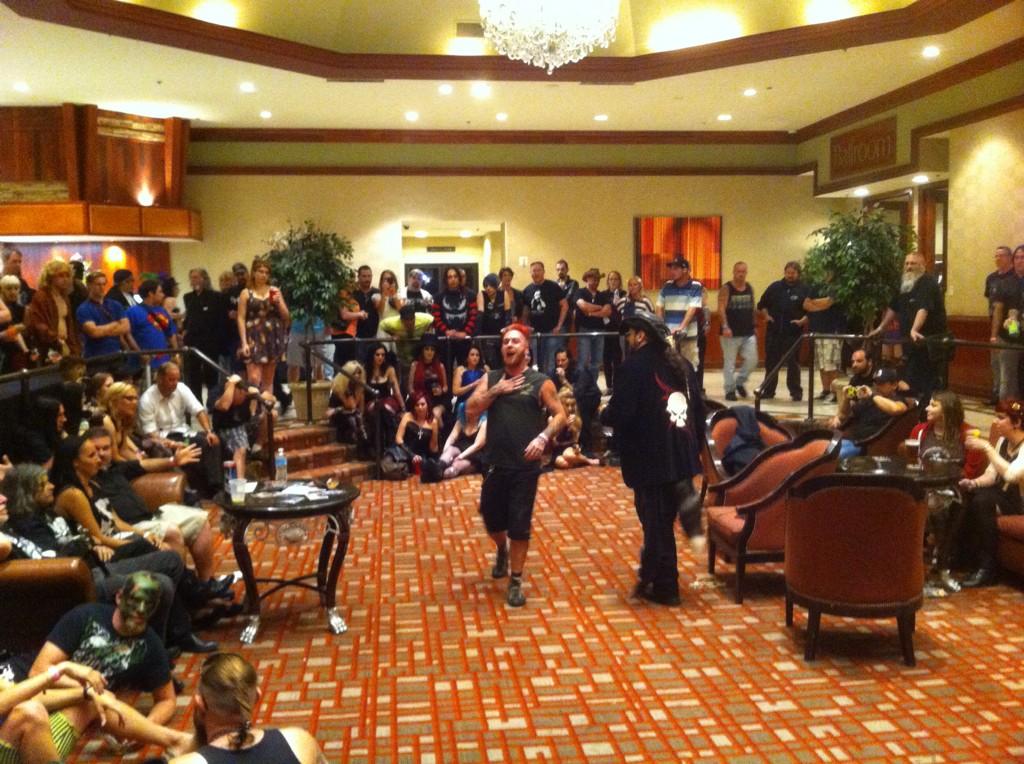 I ended Monster Mania 28 on a good experience and took with me lot of strange and funny memories. I met other horror fans, took some neat photos and smelled some powerfully B.O from some unfortunate people. I look forward to see what other adventure awaits in the next Monster Mania.