Top 5: Fictional U.S. Presidents
By Zach
It's Election week and regardless of who you voted for I think we can all agree that any one of these fictional presidents would be; at best solve all our problems and at worst be pretty fun.
5. Dwayne Elizondo Mountain Dew Herbert Camacho
Played by: Terry Crews
Appeared in: Idiocracy
Slogan: "Shit. I know shit's bad right now, with all that starving bullshit, and the dust storms, and we are running out of french fries and burrito coverings. But I got a solution."
Experience: Porn and five time Ultimate Slam Champion
Primary Focus: Agricultural and Financial ruin
4. James Dale
Played by: Jack Nicholson
Appeared in: Mars Attacks!
Slogan: "I want the people to know that they still have 2 out of 3 branches of the government working for them and that ain't bad."
Experience: unknown
Primary Focus: Domestic invasion by Martians.
3. Thomas Whitmore
Played by: Bill Pullman
Appeared in: Independence Day
Slogan: "We're going to live on, We're going to survive.  Today we celebrate our Independence Day!"
Experience: Gulf War Fighter Pilot
Primary Focus: Domestic Invasion by Aliens
2. James Marshall
Played by: Harrison Ford
Appeared in: Air Force One
Slogan: "Never again will I allow our political self-interest to deter us from doing what we know to be morally right. Atrocity and terror are not political weapons. And to those who would use them, your day is over. We will never negotiate. We will no longer tolerate and we will no longer be afraid. It's your turn to be afraid."
Experience: Helicopter Pilot in Vietnam
Primary Focus: Foreign Policy, specifically Kazakhstan and terrorism.
1. David Palmer
Played by: Dennis Haysbert
Appeared in: 24
Slogan: "Is my voice trembling?!?"
Experience: Senator from Maryland, star basketball player at Georgetown
Primary Focus: Domestic and Foreign terrorism, specifically nuclear bombs and biological attacks.
Bonus: Dream Secret Service Team
Keifer Sutherland
Glenn Morshower
Clint Eastwood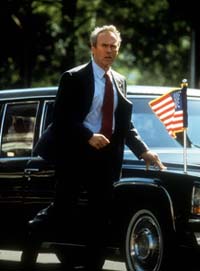 I'm like the J. Jonah Jameson of Everything Action, writing and editing and constantly demanding pictures of Spider-Man.
24
air force one
bill pullman
dennis haysbert
election
Features
harrison ford
idiocracy
independence day
jack nicholson
list
mars attacks
presidents
terry crews
top 5
Top 5 Thursday