Real Men of Action: Casey Ryback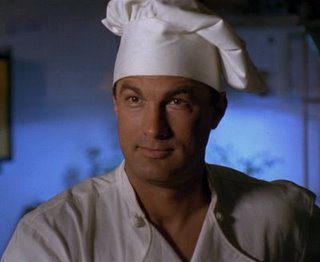 Name: Casey Ryback
Occupation: Former Navy SEAL, Navy Chef (Retired), Chef at Mile High Cafe in Denver.
Family: Brother- (first name Unknown), Niece- Sarah Ryback
Enemies: William Strannix, Commander Krill, Travis Dane, Penn
Allies: Jordan Tate, USS Missouri Crew,  Bobby Zachs
Weapon(s) of Choice: MP5, M1911, Combat Knife
Body Count: 59
Catchphrase: "Nobody beats me in the kitchen."
Casey Ryback is probably the world's most deadly cook (sorry Bobby Flay).  A former Navy SEAL, Ryback was demoted when he punched out his commanding officer after bad intelligence led to his entire team being killed in Panama.  Ryback could only finish his Navy service as a yeoman or cook, the latter of which Ryback was fortunately skilled at.  Captain Adams of the USS Missouri was a friend of Ryback and made him his personal chef on board the Missouri.  Although some of the officers were d-bags to him, it seemed like Casey would be able to complete his tour without any incident.
That is until the fateful day when the Missouri was hijacked by terrorist.  Under the guise of a surprise birthday party for the captain, a crew of musicians and caterers (and Miss July '89 Jordan Tate) was flown onboard.  Unfortunately for the crew everyone who came on board, except Jordan, were terrorists under the command of William Strannix, a disgruntled ex-CIA agent.  Strannix was working with the second in command of the Missouri, Commander Krill, and his crew killed the captain and locked most of the crew below decks.  Casey had gotten into an argument with Krill earlier that day and was locked in the meat locker.
Upon escaping from the meat locker, Casey found that the ship was "under siege".  Strannix sends two of his men to kill Ryback but he manages to make a bomb in the microwave and takes them out.  Casey then makes his way through the ship, eventually stumbling upon Jordan Tate and some of the crew.  They manage to take back a good portion of the ship and save most of the crew.
Casey and his crew then turn their attention to a North Korean submarine, which was collecting nuclear Tomahawk missiles from the Missouri.  They get control of one of the Missouri's main guns and blow up the submarine, with Krill on board.
All that's left is to take down Strannix but before Casey can get to him, he launches one of the remaining Tomahawks at Pearl Harbor.  Casey and Strannix get into a knife battle in the Missouri control room, which Casey eventually wins by stabbing Strannix through the top of the head.  He then deactivates the Tomahawk and saves the day.
A few years later Casey retired from the Navy and became a chef at the Mile High Cafe in Denver.  He receives word that his brother has died and meets with his niece Sarah to travel to Los Angeles  to visit his grave.  They take a train that runs through the Rockies but Casey proves he's extremely unlucky as the train is hijacked by terrorists.  The leader, Travis Dane, is a former DoD computer programmer who knew that two of his former co-workers were on board the train as well.  They each had part of code for Grazer One, a satellite weapon that causes earthquakes.  A faction in the Middle East is paying Dane a billion dollars to destroy the Eastern seaboard.
Casey realizes what is going on and starts a battle with the terrorists in/on and around the train.  He gets help from an Apple Newton and a train porter named Bobby Zachs.  Meanwhile, the Pentagon is trying to disarm Grazer One, but Dane has shielded it's location with ghost satellites.
Dane's second in command, Penn, finds out that Sarah is Casey's niece and takes her hostage to goad Casey into a battle.  They eventually have a knife battle in the train's kitchen, which Casey of course wins since, "nobody beats (him) in the kitchen".   Dane tries to escape the train in a helicopter and sets the train on a collision course with an oncoming freight train.  Dane taunts Casey by telling him there's no way to stop Grazer One, to which Casey shoots Dane's computer, knocking him out the train's window and eliminating the ghost satellites.  The Pentagon destroys Grazer One and Casey escapes just as the trains collide by climbing a ladder hanging from the chopper (hijacked by Sarah and Bobby).  The other passengers on the train are safe as well since Casey detached the passenger section earlier.
So if you need a sweet souffle or have terrorists that need killing, Casey Ryback is your man.
See Casey in Action:
video://www.youtube.com/watch?v=UAWhiuJf_Y0
I'm like the J. Jonah Jameson of Everything Action, writing and editing and constantly demanding pictures of Spider-Man.
Action Hero of the Week
Casey Ryback
chef
Erika Eleniak
gary busey
Katherine Heigl
steven seagal
tommy lee jones
under siege
Under Siege 2 Dark Territory