Everything Actioncast Ep. 12 "Morphin' Time!"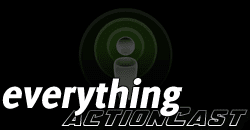 What happens when Zach and Chris are left with hosting duties for the week?  The most tangent filled, nerdiest episode ever.  The duo talks about the return of Futurama, the bizarreness of the Seinfeld pilot, Green Arrow, ridiculous moments in Marvel Comics and spend over an hour talking about everything Power Rangers.
Show and Tell: Chris stays current by watching Office Space and also checked out the first episode of Louis C.K.'s new show Louie, Zach watched Changeling and Toy Story 3 and both the guys watched the premiere of Futurama.
News: Pirates of the Caribbean 4 plot revealed, trailers for Green Hornet, Red and Predators and Marvel might start making short films.  Also the New Release Round Up.
Power Rangers!: It's the 15th anniversary of the movie this week so Chris and Zach go into depth about it's pros and cons, how it's different from the show, favorite crazy monsters and crazier Zords, was Ernie actually Zordon?, PSAs, video games and knock off shows like Big Bad Beetleborgs.
We want to hear your comments, feedback and, most importantly, suggestions for discussion topics. Send them all to [email protected]. Also, be sure to subscribe to us in the iTunes music store (just do a search for Everything Actioncast in the store) and follow us on twitter @evaction.
*BONUS* The bizarre anti-bullying PSA from the Power Rangers:
Podcast: Download ()
alpha 5
big bad beetleborgs
billy
changeling
chris
dino force
episode
Everything Actioncast
everythingaction.com
F/X
futurama
goldar
green hornet
in space
ivan ooze
jason
kimberly
knock offs
lord zedd
lost galaxy
louie
Marvel Comics
masked rider
megazord
mighty morphing power rangers: the movie
mystic knights of tir na nog
office space
pirates of the caribbean 4
podcast
power rangers
predators
PSA
red
rita repulsa
short films
spd
superhuman samurai syber squad
time force
tommy
toy story 3
trailers
trini
turbo
video games
vr troopers
zach
zeo
zordon