Know Your "That Guy": Danny Trejo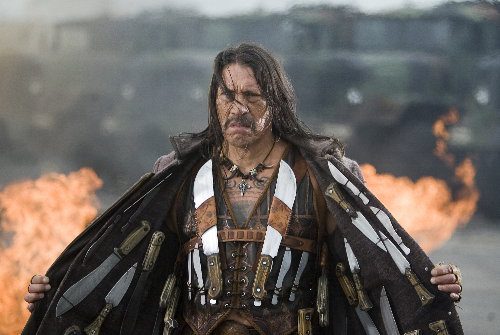 Danny Trejo
Born: May 16, 1944
Best Known for Playing: Convicts/Drug Dealers/Various other criminals
Number of Roles: 195
First Appearance: Boxer in Runaway Train (1983)
Most Recent Appearance: Machete in Machete (2010)
Notable Roles:
Machete in Machete and Grindhouse
Johnny 23 in Con Air
Cuchillo in Predators
Enrique on King of the Hill
Felipe Vega on Burn Notice
G-Man in Eyeborgs
El Chivo in Urban Justice
Umberto Robina in Grand Theft Auto: Vice City
Trejo in Heat
Razor Charlie in From Dusk til Dawn
Slim in Bubble Boy
El Jefe in XXX
Bartender in Anchorman
Rondo in The Devil's Rejects
Fun Facts:
Second cousin to Robert Rodriguez and frequently appears in his movies
Was in and out of jail for 11 years when he was young, won a number of boxing titles at San Quentin and completed a rehab program.
Usually does around four movies a year, in 2002 he did nine.
Most of his characters are extremely skilled with knives and his characters in Rodriguez movies are usually named after types of knives.
Trained Eric Roberts for the movie Runaway Train and impressed the director with his boxing skills and was offered as his opponent.
anchorman
boxing
burn notice
con air
convicts
criminals
Danny Trejo
drug dealers
eyeborgs
from dusk til dawn
heat
king of the hill
Know Your "That Guy"
Machete
predators
robert rodriguez
urban justice
vice city