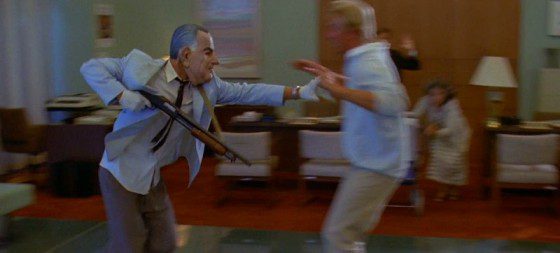 It's seemed like a pretty slow week but let's see what we can dig up, shall we?
Killer Croc for Batman 3: Production began this week on the third Christopher Nolan directed Batman movie and filming in New Orleans, along with tweets from comic writer Mark Millar, has given rise to a rumor that Killer Croc might be one of the villains of the new film.
Villains for Mission Impossible 4: The cast is filling out for the upcoming fourth Mission Impossible.  Jeremy Renner and Tom Cruise will be leading the IMF team along with Simon Pegg, Paula Patton and Ving Rhames while Michael Nyquist, Anil Kapoor and Lea Seydoux will be the trio of villains.
Pepe Le Pew movie with Mike Myers: We talked about a Bugs Bunny CG/Live Action movie in the works a few weeks ago but now it seems like amorous skunk Pepe Le Pew will be the next character getting the treatment, with Michael Myers providing his voice.  Out of all the Looney Tunes characters you pick Pepe Le Pew as the next one, really?
Slash forms his own horror movie company: Legendary guitarist Slash follows in other musician turned horror movie makers Rob Zombie and Snoop Dogg by forming his own horror movie company, Slasher Films.  He says he wants to return to the old school horror movies of the 70's and 80's and the first film coming out of the studio will be Nothing to Fear, about a family that moves to Kansas to try and escape an evil demon.
Dreamworks trying to get rights to Halo: The Halo movie has been on and off track for years, most recently getting derailed when Peter Jackson and Neil Blomkamp bailed to make their own vision in District 9.  Now Dreamworks is trying to get the rights to do a Halo movie based on the novels instead of the games themselves.
Title for Transformers 3: The Dark of the Moon is the subtitle.  I think it's safe to assume there's going to be space battles and/or a battle on the moon.
Emma Stone cast as Gwen Stacy: Despite previous assumptions that she would play Mary Jane Watson, Emma Stone has been cast as Gwen Stacy.  There's been no mention of Mary Jane at all which leads me to wonder if might go back and do an adaptation of the classic story where Green Goblin kidnaps Gwen and throws her off a bridge.
Green Lantern plot revealed: The website for the Green Lantern movie went live this week and hidden in the source code was the cast and plot synopsis.  The story will focus on Hal Jordan becoming a green lantern and the Green Lanter Corps. having to face off against Parallax, an evil dragon-like energy being.
Red Band Trailer for Faster: The upcoming return to action for The Rock got a new Red Band trailer this week and it looks like it's gonna be pretty bad ass.
I'm like the J. Jonah Jameson of Everything Action, writing and editing and constantly demanding pictures of Spider-Man.
batman 3
CG
christopher nolan
dreamworks
dwayne "the rock" johnson
emma stone
fast
green lantern plot revealed
guns & roses
gwen stacy
halo movie
horror movie company
killer croc
live action
michael myers
mission impossible 4
new orleans
News
news shotgun
pepe le pew
red band trailer
slash
slasher films
the dark of the moon
transformers 3
villains