Real Men of Action: Indiana Jones
By Zach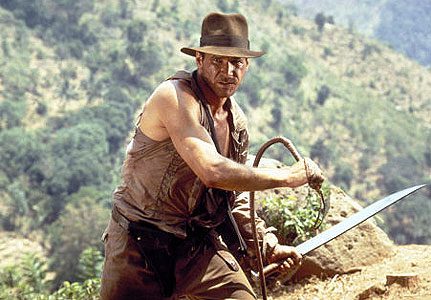 Name: Dr. Henry "Indiana" Jones Jr.
Occupation: Archaeologist/College Professor
Family: Dr. Henry Jones Jr. (Father)
Allies: Marcus Brody, Sallah, Marion Ravenwood, Short Round, Willie Scott, Kazim and the Brotherhood of the Cruciform Sword, Mutt Williams, Harold Oxley
Enemies: Rene Belloq, Nazis, Toht, Mola Ram and the Thuggee, Walter Donovan, Dr. Elsa Schneider, George McHale, Dr. Irina Spalko, Commies
Weapons of Choice: .45 ACP Smith & Wesson, Whip
Body Count: At least 19
Memorable Quote: "It belongs in a museum!!"

See Indy in Action:
I'm like the J. Jonah Jameson of Everything Action, writing and editing and constantly demanding pictures of Spider-Man.
Action Hero of the Week
archaeology
ark of the covenant
commies
harrison ford
henry jones jr
henry jones sr. marion ravenwood
holy grail
indiana jones
marcus brody
mola ram
mutt williams
nazis
rene belloq
sallah
sankara stones
sean connery
short round
thuggee
whip
willie scott