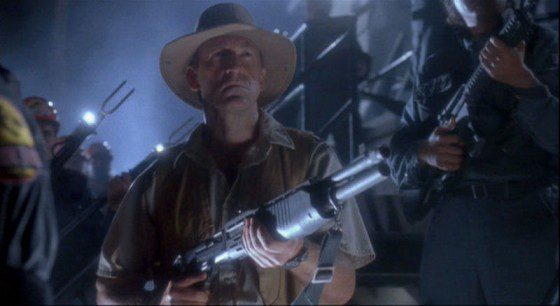 The Walking Dead renewed: Surprising no one, since it's one of the highest rated shows in cable history.  Season two will be 13 episodes and hopefully feature even more crazy zombie killing and all the excellent acting, directing and music that we've seen from the first two episodes.
Lifetime making it's first action movie: Something I never thought I'd write about on this site but Lifetime network, home of endless domestic abuse movies, is making it's first action movie.  Called "Close Quarters" and starring Catherine Bell, it's about a seemingly normal wife and mother who is actually a former special ops soldier who has to start killing fools when her husband is kidnapped.  Apparently Catherine Bell has a bunch of martial arts training and it might be worth a watch as, at least, a bizarre curiosity.
Future releases for Paramount: Viacom had a quarterly earnings report this past week and announced some of their upcoming projects.  For 2012 and beyond they have the new Platinum Dunes TMNT movie, Zoolander 2, GI Joe 2 and the new Jack Ryan movie.
Dark Knight Rises female stars: A shortlist was released this week for two female roles in the new Nolan Batman movie.  The list is Rachel Weisz, Naomi Watts, Blake Lively, Natalie Portman, Anne Hathaway, Keira Knightly. It's unknown what characters are up for grabs.
Dino De Laurentis passes away at 91: Legendary producer Dino De Laurentis passed away earlier this week at age 91.  De Laurentis is behind movies we greatly appreciate here at EA like Army of Darkness, the Conan movies, Assassins, Flash Gordon, Death Wish and Serpico.
Disney making more movies based on attractions: Disney is apparently getting two more projects based on their attractions underway. One is based on the Enchanted Tiki Room and it's tropical birds and the other is based on the Magic Kingdom as a whole.  The movie will be about the attractions of the park coming to life and Jon Favreau might be helming it.
I'm like the J. Jonah Jameson of Everything Action, writing and editing and constantly demanding pictures of Spider-Man.
action movie
army of darkness
assassins
attractions
catherine bell
close quarters
conan
dark knight rises
death wish
dino de laurentis
disney
domestic abuse
enchanted tiki room
female stars
flash gordon
jon favreau
lifetime
magic kingdom
News
news shotgun
paramount
renewal
RIP
shortlist
special ops
the walking dead