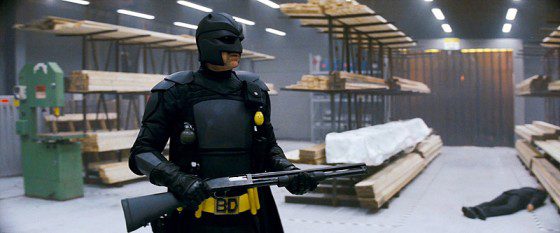 The Transporter coming to TV: EuropaCorp, the company behind The Transporter movies, recently made a deal with an unnamed network to make a TV show based on the movies. The show will have a 12 episode first season and apparently the budget is $4 million an episode.  We could certainly use a good, straight up action show, as the closest thing, Human Target, is going downhill pretty rapidly.  Apparently Taken is possibly going to be turned into a show as well.
Eminem starring in boxing movie Southpaw: Eminem hasn't done much, movie wise, since 8 Mile but he's going to be starring in a boxing movie called "Southpaw", directed by Sons of Anarchy writer/director/actor/producer Kurt Sutter.  With this, The Fighter and FX's "Lights Out" coming soon, boxing seems to be looking for a comeback.
David Fincher directing 20,000 Leagues Under the Sea: David Fincher has been confirmed as the director for a new 20,000 Leagues Under the Sea.  I think David Fincher could give 20,000 Leagues a Bioshockesque makeover that could be awesome.
Jon Favreau off of Iron Man 3: Citing a number of reasons, Jon Favreau announced this week that he won't be back to direct Iron Man 3.  One of the reasons was that he was annoyed with Marvel's constant meddling to get more and more Avengers related things into the movie.
Nic Cage signs on to Medallion: Next year could be an awesome or terrible year for Nic Cage movies.  Season of the Witch looks bad but it could be cheesily good, Drive Angry 3D looks Grindhousey and awesome and possibly late next year or early 2012 is going to be Medallion, directed by Con Air director Simon West.  Cage will play a former master thief whose daughter gets kidnapped and placed in the trunk of a NYC Medallion taxi cab, forcing Cage to run through the streets of NYC looking for the right cab.
SyFy/Universal joins for new movie production company: I'm pretty sure that NBC Universal already owns SyFy but this week they announced that a new production company will be formed between the two companies that will put out two movies a year.  Could this mean that things like Sharktopus will actually be released in theaters?
Fan Created SyFy movie chosen: SyFy and IGN have been running a fan poll to create one of next year's SyFy's Original movies and the winner is "Roswell", which will be about another alien spacecraft crashing near the New Mexico town and crazyness ensuing.  After Dark films will be producing the movie and Jason Connery, son of Sean Connery, will be directing.  Fans now get to vote on specific plot points including how the first person dies and what the job of the main character is.  Check it out over at http://www.ign.com/syfy
Footage of Tim Burton's "Superman Lives" suit: Previously only seen in horrible photos, this week the internet was witness to actual video test footage of the Superman suit from the mercifully cancelled Superman Lives.  Check it out below.
I'm like the J. Jonah Jameson of Everything Action, writing and editing and constantly demanding pictures of Spider-Man.
000 leagues under the sea
20
boxing
con air
david fincher
drive angry 3d
eminem
human target
iron man 3
jason statham
jon favreau
Marvel
medallion
News
news shotgun
nic cage
season of the witch
simon west
sons of anarchy
southpaw
superman lives
syfy
taken
test footage
the transporter
theatrical releases
tim burton
tv show
universal