News Shotgun 1/21
By Zach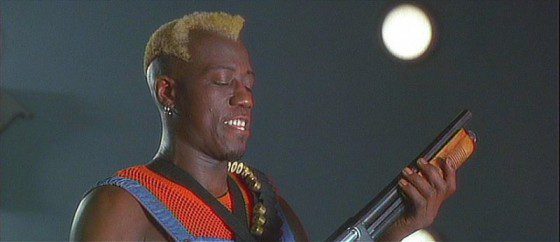 Tom Hardy is Bane, Anne Hathaway is Catwoman: After months of speculation, it was confirmed this week that Tom Hardy will be playing Bane in The Dark Knight Rises and Anne Hathaway will be playing Selina Kyle/Catwoman.  I'm really excited to see what Nolan does with Bane, as he's become basically just a super strong goon in recent takes on him but his original appearance in the comics he was super cunning as well as super strong and created a whole grand scheme to not just break Batman physically but emotionally.  I also wonder if they are going to go back to Selina Kyle's prostitute origins from Year One or if she's going to be her typical cat burglar self.
Alien Prequel now an original idea called Prometheus: Ridley Scott's upcoming Alien prequel film has now been transformed into an original idea called Prometheus.  Scott has said that the new film will be a grand Sci Fi epic with "some of the DNA of the Alien franchise".  Noomi Rapace from The Girl with the Dragon Tattoo will star and Charlize Theron or Angelina Jolie might co-star.  Scott rewrote the Alien prequel into Prometheus with the help of Lost helmer Damon Lindelof.
Lethal Weapon reboot in development: Another in the long line of remakes/reboots, the classic Mel Gibson/Danny Glover buddy cop franchise is getting rebooted.  Former police officer turned screenwriter Will Beall is working on a screenplay and the thinking is that two new leads would take over for Riggs/Murtaugh.  There was a Lethal Weapon 5 script floating around from Shane Black (writer of The Monster Squad and all the Lethal Weapons).
Western Remakes- Westworld and The Wild Bunch: With the success of True Grit, studios are looking to capitalize on the Western genre.  Sure to anger fans is the news that The Wild Bunch, Sam Peckinpah's classic, bloody western, might be getting remade.  On the other hand, Westworld seems ripe for a remake, it was a great idea (robotic amusement park goes beserk) that could benefit from current special effects and a modern take on it.
Ricky Gervais appearing on US Office: In a crossover people have been talking about since the first episode of the US Office, the UK's David Brent will finally meet his US counterpart Michael Scott on an upcoming episode of the show.
Captain America trailer coming during the Super Bowl: Finally!
Arnold possibly returning to movies, looking at two projects: Our beloved saint, Arnold Schwarznegger, is possibly looking to come back to movies with two possible projects.  One is Crusade, a medieval epic, and the other is With Wings of Eagles, which is a WWII movie about a German soldier who helps a group of American POWs escape.
I'm like the J. Jonah Jameson of Everything Action, writing and editing and constantly demanding pictures of Spider-Man.
alien prequel
anne hathaway
arnold schwarznegger
bane
captain america
catwoman
crusade
damon lindelof
david brent
lethal weapon
michael scott
news shotgun
noomi rapace
prometheus
reboot
remakes
ridley scott
the dark knight rises
The Office
the wild bunch
tom hardy
westworld
with wings of eagles