News Shotgun 4/1
By Zach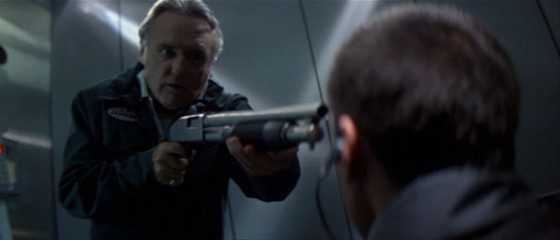 Arnold Schwarzenegger is The Governator: Our continued Arnold Watch finally got to a major announcement as this week, Arnold announced that he would be voicing a character called The Governator in a cartoon series and there would also be a comic book series based on the character.  Arnold is working with Stan Lee to develop the cartoon and comic and both would follow a semi realistic Arnold in his day to day life but he would transform into his alter ego of The Governator to fight crime.
The Transporter TV Show coming to Cinemax: We reported on this a couple months ago but this week it was confirmed that Luc Besson will be bringing The Transporter movie series to TV on Cinemax.  The show will start production this summer with a budget of $48 million for 12 episodes.  Frank Martin will still be the main character but obviously a new actor will be hired to take over for Statham.
Scarface coming to Blu Ray, $999.97 Special Edition: I'm not that big a fan of Scarface but there are people who think it's the greatest movie of all time.  They've probably already pre-ordered the ridiculous Special Edition of the movie that will cost $999.97 and comes with a custom, untreated Spanish cedar cigar humidor.
Leonard Nimoy joins Transformers 3: Coming out of retirement, it was revealed this week that Leonard Nimoy will be voicing Sentinel Prime, brother of Optimus, in Dark of the Moon.
Other Casting News: Amy Adams is set to play Lois Lane in Zack Snyder's Superman and Bryan Cranston is going to be playing Cohagen in the Total Recall remake.
TV Renewals: Archer, Justified, Venture Brothers and Mad Men have all been renewed, the latter two getting another two seasons.
Monsters Inc. 2 now called Monster University and it's a prequel: At the CinemaCon convention last week, Disney executive Dave Hollis gave some more details about the Monsters Inc. sequel.  It's actually going to be a prequel and focus on how Mike and Sully first met at Monster University.  The also, apparently, couldn't stand one another at first.
Justice League movie in the works: DC/WB, probably seeing the success Marvel has been having at the box office, announced that a Justice League movie is being put into production to arrive in theaters in 2013.  According to both WB exec Jeff Robinov and Zack Snyder, the Justice League movie will exist in it's own universe and feature it's own Superman and Batman, in contrast to Marvel where the actors who are portraying the characters in the solo movies will join forces in The Avengers.
I'm like the J. Jonah Jameson of Everything Action, writing and editing and constantly demanding pictures of Spider-Man.
$999.97
amy adams
archer
arnold schwarzenegger
arnold watch
batman
blu ray
bryan cranston
cartoon
cinemax
cohagen
comic book
DC
frank martin
justice league
justified
leonard nimoy
lois lane
luc besson
mad men
mike
monster university
monsters inc.
movie
news shotgun
Pixar
scarface
special edition
stan lee
sully
superman
the governator
the transporter
transformers: dark of the moon
venture bros.
warner bros.