Know Your "That Guy": Frank Welker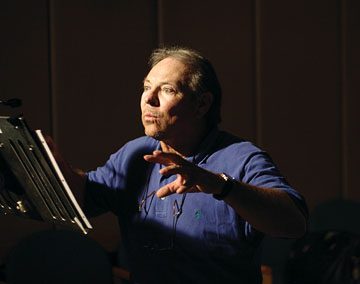 Frank Welker
Born: March 12, 1946
Number of Roles: 649
Best Known for Playing: 80's cartoon characters
First Appearance: Rutgers in The Trouble with Girls (1969)
Most Recent Appearance: Megatron on Tranformers Prime (2010)
Notable Roles:
Megatron, Soundwave, Shockwave and more on Tranformers
Fred on The New Scooby Doo Movies and Scooby Doo and Scrappy Doo
H.E.R.B.I.E. on The Fantastic Four
Toyman on Challenge of the Superfriends
Crime Globe on The Super Globetrotters
Rock n Roll, Short Fuse and Timber on GI Joe
Donkey Kong Junior on Saturday Supercade
Iceman on Spider Man and his Amazing Friends
Stripe in Gremlins
Scooter, Blaster, Rest-Q on Challenge of the Go-Bots
Brain, Dr. Claw on Inspector Gadget
Nate Slate, Stalagbite, Thug on The Flintstone Kids
Slimer on The Real Ghostbusters
Gameboy on Captain N
Tokka and Rahzar in TMNT II: Secret of the Ooze
Kermit, Skeeter, Beaker on Muppet Babies
Abu, Cave of Wonders in Aladdin
Furball, GoGo Dodo, Little Beeper on Tiny Toon Adventures
Bo, Booker, Sheldon on Garfield and Friends
Bronx on Gargoyles
Santa's Little Helper on The Simpsons
Nibbler on Futurama
Fun Facts
Voiced 8 of the original 14 Decepticons on Transformers
Has voiced every incarnation of Fred from Scooby Doo except for "A Pup Named Scooby Doo"
Has used his "Dr. Claw" voice in numerous other roles including Shao Khan, Soundwave and Darkseid
Although he doesn't voice Megatron in the Michael Bay Transformers movies, he did voice him in the video game based on the movie.
I'm like the J. Jonah Jameson of Everything Action, writing and editing and constantly demanding pictures of Spider-Man.
80's cartoons
dr. claw
frank welker
futurama
GI Joe
gobots
inspector gadget
Know Your "That Guy"
megatron
muppet babies
scooby doo
shockwave
slimer
soundwave
stripe
superfriends
the simpsons
tiny toon adventures
transformers
voice actor