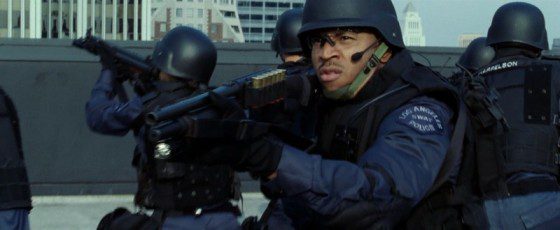 Guy Ritchie possibly directing The Man from U.N.C.L.E. movie:  Originally supposed to be a Steven Soderbergh project, Soderbergh recently dropped out and now rumors are that Guy Ritchie might be stepping in to direct an adaptation of the classic 1960's spy TV show.  The show starred Robert Vaughn, Barbara Moore, Alexander Waverly and David McCallum and followed the adventures of American spy Napoleon Solo and Russian spy Illya Kuryakin as they battled the evil organization THRUSH for international organization UNCLE.  I think if Guy Ritchie was to come on board and apply the Sherlock Holmes mix of grit and humor, it could be pretty cool.
American Psycho being remade: Last week we found out that Starship Troopers was being remade and now we found out that Lionsgate is moving forward with a new version of American Psycho and have hired a screenwriter.  The original movie is a cult classic, put Christian Bale on the map and is one of the rare movies that is generally agreed upon to be better than the novel it's based on, so there's even less reason for this new version to exist.  There is basically no chance of even finding anyone who could match Christian Bale's amazing, unhinged performance of murderer Patrick Bateman (well, maybe Miles Fisher)
Neil Marshall directing Hellfest: Neil Marshall (The Descent, Doomsday, Centurion) is a very divisive director, you either love his super violent, cheesy, genre movies or you think he's a hack (I'm completely on the love side BTW).  Marshall's next project is the horror movie "Hellfest" and follows a group of unsuspecting visitors to a theme park on Halloween where a costumed killer starts murdering people.
Peter Weller joins Star Trek 2: Robocop himself, Peter Weller, is now cast in JJ Abrams' Star Trek sequel.  No information about who he's playing.
24 Movie could start shooting in Spring: Something we're definitely excited for is the long in development 24 movie.  Apparently a new draft of the script is due to be turned in and, if it's approved, shooting could start in April of next year, when Keifer will be available.  Keifer is due to return to the small screen early next year on Tim Kring's "Touch".
Joesph Farrell, the man who invented movie trailers, passes away:  Joesph Farrell, who came up with the concept of showing trailers before movies, passed away this past Wednesday at the age of 76.  Farrell founded the National Research Group and, along with trailers, also created the idea of test screening movies and the four marketing "quadrants" of men and women under and over 25.
I'm like the J. Jonah Jameson of Everything Action, writing and editing and constantly demanding pictures of Spider-Man.
24 movie
60's
american psycho
based on a book
casting
centurion
christain bale
doomsday
four quadrants
genre movies
Guy Ritchie
hellfest
inventor
JJ Abrams
joseph farrell
keifer sutherland
marketing
miles fisher
movie trailers
napoleon solo
neil marshall
News
news shotgun
peter weller
remake
RIP
robert vaughn
shooting starting
spring 2012
spy show
star trek 2
steven soderbergh
test screenings
the descent
the man from U.N.C.L.E.