GI Joe: Retaliation Trailer *Updated*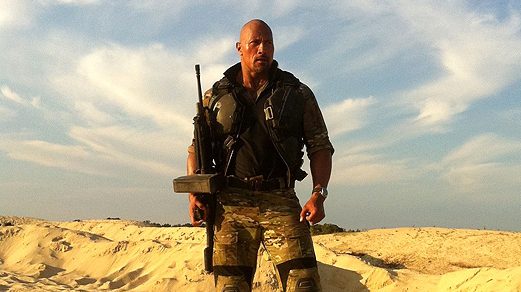 The original GI Joe (Rise of Cobra) was part of the one two punch of awfulness with Transformers: Revenge of the Fallen that Hasbro unleashed on cinemas in 2009.  Dark of the Moon improved things decently for the Transformers series and GI Joe: Retaliation looks like it might a huge leap up from Rise of Cobra.  There's a couple reasons I see from the trailer why this is, the most notable being that The Rock (playing Roadblock) has taken the reigns away from Channing Tatum.  Hopefully like with Fast Five this year, The Rock can add some much needed energy and bad assery into the series.  I also appreciate the fact that they seem to be going whole hog with the cliffhanger of the first movie, which had *spoilers* Zartan getting surgery and replacing the President of the United States.  It seems like his first act as President is to wipe out most of GI Joe, hence Retaliation as the subtitle.  Another positive is that it looks like there's going to be exponentially more ninjas, which makes everything better.  Also, Bruce Willis. There's no mention or glimpses of Cobra Commander though but hopefully if he's in this movie, he has a more classic look than his Jason X wannabe costume from the first movie *Edit* (I've watched the trailer again and CC does show up in the scene where it appears Cobra has captured Snake Eyes, and, surprise, surprise, he has a Cobra Commander looking helmet on).  Check out the trailer below and the movie is out in June of next year.
*4/25*: A new, full trailer just came out of the Cinemacon convention and probably in front of Avengers this coming weekend, showing off a ton of new footage and giving some more plot details. Is this movie going to be this year's Fast Five?  Hopefully the answer is yes.
I'm like the J. Jonah Jameson of Everything Action, writing and editing and constantly demanding pictures of Spider-Man.
arnold vosoloo
bruce willis
channing tatum
cobra commander
dark of the moon
duke
firefly
gi joe: retaliation
hasbro
jason x
jinx
john chu
lady jaye
ray park
revenge
revenge of the fallen
rise of cobra
roadblock
snake eyes
storm shadow
summer 2012
the president of the united states
the rock
Trailer Park
zartan