News Shotgun 1/06
By Zach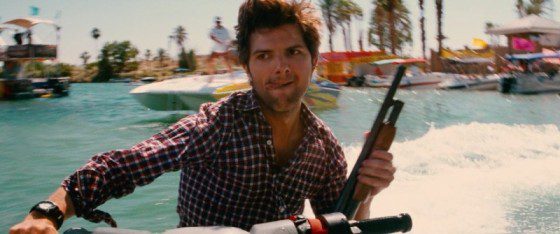 Benedict Cumberbatch the villain of Star Trek 2: The modern day incarnation of Sherlock Holmes, Bendict Cumberbatch, has been cast in JJ Abrams' sequel to Star Trek as the main villain.  It's not mentioned whether he will be one of the many alien races or just an evil human.
World War Z might be a trilogy of films: The long in development adaptation of Max Brooks' World War Z, starring Brad Pitt, is being considered now for a trilogy of films.  There's certainly tons of stuff from the book to flesh out three movies but I think they should focus on just getting one done first.
Horrible Bosses and Bridesmaids Sequels in the Works: In all the R rated comedies that came out last year, Horrible Bosses and Bridesmaids were probably near the top in terms of success and that means that sequel talk is starting.  Horrible Bosses 2 has the screenwriters from 1 on board and the trio of Jason Bateman, Jason Sudeikis and Charlie Day are set to come back as well.  Bridesmaids 2 is a little shaky in that, even if Kristin Wiig doesn't come back, Universal will still move forward with it.
Paranormal Activity 4 coming this year: Firmly establishing itself as the new Saw, Paranormal Activity 4 will be released this coming Halloween.  It's not clear whether it will go further back into the lives of Katie and Kristi or move forward from PA2 but the directors of 3 will be back to direct 4.
Most Rented Movie from Redbox, Most Pirated Movie of 2011: Redbox released the fact that Just Go With It was it's most rented movie of 2011 while Fast Five was the most pirated movie (besides porn of course) of 2011 on torrent sites.
Arnold Schwarznegger's next project "Black Sands": Arnold is currently wrapping up "The Last Stand" and will have a bigger role in The Expendables 2 but his next starring role is in the supernatural action movie "Black Sands".  Arnold said he's "sort of an angel" and it's being described as Commando meets Constantine.  Hopefully it's better than Arnold's last attempt at supernatural action, End of Days.
I'm like the J. Jonah Jameson of Everything Action, writing and editing and constantly demanding pictures of Spider-Man.
2012
arnold schwarznegger
benedict cumberbatch
black sands
brad pitt
bridesmaids
fast five
horrible bosses
JJ Abrams
just go with it
main villain
max brooks
most pirated
most rented
News
news shotgun
paranormal activity 4
redbox
sequels
sherlock
star trek 2
supernatural
trilogy
world war z