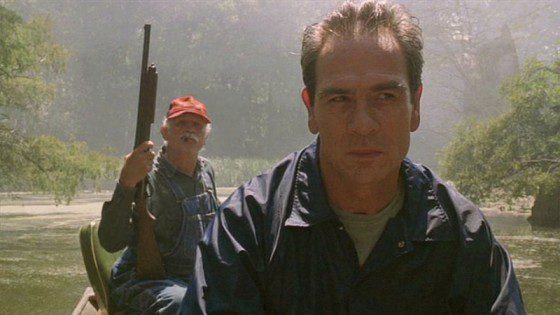 Full Cast and Plot revealed for "Riddick": It's been eight years since "The Chronicles of Riddick" came out and Vin Diesel and director David Twohy have been fighting for funding for a third movie in the franchise and they were finally able to get it on track this year.  The cast and plot was revealed this week and it sounds more in line with Pitch Black, which is a good thing, and follows Riddick as he's left for a dead on a planet full of deadly alien predators and must fight his way to an emergency beacon so he has a chance to be rescued by a shipful of mercenaries.  Karl Urban, Jordi Molla, Katee Sackhoff, Matt Nable and Bokheem Woodbine co-star.
Insidious 2 in the works: Insidious was one of the surprise horror hits of 2010 and made a crapload of money for a $1.5 million budget.  Insidious 2 is now in the works with director James Wan back along with screenwriter Leigh Whannell.  No word if Patrick Wilson or Rose Byrne will return or what the movie will be about.
Adam Sandler starring in Candy Land: In what I think is one of the signs of the apocalypse, Adam Sandler will be starring in the adaptation of the board game Candy Land for Columbia Pictures.  There's no mention about what the plot will be but it will probably follow a group of kids making their way through the various candy themed areas of Candy Land with Sandler as their guide.
Robocop remake being rewritten by Gran Torino writer: After Darren Aronofsky left the project, the remake of Robocop went a little dormant but it's apparently being rewritten by Nick Schenk, who wrote the screenplay for Clint Eastwood's Gran Torino.  Jose Padilha, director of Elite Squad, is signed on to direct.
Stretch Armstrong movie changes studios, drops Taylor Lautner: Universal had a bunch of Hasbro properties in various states of production but one of them, Stretch Armstrong, has moved to Relativity Media and Taylor Lautner and director Rob Letterman are both off the project.
Joe Carnahan directing and writing Death Wish remake:  Joe Carnahan, currently riding high with The Grey, is signed on to direct and write a remake of the Charles Bronson classic, Death Wish.  Frank Grillo, who has had great supporting roles in the aforementiond The Grey and also last year's Warrior, is set to star and the movie will be set in a Collateral/Drive style Los Angeles.
Matthew Vaughn signed on for X-Men First Class sequel:  I'm on board for anything they do.
New Images from Skyfall and Dredd:
I'm like the J. Jonah Jameson of Everything Action, writing and editing and constantly demanding pictures of Spider-Man.
adam sandler
candy land
changing studios
charles bronson
darren aronofsky
david twohy
death wish
dredd
frank grillo
full cast
gran torino
insidiious 2
joe carnahan
karl urban
katee sackhoff
matthew vaughn
new images
News
news shotgun
nick schenk
pitch black
relativity
remake
rewrites
riddick
robocop
sequel
skyfall
stretch armstrong
taylor lautner
vin diesel
x-men: first class