Review: Tim & Eric's Billion Dollar Movie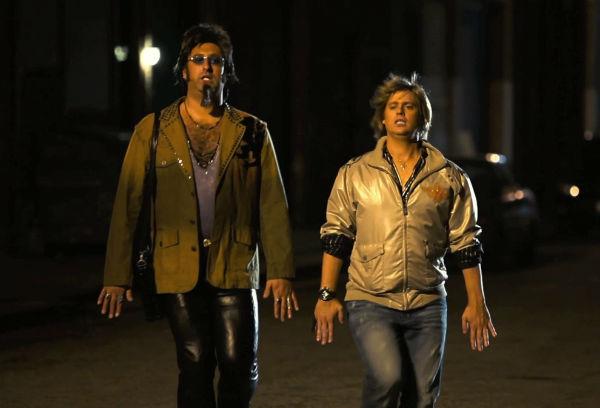 For nearly five years, Tim Heidecker and Eric Wareheim have been providing laughs on Cartoon Network's late-night Adult Swim block. The first was the barely animated sitcom "Tom Goes to the Mayor", which found Heidecker's character Tom providing all kinds of headaches for Wareheim's wacky Mayor. The second and more popular effort was "Tim & Eric's Awesome Show, Great Job" which aired for five seasons and broke new ground in what could be labeled as comedy.
Simply put, you either love or hate the antics of Tim & Eric. The hate part being that you don't find them funny at all, or might be grossed out by some of their sketches. Or maybe you're in the "love it" camp; finding the humor in the more humor-less spots and respecting the duo for always pushing the envelope.
The duo has returned for their first feature length film: the Funny Or Die produced "Tim & Eric's Billion Dollar Movie". The movie starts with the pair showing their billion dollar short film to Tommy Schlaaang , a decrepit tycoon played by Robert Loggia. Infuriated that a film that cost a billion dollars but only lasted three minutes, Schlaaang orders the two to pay him back immediately. When all hope seems lost, the two spot a TV ad for the S'wallow Valley Mall for sale. Owner Damien Weebs (Ferrell) promises a billion dollar revenue if someone buys the mall from him. Tim and Eric then set out to find and buy the mall, only to discover it full of hobos and strange specialty shops.
In addition to this plot, the movie contains several cut-away scenes and gags that were a staple of "Awesome Show". One of the first stars Jeff Goldblum as "Chef Goldblum" who offers a special movie theater seat that is too weird to believe. More scenes are splattered throughout, such as those that are intended to "help" the viewer understand the common themes of the movie.
These scenes are more interesting than the movie itself. While it's great to see Tim and Eric interact with a newer cast of characters in a somewhat coherent plot, the razor-thin detail of the plot ends up being a distraction rather than something to base a feature film on. It's weak. But thankfully, some of the cut-away scenes and performances help salvage it. Loggia has never been gristlier as the ruthless tycoon, and John C. Reilly is intriguing as the man-child Taquito. Ferrell has a few neat scenes as the dasterdly Weebs, while Will Forte shines as the owner of the mall sword shop Allen Bishopman.
If you haven't liked any of Tim and Eric's antics to this point, "Billion Dollar Movie" will do nothing to sway you. But for die-hard fans, it's a must see. And I haven't even gotten to the "sex" scene, which is paired with what I will only call as the "shrim scene". The juxtaposition of the two result in one of the most disturbing scenes I've ever seen in a comedy, much less any movie. It's gross.
Tim and Eric have both said that "Awesome Show" isn't coming back and they'd love to make enough money to fund another one. (In fact, Magnolia Pictures, who is distributing the film, has it available on demand before it goes in theaters in March.)
"Billion Dollar Movie" is chockful of those ridiculous moments that fans have come to love. But don't come into the film uninitiated. Tim and Eric's brand of comedy isn't for everyone.
But for those who like it, go ahead and shell out the ten bucks and rent it. It's worth it. You'll be saying "shrim" in no time. Abso. Lutely.
For non-fans: 0.5 out of 5
For fans: 4.5 out of 5
Overall: 3.5 out of 5 
Techie guru, who also posts sometimes.
billion dollar movie
eric wareheim
john c. reilly
on demand
review
tim & eric
tim heidecker
will ferrell