Total Recall: The Lone Gunmen "Maximum Byers"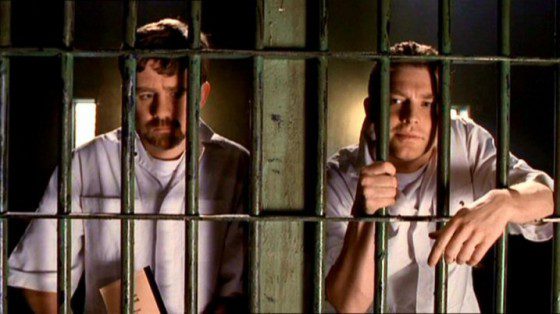 In this edition of The Lone Gunmen, Jimmy and Byers head undercover as a pair of death row inmates in a quest to help one of their oldest readers prove her son innocent.
Things kick off on a cruise ship as the guys follow a lead that the ship's Elvis impersonator might actually be Elvis.  Jimmy takes his place on stage as Byers and Frohike sedate Elvis and check his prints.  The prints and the fact that this Elvis is actually black definitively prove the guys wrong but they also learn from the prints that this Elvis is Thomas Eames, wanted for wire fraud and embezzlement and Jimmy is arrested by US Marshals after performing a rousing rendition of "Hound Dog".
Apparently talking their way out of that situation, the guys return to the HQ and are surprised to get a visit from Mrs. Fifer, a huge fan of the newsletter since issue one and who begs the guys to investigate the situation her son, Doug is in.  Doug was convicted of murder in Texas and sent to death row.  A few days ago, Doug stopped the appeals process and started pressing for an execution date.  Mrs. Fifer is convinced Doug is innocent and Byers and Jimmy are determined to go in and find out.  Taking a cue from The A-Team, Byers and Jimmy disguise themselves as inmates and, with some hacking from Langley, are added onto the list of inmates heading to the prison Doug is in.  After going through all the cleaning and inspection of entering prison, the guys settle into their cells and meet some of their neighbors including the slightly crazy but nice Spike and quiet and creepy Lowery.  The guys learn that Fifer is in the infirmary after getting into a scrape with some of the guards so Byers decides to get himself admitted to talk to Fifer.  This means picking a fight with Lowery while outside for recreation.
Meanwhile, Langley and Frohike work outside to figure out if Fifer is innocent but come across evidence that he actually is guilty of the murder he's accused of.  It seems his lawyer, Jeremy Wash, is trying to build a high rise building complex in the area but it requires buying up the local businesses.  Wash paid Fifer to murder the holdout owner of the local burger joint and Fifer was caught.  The reason Fifer is so eager to die is that he has an agreement with Wash where Wash will deposit money every month into Mrs. Fifer's account. They also learn that Spike was set up by Wash for another murder.  The guys call Yves and have her sneak a tiny camera and headset in for Jimmy as she pretends to be his hot, Southern wife.  Jimmy gets a message to Byers in the infirmary and tries to convince Fifer to at least do the right thing and testify against Wash but he still refuses until Lowery, sent into the infirmary by Wash to silence Fifer, tries to kill him with a shiv but Byers smacks him in the back of the head with a bedpan.  Frohike and Langley are able to disguise themselves as guards and get Byers and Langley out of death row by explaining there was a computer mix up with their transfer.
Later, Wash shows up at the prison to meet with Fifer and learns that he was attacked by Lowery but, much to his chagrin, is fine and decided to testify against him, which results in Wash getting led off by a pair of Texas Rangers.  Fifer is still a murdere though and is executed a few days later.  Jimmy and Byers wait outside the prison with the protestors and try to talk to Mrs. Fifer but she sadly slaps Byers and walks away.  On the upside, Spike is released and granted a multi-million dollar settlement by the state and he uses it to follow his passion: setting up a clinic to rescue injured cockroaches.
I'm like the J. Jonah Jameson of Everything Action, writing and editing and constantly demanding pictures of Spider-Man.
byers
cockroaches
death row
douglas fifer
elvis
frohike
hound dog
infirmary
jailhouse rock
jeremy wash
jimmy bond
langley
lowery
mrs fifer
murder
number one fan
spike
texas
the a-team
total recall
undercover
wrongfully accused
yves