Have a Seat: "Far Away Places"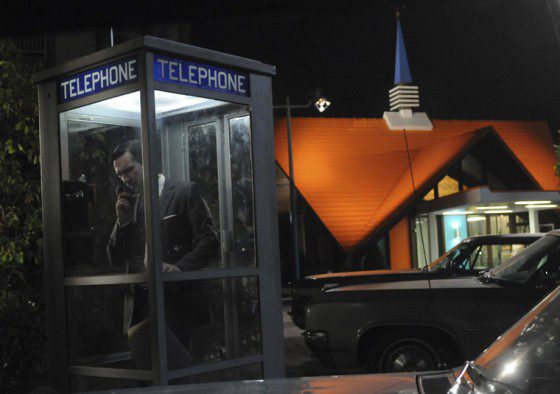 Six episodes in to this season of "Mad Men" and it's clear to see that the major theme is adjustment. Two weeks ago, we saw Joan adjusting to a life without her husband. Last week, we saw major adjustments for Pete and Lane as they were thrust into new situations.
This week we are back on Peggy, Roger and Don. Peggy seems to be a bit grouchy lately, most due to the lack of success on the Heinz campaign. They turned down their "bean ballet" idea from earlier in the season and are back to take another look. "Home is Where the Heinz is" says Peggy, hoping that the slogan and images of college students eating beans around a campfire will hit with the client. But when it doesn't, Peggy goes on the offensive. She doesn't lose the client, or her job, but she does lose the campaign.
Hoping to let off some steam, she takes the afternoon off and heads to the movies. Hoping to relax, she takes a few puffs from a stranger's joint. Keeping up her rebellious streak, she manages to give him a handjob as they watch the movies together. We've seen this wild side of Peggy before, but it seems more and more she's not in her element unless something scandalous is going on.
Meanwhile, Roger tries to convince Don to have a guy's retreat to the Howard Johnson's headquarters in Plattsburgh, New York. (Yes, it's the '60's all right.) Don doesn't seem sold on the idea and Roger drops it after Don suggests bringing their wives. Roger only really wanted to go to get out of a dinner party with Jane's friends.
Some dinner party. After some deep discussion at the table, the group moves to the living room where it's announced they'll all take LSD. Funny moments occur with Roger, such as music playing when he opens the vodka bottle, turning into an ad when he looks in the mirror, imagining he's at the 1919 World Series while in the tub, and (my personal favorite), picturing Bert Cooper's face on his dollar bill. (The Beach Boys' lyric of "I just wasn't made for these times" that plays is a bit telling of this season too.)
The whole trip isn't all fun and games. Later during the trip, Roger and Jane have a frank discussion about their marriage. Jane says she never cheated, only fighting back a kiss once. She says she won't ask about him but she knows he doesn't love her. "I did", he laments, "I really did." The next morning, the sober two come to the conclusion they're getting a divorce, with Roger leading the charge.
While things get ugly for the Sterlings, things seem to go swimmingly for the Drapers. The same day as Peggy's Heinz presentation, he pulls Megan away from work for Roger's trip idea. While being wined and dined at the HoJo's, Megan starts to feel pressure. She doesn't know where play begins and work ends, and dislikes Don ripping her away from an important presentation like that. The fight escalates as Megan starts to act childish again (I guess she really was the youngest child.) When she makes a crack at Don's mom, Don gets back in his car and drives off.
Somewhere down the road he realizes his stupidity and turns back to get her. What results is a seven-hour wait at that damn Howard Johnson's, waiting for her to turn up. She left with some guys, the waitress says, and Don's head is spinning with what could possibly happen. After waiting so long, he ventures back to the city where she awaits at their apartment. The two chase again, with Megan sobbing. Don apologizes for the fight but Megan says their fights are having a deeper effect on their marriage. It isn't long before the two make up and things seem to be back to normal.
When Don arrives at the work the next morning, he's greeted by a stern Bert Cooper awaiting him in the conference room. Cooper berates him on taking off too much time lately and not focusing on the business. "You've been on love leave", he complains. Don says he has everything under control and it's not his business but Cooper still suggests otherwise. The episode ends with Don contemplating by himself in the conference room.
This episode was my favorite of the season so far. While I liked the Lane/Pete dynamic of last week, I feel with this episode that we are continuing to peel back the layers to Roger and Don again as well. It's also a credit to Weiner and co. for turning Megan from "that random secretary Don proposed to" to a full-fledged character who does seem like the right woman for Don. As as this season finds our main character finding what he feels to be happiness at last, there is still something lacking. Perhaps Cooper is right, Don's head is in the clouds as things at SCDP start to crumble slightly. The contemplating Don Draper that dominated last season is back again.
BAMF: No real winners this week, although Peggy seemed to recover from her bad morning. For the time being.
Maddest Man: Megan Draper, who was upset by Don's actions to the point of absurdity. How long before enough is enough?
MIA: After last week it makes sense there's no Lane or Joan and very little of Pete. They're still healing from last week.
Techie guru, who also posts sometimes.
don draper
howard johnsons
jane sterling
lsd
mad men
megan draper
peggy olsen
plattsburgh
roger sterling