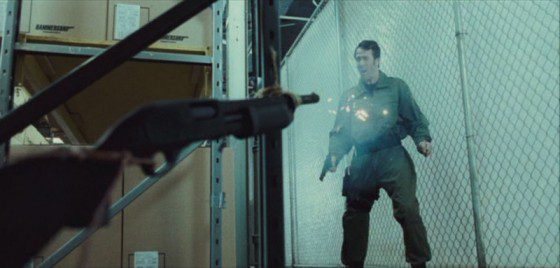 Amazon introduces "Never Before on DVD" store:  Amazon unveiled a new section of their Movies & TV store with the "Never Before on DVD" section.  The movies in this section have, obviously, never been on DVD but if you purchase them, Amazon will print a copy of it on a DVD-R and send it out to you.  Warner Bros, Disney, Sony, MGM, Lionsgate and Universal all have offerings on there and some of the offerings including the Dolph Lundgren movie, Dark Angel, Steel, The Centurions, Chuck Norris Karate Kommandos and Airborne.
Casting Round Up: William Sadler joins Iron Man 3, Mads Mikkelsen is going to be the villain of Thor 2, Zoe Saldana joins Machete Kills, Tom Cruise attached to Magnificent Seven remake and Anthony Hopkins will face off against the senior bad asses of Red in Red 2.
Bradley Cooper developing Biopic "American Sniper":  Bradley Cooper is producing and probably starring in a movie called American Sniper, which is based on the life of Navy SEAL Chris Pyle, the man with the most recorded sniper kills.
Crazy billionaire funding In the Army Now sequel: Alki David, the ceo of FilmOn.TV, is funding a sequel to the Pauly Shore "classic", In the Army Now.  Apparently Shore and co-star Andy Dick appeared on the FilmOn.tv talk show and said they should do a sequel and now David is funding it.  Dick is writing a script and the movie will be called In the Army Again.
Peter Weller voicing Batman in Dark Knight Returns animated movie: One of the greatest comic stories of all time, The Dark Knight Returns, is finally getting adapted into a DC animated film and Robocop himself, Peter Weller, is voicing the old and grizzled Batman, who comes out of retirement when Gotham is under siege by a vicious gang.  The movie is going to be released in two parts, one this fall and part two next spring.
Josh Trank directing Shadow of the Colossus movie:  One of the most critically acclaimed games of all time, Shadow of the Colossus, is being adapted into a film with Chronicle director, Josh Trank, at the helm.  The game follows an unnamed protagonist as he attempts to slay 16 giant creatures in an attempt to bring back his dead love.  The story of the game is very much up to interpretation, so it will be interesting to see what sort of structure the movie would bring.
GI Joe: Retaliation moved to March 2013 to be converted into 3D:  GI Joe: Retaliation was supposed to come out in just over a month but now it will over six months before the movie comes out, as Paramount has pushed the film back to March of 2013.  The movie will be converted into 3D and there will also be reshoots and new scenes filmed to take advantage of the new 3D aspect of the film.
Gary Oldman cast in Robocop remake: Oldman will play a character named Norton, who is apparently the man who creates Robocop.
Ian Fleming biopic in the works from Duncan Jones: The creator of James Bond had a pretty interesting life himself, part of a secret intelligence group during World War II and also traveled the world as journalist.  Moon and Source Code director Duncan Jones will be directing.
Sandra Bullock and Melissa McCarthy playing buddy cops:  Bullock will play a straight laced cop who must join forces with unconventional Boston cop McCarthy to try and catch a Russian gangster.  Bridesmaid's Paul Feig will be directing the movie, which is currently untitled.
amazon
american sniper
andy dick
anthony hopkins
biopic
bradley cooper
buddy cops
casting
chronicle
crazy billionaire
dc animated movie
duncan jones
gary oldman
gi joe: retaliation
ian fleming
in the army now
josh trank
mads mikkelsen
melissa mccarthy
moved back
never before on dvd
news shotgun
pauly shore
peter weller
print on demand
robocop
sandra bullock
sequel
shadow of the colossus
the dark knight returns
Tom Cruise
william sadler
zoe saldana