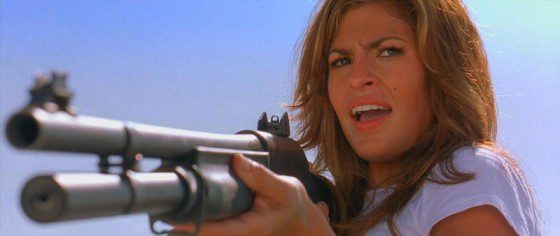 Animated Marvel movie coming from Disney based on Big Hero 6: There's been speculation and hopes that since Disney bought Marvel, there would be an animated movie based on a Marvel property in the near future.  It seems like it's finally coming, although they don't seem to want to risk a big franchise and instead are focusing on the little known Big Hero 6 series of comics, which follows a Japanese government sanctioned superhero team, whose most prominent member is probably frequent Wolverine villain, Silver Samurai.  The movie will most likely be shooting for a 2014 release.
Guardians of the Galaxy most likely the second 2014 live action Marvel movie:  In other Marvel movie news, the intergalactic adventures of the Guardians of the Galaxy are most likely going to be coming to theaters in 2014 and be the second Marvel Cinematic Universe release for that year along with Captain America 2.  The Guardians are basically the Avengers of space and features, among other characters, powerful magic weilder, Adam Warlock, living plant Groot, bio-engineered living weapon Drax the Destroyer, heavy artillery wielding Rocket Raccoon and their leader, Starlord.  They are closely tied to Thanos, whom we saw in the stinger from The Avengers.
The Human Fly movie in the works: Kind of related to Marvel news but more 70's pop culture related, there was a time when America was obsessed with stuntmen, you had The Fall Guy on TV and Evel Kneviel jumping over the Grand Canyon and out of this came a masked stuntman known as "The Human Fly".   Marvel made him a superhero with a limited series and a movie based on his real life exploits, including surfing on top of a plane going 250 mph.  Music director Steve Goldmann will be directing the film.
Van Helsing and Starship Troopers reboots, both more realistic: Alex Kurtzman, of Kurtzman and Orci screenwriting fame and producer of the new Van Helsing, says the movie will be more grounded and realistic than the cheesily bad Hugh Jackman take on the character while Starship Troopers reboot producer, Toby Jaffe, said the new version will be less violent (boo!) and more closely tied to the original novel (yeah?)
Monsters sequel plot details: We found out last week that a sequel to indie sci fi movie Monsters was in the works and now some more plot details have come out.  The alien infection/invasion that quarantined the northern part of Mexico has apparently spread all over the world and a concentrated effort to kill the alien lifeforms is underway.  In the midst of this, a squad of soldiers is tasked to head deep into the infected zone to try and find a rogue American soldier.
Indiana Jones Quadrilogy arrives September 18th: Pre-ordered!
Three Avatar sequels in the works, supposedly going to shoot back to back to back:  At least according to returning co-star Sigourney Weaver but there's no official word besides the fact that James Cameron is going to be working on nothing but Avatar from now on and Avatar 2 is a definite.
Lego: The Piece of Resistance merges Lego Worlds, including DC Superheroes:  21 Jump Street and Cloudy with a Chance of Meatballs directors, Phil Lord and Christopher Miller will be making a Lego movie called, Lego: The Piece of Resistance.  The movie follows average mini figure, Emmett (played by Chris Pratt) who is mistakenly identified as The Master Builder, a hero who can save the Lego universe from a villain who is trying to glue the world together.  Emmett must set out and gather a team of heroes to combat this evil and apparently these heroes might include Lego Batman and Superman.  Batman will be played by Will Arnett but there's no casting for Superman (rumors are Channing Tatum).
Aaron Eckhart is POTUS for Olympus has Fallen: One of the interesting movie battles of next year is the dueling "Die Hard in the White House" movies, White House Down, directed by Roland Emmerich and Olympus Has Fallen, directed by Antoine Fuqua.  WHD cast Jamie Foxx as it's president and now Aaron Eckhart has been cast as POTUS of Olympus.  He'll be protected by lead secret service agent, Gerard Butler.
Genndy Tartakovsky directing 3d, animated, Popeye:  The creator of Samurai Jack, Dexter's Laboratory and the good Clone Wars cartoon will be directing an 3D animated update of everyone favorite spinach powered sailor.  The screenwriters of The Smurfs movie will write the script for Popeye.
I'm like the J. Jonah Jameson of Everything Action, writing and editing and constantly demanding pictures of Spider-Man.
21 jump street
70's
aaron eckhart
antoine fuqua
avatar 2
big hero 6
blu rays
chris pratt
cloudy with a chance of meatballs
dexter's laboratory
evel kneviel
genndy tartakovsky
guardians of the galaxy
indiana jones
james cameron
kurtzman and orci
lego batman
lego superman
lego: the piece of resistance
lord and miler
Marvel
monster: dark continent
monsters
News
news shotgun
olympus has fallen
plot details
popeye
potus
reboot
rocket raccoon
roland emmerich
samurai jack
sigourney weaver
silver samurai
starship troopers
stuntmen
the avengers
the human fly
van helsing
white house down
will arnett