Battle at the Box Office 8/20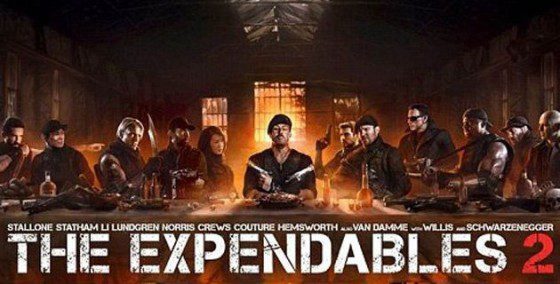 The Expendables 2 took the top slot at the box office this weekend but more action stars did not mean bigger rewards.  Expendables 2 made $28.6 million over the weekend, down from the original's $34 million.  Obviously, we love everything Expendables here at Everything Action but it is definitely kind of a niche movie, R-rated, old school action.  New school action with the Bourne Legacy faltered pretty heavily with the Expendables competition, dropping over 50% from last weekend and making another $17 million.  ParaNorman came in third with $14.1 million, down from Coraline, which made $16.8 it's opening weekend but it is better than this year's other stop motion kid's movie, Pirates!  We'll have to see if Tim Burton's name will boost Frankenweenie in a couple of months.  The Campaign and Sparkle rounded out the top 5 with the latter making $11.6 for it's opening weekend.  Down at seventh place was weakly opening Odd Life of Timothy Green, which made $10.8 million.   Elsewhere, Step Up Revolution plummeted out of the top ten, going from ninth place to 15th and mainstays like Ted and Ice Age finally left the top ten as well.  The big blockbusters are pretty much over for this Summer so Expendables 2 might be able to hold on to the top spot for at least another week.
I'm like the J. Jonah Jameson of Everything Action, writing and editing and constantly demanding pictures of Spider-Man.
Battle at the Box Office
coraline
Ice Age
paranorman
sparkle
step up revolution
ted
the bourne legacy
the campaign
the expendables 2
the odd life of timothy green
weekend box office totals