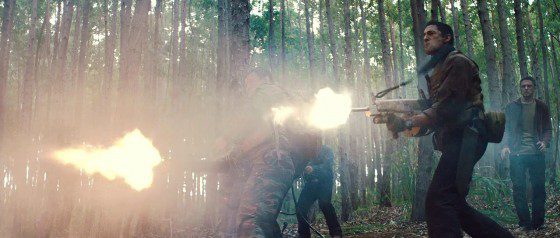 Sean Bean starring in TNT's "Legends": Originally set for Brendan Fraser, Sean Bean is now taking over as the lead in TNT's upcoming spy show, Legends.  Bean will play Martin Odum, an operative who is able to transform himself into different people to accomplish his missions.
Ty Burrell replacing Christoph Waltz in Muppets 2: Following the path of the classic Muppets films, the sequel to The Muppets is sending the gang to Europe and getting caught up in a crazy crime caper.  Originally, Christoph Waltz was going to be co-starring as an Interpol inspector but that role will now be going to Modern Family's Ty Burrell.
Nicolas Winding Refn directing The Equalizer: The movie, based on the 80's TV show, stars Denzel Washington as former secret agent Robert McCall, who did some horrible things and is now trying to help whoever he can settle scores and get justice, kind of like a one man A-Team.  Drive and Bronson director Nicolas Winding Refn is now on board to direct.
Universal developing movie based on Ernie Cline's Armada: Author Ernie Cline, who co-wrote Fanboys and the video game novel "Ready Player One" released a new novel called Armada that is now being developed as a film by Universal.  The novel finds a group of MMO players in the game "Armada" being recruited by the government to use the skills they learned in the game to fight a threat in real life.
Kevin Smith's last film will be Clerks 3: Kevin Smith is almost about to end his directing career with his second to last project being a TV miniseries Hit Somebody, a hockey comedy, and, once Jeff Anderson (aka Randall) signs on, his last project will be Clerks 3.
Jumanji getting a remake: Colombia is remaking the Chris Van Allsburg classic, Jumanji with Stranger than Fiction screenwriter, Zack Helm, writing the script.
Tron 3 moving forward with new screenwriter: Tron: Legacy was great but it didn't perform quite as well as Disney might have wanted but, fortunately, they are still supporting the brand with the fantastic animated series on Disney XD and now they have hired screenwriter Jesse Wigutow to get started on the script.  Director Joseph Kosinski is set to return to direct and he's said the movie will hopefully be a direct continuation of Legacy and Cillian Murphy's Ed Dillinger Jr will most likely be the villain.
Timothy Olyphant joins horror/western Bone Tomahawk:  Olyphant will play a Wild West sharpshooter who joins a rescue party to save a young woman kidnapped by a group of bloodthirsty cannibals.  The movie will also feature Kurt Russell, Peter Saarsgaard, Richard Jenkins and Jennifer Carpenter.
Dennis Haysbert replacing Michael Clarke Duncan in Sin City 2: With the unfortunate passing of Clarke Duncan earlier this year, 24's Dennis Haysbert has stepped up to replace him in Sin City: A Dame to Kill For.  Clarke Duncan played Manute, a ruthless bodyguard for the upper level criminals of Sin City.
Disney signs exclusive deal with Netflix: A big, and most likely expensive, deal was recently made by Netflix and Disney.  Starting in 2016, all theatrical releases from Disney will be available on Netflix's streaming service in the same window as they would appear on premium cable channels.  All direct to DVD releases from Disney will also be available day and date on streaming starting in 2013.  There are also a number of back catalog offerings available right now on streaming, including The Muppets Movie, The Great Mouse Detective and The Aristocats.
Rise of the Guardians likely going to be a huge disaster for Dreamworks:  Shockingly, no one was interested in a holiday themed, family, action/adventure as Rise of the Guardians made only $24 million in it's opening weekend with a budget of $145 million.  Dreamworks will most likely be taking a $50 million hit and it could effect budgets and future projects for the studio.
Darkseid rumored as the Justice League villain: Pretty obvious choice but it could also be pretty awesome.
Dane Dehaan cast as Harry Osborn in Amazing Spider-Man 2: The Chronicle star will co-star along with Andrew Garfield, Emma Stone, Shailene Woodley and Jamie Foxx in the upcoming sequel.  Marc Webb is set to return as director.
amazing spider man 2
armada
bone tomahawk
casting
chris van allsburg
christoph waltz
clerks 3
dane dehaan
darkseid
dennis haysbert
denzel washington
disaster
disney
dreamworks
ed dillinger jr
ernie cline
harry osborn
horror
jennifer carpenter
jospeh kosinski
jumanji
justice league
kevin smith
kurt russell
last movie
legends
manute
michael clarke duncan
mmo
muppets 2
netflix
new
news shotgun
nicolas winding refn
peter saarsgaard
richard jenkins
rise of the guardians
sean bean
sin city: a dame to kill for
the equalizer
timothy olyphant
tnt
tron 3
ty burrell
universal
western