Up to Speed: True Justice Season Two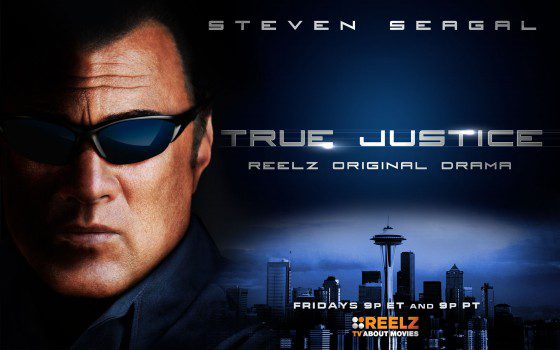 What: True Justice on Reelz Channel
When: Fridays at 9pm starting on 1/4
Key Characters:
Elijah Kane (Steven Seagal): The leader of Seattle's SIU undercover unit, Kane is a former Tier 1 operative in Iraq and Afghanistan, CIA agent and a master swordsman.  His team investigates various crimes in Seattle and Kane usually provides over-watch or surveillance for his team, rather than going undercover himself.
Sarah Montgomery (Sarah Lind): A rookie to Kane's SIU team, Sarah is frequently sent undercover as a hooker/stripper and can handle herself in gun and fist fights.  She and fellow SIU team member, Radner, develop a relationship in the first season.
Juliet Sanders (Meghan Ory): Juliet is a tough veteran of Kane's unit and is paired up frequently with Sarah for undercover missions.  She has a particular hatred for men who commit crimes against women, since she was a victim years before.
Radner (Warren Christie): The loose cannon of Kane's team, Radner is prone to making rash decisions that can either break the case or put the entire team in jeopardy.
Andre Mason (William "Big Sleeps" Stewart): The quiet, calm and collected member of the team, Andre is not sent undercover as frequently as the other members of the team but takes backup role similar to Kane.  Mason learns that his wife is pregnant but she is also looking for a divorce due to his long hours with SIU.
Other Characters:
Sheriff Graves (Adrian Hough): Kane's boss, he is frequently frustrated with Kane's disregarding of procedure but begrudgingly accepts that he gets results.
Nikolai Putin (Gil Bellows): A Russian crime lord the SIU team busts for murder and drug charges early in the season and will most likely be the main villain of Season Two.
Gates (Kyle Cassie): A cop who is brought in as a temporary SIU member when Radner is undercover with white supremacists.
Key Events:

Sarah joins the team and her first case leads her and the team to busting a Russian drug ring led by Nikolai Putin.
The team stops a killer who is targeting strippers who look very similiar to Sarah, Sarah goes undercover as a dancer and manages to get targeted but the team believes they have stopped the killer.
A copycat of the stripper killer surfaces and it turns out to be the original killer, the son of a famous author of vampire romance novels who is trying to use his crimes to get as famous.
The team stops a shipment of toxic ecstasy that is killing club patrons.
Radner is sent undercover with a group of white supremacists and must take crystal meth in order to maintain his cover, he has to fight his new found addiction for the rest of the season.
The team takes down the local Yakuza chapter, who were operating an illegal fight club among other crimes.
Kane must revisit his past to help stop a former comrade who is accused of killing a number of people in a sniper shooting.
A group of Russian diamond smugglers arrive in town and are stopped by the team.
Kane is targeted for his CIA/black ops activities and must seek the help of one of his past comrades to stop the assassins.
The team is ready to testify against Russian mob boss Putin but a team of mercenaries attacks the precinct and the team is seemingly caught in a bomb blast after trying to hold off the siege.  Based on the casting for Season Two, it's most likely that Radner, Juliet and Mason are all killed and Sarah and Kane, with three new team members, are heading out to get vengeance in Season Two.
I'm like the J. Jonah Jameson of Everything Action, writing and editing and constantly demanding pictures of Spider-Man.
andre mason
diamonds
drugs
elijah kane
fight clubs
juliet
murder
nikolai putin
radner
reelz channel
russian
sarah montgomery
season two
seattle
serial killers
steven seagal
true justice
undercover
up to speed
white supremacists
yakuza