Up to Speed: Justified Season 4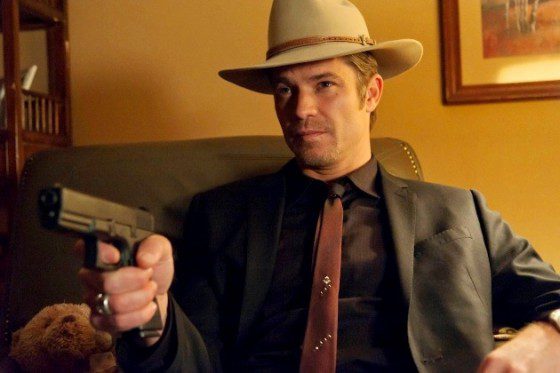 What: Justified Season 4
When: Tuesdays at 10 PM on FX
Key Characters:
Raylan Givens (Timothy Olyphant): The protagonist of the show, Raylan is a US Marshall who is assigned to the Lexington, KY office, which is close to his home in Harlan County.  Due to his knowledge of the locals, Raylan is usually the first person to question suspects or investigate crime scenes but his quick trigger finger and penchant for getting into trouble cause him to be a pain in the side of his boss, Art.  Raylan has a complicated relationship with main antagonist, Boyd Crowder, as they shared surviving a cave in in a coal mine when they were younger but went their separate ways when they got older.
Boyd Crowder (Walton Goggins): Boyd is the recurring antagonist of Justified and usually always has some sort of master plan every season that will expand his criminal empire.  In season 3, Boyd was initially in jail after assaulting Raylan in the marshall's office but it was revealed that he wanted to get caught in order to kill Dickie Bennett for shooting Ava Crowder.  Dickie reveals his mother, Mags, had a huge stash of money that is being held by Ellstin Limehouse, the crime boss of Noble's Holler.  He spends most of Season 3 warring with fellow villain, Robert Quarles.
Dickie Bennett (Jeremy Davies): The only surviving member of the Harlan crime family, the Bennetts, Dickie was hellbent on getting his full "inheritance" from Ellstin Limehouse, who he believed was hiding it for his own use.  In his desperation, he even attempts to recruit Boyd and his gang, who all want him dead, to help him try to raid Noble's Holler.
Ellstin Limehouse (Mykelti Williamson): The cunning and ruthless leader of Noble's Holler, Ellstin tries to pass himself off as an innocent barbequer and butcher but his gang runs many different criminal enterprises, most notably holding ill gotten money.  Both Boyd and Quarles try to recruit Ellstin to their side but he wisely remains neutral.
Winona Hawkins (Natalie Zea): Winona is Raylan's ex-wife/current girlfriend and currently pregnant with his child.  After Raylan is shot at the end of Season Two, he promised Winona that he would take a less dangerous job as a weapons instructor at Quantico but he gets dragged back into the criminal madness in Harlan yet again.  Winona realizes Raylan will never be able to stop being in the line of fire and leaves him again.
Ava Crowder (Joelle Carter): Formerly married to Boyd's brother, Ava is currently with Boyd and is fully involved in his criminal activities, even becoming the new madame of the local whorehouse after she kills the abusive pimp, Delroy, when one of the girls comes to her for help.
Other Characters:

Art Mullens (Nick Searcy): Raylan's boss, Art is constantly torn between allowing Raylan to handle situations and not letting those situations explode out of control.  Art is also not above getting his hands dirty if the situation calls for it.
Robert Quarles (Neal McDonough): The main villain of Season 3, Quarles was exiled to Kentucky by the Detroit mafia to run their Frankfort operation.  He recruits recurring villain, Wynn Duffy, as his second in command and wages war against Boyd Crowder for control of the criminal activity in Harlan.
Arlo Givens (Raymond J Barry): Raylan's father, he has joined Boyd's criminal gang after his wife Helen was killed in Season Two by Dickie Bennett.
Tim Gutterson (Jacob Pitts): One of Raylan's fellow marshals and a former sniper, Tim is frequently paired with Raylan to keep an eye on him.
Rachel Brooks (Erica Tazel): Another of Raylan's fellow marshals, she is an effective and driven marshal but she hates to admit that she frequently needs Raylan's knowledge of the locals in Harlan.
New Characters in Season 4:

Patton Oswalt as Constable Bob Sweeney
Joe Mazzello as Billy St. Cyr
Ron Eldard as Colt
Key Events:

Raylan recovers from his gunshot wound he sustained at the Bennett's house at the end of Season Two, he returns to work to question Boyd and Boyd assaults him, causing him to be arrested.
Robert Quarles arrives from Detroit with orders to run the Frankfort branch of the organization, he takes recurring villain Wynn Duffy as his second in command.
Boyd finds Dickie Bennett in jail with plans to murder him for almost killing Ava but Dickie reveals that his mother Mags had a huge cache of money hidden in Noble's Holler with Ellstin Limehouse.
A pair of corrupt cops overhear that Dickie has a huge amount of money and arrange for him to get broken out of jail, Dickie takes them to the Bennett's old general store and calls Limehouse to bring the money.  Limehouse arrives and save's Dickie's life but reveals that all that's left of Mags' money is in a tiny cooler, Dickie refuses to take it as he believes Limehouse is holding out on him.
Boyd attempts to expand his criminal empire and collides head on with Quarles operation, the two battle each other for most of the season, killing drug dealers and trying to steal member's from each other.  Boyd eventually comes out on top when Quarles erratic behavior causes the mob to put a hit on him.
Boyd is forced to kill one of his gang, Devil, he finds out that he accepted Quarles offer to betray Boyd.
Seeing that Raylan will never be able to live a quiet life, Winona leaves him again.  Raylan moves into an apartment above a bar and gets free rent in exchange for bouncing for the bar.  He starts shacking up with the bar's attractive bartender.
Boyd and Quarles attempt to get each of their corrupt Sheriff nominees elected with Boyd managing to get current Sherrif, Napier, out of office due to a technicality.
Raylan closes in on Quarles and he kills Winona's second ex-husband, Gary Hawkins, in an attempt to frame him.
Dickie recruits one of Limehouse's men, Errol and Boyd in an attempt to rob Dickie's money from Limehouse but the plan goes awry and Raylan's friend, Tom, a state trooper is killed.
Quarles goes completely off the rails and kidnaps a family and Raylan and forces him to take him to Limehouse to get $500,000 to pay off the mob so he can go home to Detroit.  Things escalate in Limehouse's slaughter house, with Limehouse eventually chopping off Quarles' arm, killing him.
Boyd is arrested for the murder of Tom but Arlo confesses to the crime, as well as killing Devil.  He claims he acted alone to protect Boyd, allowing Boyd to be released scott free.
I'm like the J. Jonah Jameson of Everything Action, writing and editing and constantly demanding pictures of Spider-Man.
arlo
art
ava
boyd crowder
corruption
dickie
drugs
F/X
harlan county
justified
kentucky
limehouse
marshal
murder
quarles
rachel
raylan givens
tim
timothy olyphant
up to speed
walton goggins
winona