The Hobbit: The Desolation of Smaug Trailer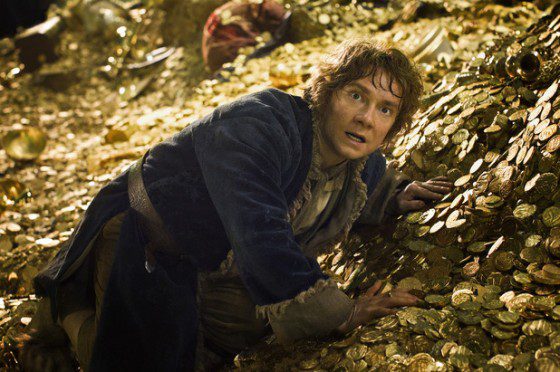 Despite some gripes about 48 fps and stretching out the story just to get three movies, The Hobbit: An Unexpected Journey was a pretty big deal last holiday season and now the second part of the trilogy has a trailer.  The Desolation of Smaug picks up where the last movie left off, with Bilbo (Martin Freeman) and the dwarves in sight of Erebor, but still having a long way to go.  The journey takes the company into the Mirkwood Forest, where they meet with fan favorite Legolas (Orlando Bloom) and new elf character, Tauriel (Evangeline Lily), who join the dwarf company to fight off the relentless orcs led by the white orc Azog.  The troop also heads to the human town of Esgaroth, where they meet Bard the Bowman (Luke Evans), an archer who may prove to be vital against the dragon Smaug.  We also get our first good look at Smaug, who will be voiced by Benedict Cumberbatch, but he hasn't said anything yet.  It looks like it will have the same mix of humorous and serious action sequences as the first, with a chase where Bilbo and the dwarves are all in barrels looking like one of the highlights, and the movie is out this December.  Check out the trailer below.
I'm like the J. Jonah Jameson of Everything Action, writing and editing and constantly demanding pictures of Spider-Man.
azog
bard the bowman
benedict cumberbatch
bilbo baggins
dragon
dwarves
elfves
erebor
esgaroth
evangeline lily
gandalf
ian mckellan
legolas
luke evans
martin freeman
mirkwood forest
orcs
orlando bloom
tauriel
the desolation of smaug
the hobbit
thorin oakenshield
Trailer Park