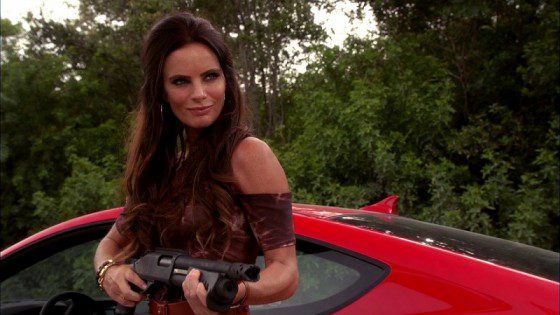 Warner Bros. wants to do a Ninjago movie:  The fantastic looking Lego movie is coming out next year and WB wants to keep it up with a movie based on the Ninja themed Ninjago series.  There is currently a cartoon on Cartoon Network and the guys behind that will write the script for the movie.
Arrested Development soundtrack album coming soon: Arrested Development music composer, David Schwartz, is currently working on the first soundtrack album for the show, featuring original songs and score pieces.  One song that is confirmed is a full length version of the most infectious earworm ever, Getaway by Mark Cherry.  Schwartz is also trying to get a full version of the show's 80's montage song, "Balls in the Air" on the album.
Sony developing a Captain Planet movie:  A nostalgic classic for 90's kids like us, Captain Planet may be on his way to the big screen thanks to Sony.  They acquired the rights and will be moving forward with a live action version of the environmentally conscious show.  I don't think there is any possible way this could be anything but a comedy in the vein of 21 Jump St. or Starksy & Hutch.
Terminator 5 coming June 2015 with Arnold starring:  A new, stand alone Terminator trilogy is starting in the summer of 2015 with Arnold returning as the classic Terminator.   No director is attached but a screenplay is currently being written by writers of Drive Angry, Avatar and Shutter Island.
FX developing a Last of the Mohicans show:  FX has some of the best shows currently airing and they are adding a new take on Michael Mann, Daniel Day Lewis starring, Last of the Mohicans.  It will be a limited series and is the second adaptation of a classic movie by FX, the other being a show based on Fargo.
Vin Diesel meeting with Marvel: Vin Diesel apparently had a meeting with Marvel this week to possibly talk RIRider, with Arrested Development writer Brad Copeland writing the script.
Independence Day 2 casting:  Bill Pullman and Jeff Goldblum will be reprising their roles in the upcoming ID4 sequel but Will Smith was deemed, "too expensive" and will not be returning.
Liam Neeson signs on for Taken 3: For $20 million, Liam Neeson is back as Bryan Mills for the third Taken movie.  Screenwriter Robert Kamen said they are going to try and shake up the formula set up by the first two movies.
RIP Richard Matheson: Sci Fi legend Richard Matheson passed away earlier this week at age 87.  Matheson wrote I Am Legend and a number of classic Twilight Zone episodes, Nightmare at 20,000 Feet and Steel, just to name a few of his contributions to the genre.
WB developing an Encylcopedia Brown movie: The male answer to Nancy Drew or a one man team of Hardy Boys, Encyclopedia Brown is coming to the big screen thanks to Warner Bros.
World War Z sequel on the way:   With it's solid box office performance last weekend, Paramount is moving forward on a sequel to World War Z.  Hopefully, as implied by the ending, we may get slightly more "war" in World War Z 2.
William Fichtner playing Shredder in Ninja Turtles:   Being cast a while back but not revealing his role, William Fichtner revealed he will be playing the arch nemesis of the Ninja Turtles, Shredder, in Anchor Bay's upcoming reboot of the series.  It's not clear if they will stay with the character's normal back story or if they will adapt Shredder to better fit Fichtner's style.
I'm like the J. Jonah Jameson of Everything Action, writing and editing and constantly demanding pictures of Spider-Man.
arrested development
bill pullman
captain planet
encyclopedia brown
F/X
independence day 2
jeff goldblum
knight rider
last of the mohicans
lego
liam neeson
mark cherry
Marvel
news shotgun
ninjago
richard matheson
RIP
schwarzenegger
shredder
soundtrack
taken 3
terminator 5
tmnt
vin diesel
warner bros.
weinstein company
william fichtner
world war z