Curse of Chucky Trailer is Here!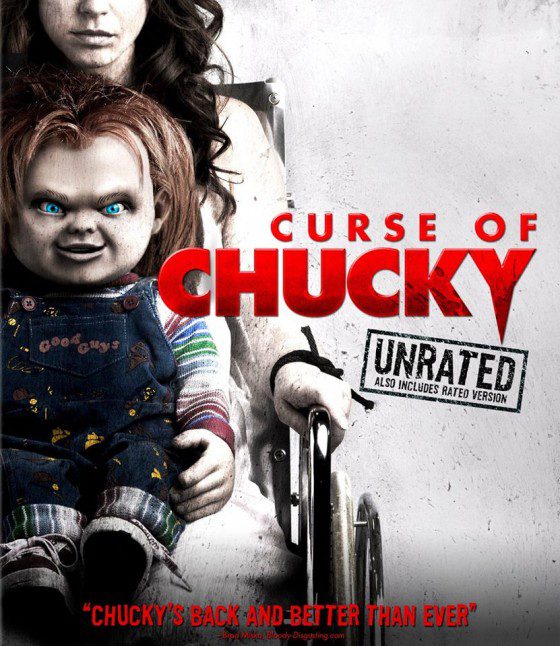 The first official trailer for the latest installment in the legendary "Chucky" series, Curse of Chucky, has made its way online! Check out the the mayhem, below:
http://www.youtube.com/watch?v=Y16TEl6Ek1M
If you don't know the story by now, Chucky is a living, killer "Good Guy" doll possessed (via voodoo, of course) by the murderous spirit of serial killer Charles Lee Ray. He also really hates this kid named Andy, and his entire family or anyone who comes into contact with him. It's a long story.
Here's the official synopsis for the film, directly from Universal:
"He's back!  From the filmmakers that brought you Chucky comes the terrifying return of the pint-sized doll possessed by the spirit of a notorious serial killer. When a mysterious package arrives at the house of Nica (Fiona Dourif, "True Blood"), she doesn't give it much thought. However, after her mother's mysterious death, Nica begins to suspect that the talking, red-haired doll her visiting niece has been playing with may be the key to the ensuing bloodshed and chaos. The return of America's favorite toy, voiced again by Brad Dourif, is unrated and full of more blood-splattered thrills and chills."
If you haven't seen the films, you're missing out. Child's Play is a landmark horror classic, and the immediate sequels, while not quite as influential on the genre, are still pretty good. The later sequels, starting with Bride of Chucky, are good too, but in a different way. While horror purists may not be on board with me, those movies are undeniably fun and help build a bigger "Chucky Universe".
Curse of Chucky will be available digitally on September 24 and BluRay/DVD October 8, 2013. Here's a rundown of the special features for those of us that prefer discs:
Bonus Features Exclusive to the Blu-ray:
Living Doll: Bringing Chucky to Life:  Featuring the award-winning work of animatronics company Alterian, this featurette shows the pain-staking detail involved with bringing Chucky to life and the army of people behind the process.
Voodoo Doll: The Chucky Legacy:  More than six films and a quarter of a century, Chucky, the possessed Good Guys doll, has been the playmate we love to hate.  This featurette looks at why we're still frightened by the red haired terror and recalls some favorite moments from the previous films.
Storyboard Comparisons
Blu-ray and DVD Bonus Features:
Deleted Scenes 
Gag Reel 
Playing with Dolls: The Making of Curse of Chucky: From scripting, to casting to shooting, this featurette proves that playing with dolls is definitely not child's play!  Follow the cast and crew of Curse of Chucky as they bring the newest and scariest chapter in the series to the screen.
Feature Commentary with Director Don Mancini, Puppeteer Tony Gardner and Star Fiona Dourif
So what do you think of Curse of Chucky? Are you excited to see the next chapter in the saga, or does everyone's favorite killer doll need a reboot? Let us know in the comments!
Source: Digital Journal 
I'm Joe, a chaotic amalgamation of manly characteristics who still regrets not officially declaring "SMASH!" as his major in college. An action addict, I seek to entertain and inform. I write things too.
CurseOfChucky
horror