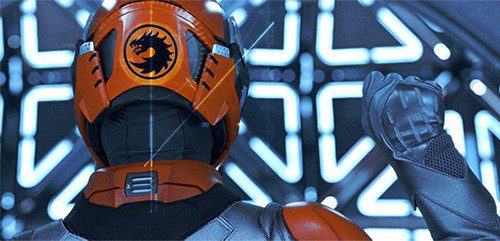 One of the classic sci-fi novels, Ender's Game came out in 1985 and it's taken almost 20 years for it to come to the big screen.  Was it worth the wait?
The story of Ender's Game follows Ender Wiggin, a tactically gifted teen who is recruited by the International Fleet into Battle School, where children are trained to possibly be battle commanders in humanity's ware with the insect like Formics.  Children can process and analyze data faster than adults and Ender seems to be the greatest mind the IF has ever trained and could possibly end the war in a decisive battle at the Formic homeworld.  I'm sure like most adaptations of novels, there was a ton cut out for the film but it has a great sense of momentum at the expense of possibly some things that could have gotten more fleshed out, like some of the side characters or the training.  Big chunks of the training is explained away with letters from Ender to his sister, Valentine talking about "it's been a few months of tough training" or something similar.   There are shades of Starship Troopers, Harry Potter and other franchises that seem to have influenced the movie, but the original book probably had influences on those franchises so it's kind of a weird cyclic chain of influence.
The look of the world of Ender's Game is really cool with Battle School being a space station with it's Battle Zone zero-g arena where the kids compete in teams in a laser tag like battle game.  The Formic ships look really great as well, swarming like the insects they are in massive groupings and the way Ender controls the massive simulator battles toward the end of the movie at Command School looks like the coolest video game you will never play.  Ender's Game seemingly has more relevance now than possibly when it was written, what with everything resembling games and these games training kids to be essentially drone fighters.  I don't think they are really trying to make a statement about the use of drones but it's there if you want to take that aspect from it.  There's also some incredibly dark sequences, including a great twist about what the final simulation Ender engages in his and his usually violent interactions with the various bullies he encounters.
As far as the acting goes, it's good for the most part.  It has probably one of the better Harrison Ford performances in recent memory as he's perfectly cast as the grizzled Col. Graff, who is deadset on making Ender the best commander in humanity's history, even if he destroys Ender's compassion and empathy in the process.  Ben Kingsley is great as well as a commander at the command school (I don't want to say too much about him because it might be a spoiler).  Asa Butterfield is good as Ender but it seems like he's definitely more at home when in he's in cold command mode, the more emotional scenes don't work quite as well and there are a couple of really clunky line readings.  Most of the other kids at Battle School usually just fall into generic stereotypes, the only one really standing out being Hailee Steinfeld as Petra.  Other characters like Viola Davis' Major Anderson and Abigail Breslin's Valentine are almost non-characters (apparently Valentine's story on Earth was almost half the novel but is cut down to two scenes in the movie).  Anderson and Valentine are supposed to be trying to maintain Ender's compassion but Graff easily controls both and molds Ender into the aggressive commander he wants.  At some point, Anderson just resigns and leaves Ender completely in the hands of Graff.  There isn't the moral battle that the movie seemingly wants to set up.
Overall, Ender's Game is a fun sci-fi blockbuster with some really cool ideas and sequences that is definitely worth checking out in theaters.  If you're a fan of the book, you may be disappointed with some of the cuts that were made but it seems like the basic story is intact and is still interesting and cool if, you're like me, and have not read the book.  It's definitely a good start to the holiday blockbuster season.
[rating=4]
I'm like the J. Jonah Jameson of Everything Action, writing and editing and constantly demanding pictures of Spider-Man.
abigail breslin
anderson
asa butterfield
battle school
drones
ender wiggin
ender's game
formics
harrison ford
hyrum graff
mazer rackham
orson scott card
petra
review
sci fi
valentine
viola davis
war