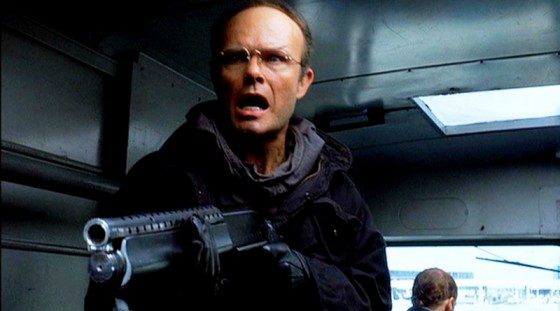 Peter Segal working on live action Johnny Quest movie:   While on the junket for Grudge Match, director Peter Segal was asked about one of his long rumored projects, a live action Johnny Quest movie.  Segal said that he would love to make that his next movie and that a new writer is doing a pass on the script.  Back in 2009, it was rumored that Zac Effron may be Johnny and The Rock may be Race Bannon.
Paul Rudd is Ant Man: Joining Avengers: Age of Ultron in 2015 is the introduction of Ant Man into the Marvel Cinematic Universe and Paul Rudd has been cast as the superhero.  It's not clear what version of the character Rudd will play whether super scientist/Avenger Hank Pym or thief Scott Lang or SHIELD agent Eric O'Grady, all of whom have held the mantle at some point in Marvel's history.
Joaquin Phoenix offered "villain role" in Batman vs Superman:  After the announcement of Gal Gadot as Wonder Woman, Joaquin Phoenix was apparently offered a vague "villain role" in the upcoming Batman vs Superman.  It's more than likely Lex Luthor but there's also rumors of Darkseid or Doomsday being involved as well, although that would probably be Jason Momoa, whose apparently in talks as well.
Josh Gad starring in Gilligan's Island movie: After stealing the show in Frozen, Josh Gad is starring in a Gilligan's Island movie, although his specific role was not specified although it would be bizarre if he wasn't Gilligan.
Joseph Gordon-Levitt producing, may star and/or direct a Sandman movie:   One of the seminal comic series is Vertigo's Sandman and Joseph Gordon-Levitt is signed on to produce and possibly star/direct in the adaptation.  The story concerns characters like Death, Dream and other supernatural characters, who actually interact with the DC universe early in the series.  JGL suggested that the movie would most likely be based on the first arc, called Preludes and Nocturnes and focuses on the character of Dream.
RIP Peter O'Toole: Legendary actor Peter O'Toole passed away last weekend at age 81.  O'Toole was probably best known for playing T.E. Lawrence in Lawrence of Arabia and movies like The Last Emperor and The Lion in Winter  and recently appeared in movies like Ratatouille and shows like The Tudors.
Fox remaking Murder on the Orient Express: Ridley Scott is apparently producing a new version of Agatha Christie's classic murder mystery, Murder on the Orient Express.  The book was turned into an Oscar nominated movie in 1974, directed by Sidney Lumet and starring Albert Finney as legendary detective, Hercule Poirot.  There's been a few other more recent adaptations as well.
I'm like the J. Jonah Jameson of Everything Action, writing and editing and constantly demanding pictures of Spider-Man.
ant man
batman vs superman
fox
gilligan's island
joaquin phoenix
johnny quest
joseph gordon levitt
josh gad
Marvel
murder on the orient express
news shotgun
paul rudd
peter o'toole
peter segal
remake
RIP
sandman
villain