January Movie Preview
By Zach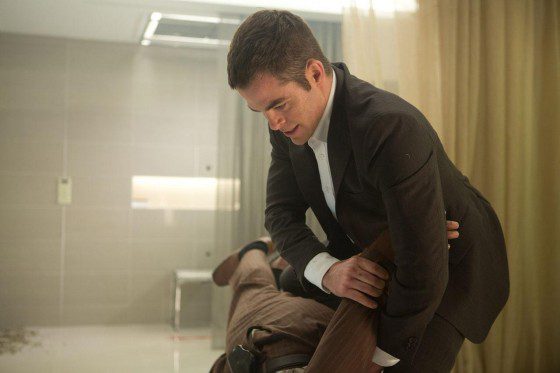 January 3rd
Paranormal Activity: The Marked Ones: A spin-off of the Paranormal Activity franchise follows Jesse, who is "marked" by the evil forces that destroyed Katie and her family and may be the next one to become possessed.
January 1oth
The Legend of Hercules: Kellan Lutz stars as the legendary Greek hero is betrayed by his stepfather because of a forbidden love with a princess and sold into slavery.  He must use his strength to fight his way out and get vengeance.
Her: The latest from Spike Jonze follows Joaquin Phoenix in a future where household AI is prevalent and Phoenix falls in love with his computer system, voiced by Scarlett Johansson.
Lone Survivor: Based on a true story, a squad of Navy SEALs head into Afghanistan to capture a high ranking Taliban member but quickly become outnumbered and must fight their way out when they are discovered.
January 17th
Devil's Due: A young couple awaiting their first child start seeing signs that their baby might be the Antichrist in the latest found footage horror movie.
Jack Ryan: Shadow Recruit: Chris Pine brings Jack Ryan back to the screen with a film set early in the CIA agent's career, where he uncovers a Russian plot to take down the world economy.
The Nut Job: A group of animals plan a heist to steal a nut store's inventory. Will Arnett, Katherine Heigl, Brendan Fraser and Liam Neeson are just a few of the people providing the voices.
Ride Along: In order to prove his manhood and that he's worthy of marrying his girlfriend, Kevin Hart goes on a ride along with bad ass cop, and future brother in law, Ice Cube.
January 24th
I, Frankenstein: Aaron Eckhart stars as the classic monster, who is the key to stopping a war between humans and gargoyles.  Bill Nighy and Yvonne Strahovski co-star.
January 31st
Labor Day: Jason Reitman's latest finds Josh Brolin as an escaped convict that takes a single mother and her son hostage over the long Labor Day weekend.
That Awkward Moment: Three friends in relationships reach the point where you have to ask, "So…where is this is going?"
I'm like the J. Jonah Jameson of Everything Action, writing and editing and constantly demanding pictures of Spider-Man.
2014
devil's due
her
i frankenstein
jack ryan: shadow recruit
january
labor day
lone survivor
movie preview
paranormal activity: the marked ones
ride along
that awkward moment
the legend of hercules
the nut job