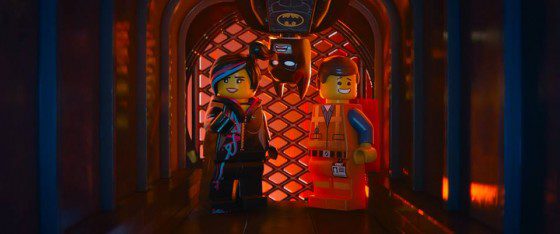 February 7th
The Lego Movie: Emmett, a normal every day Lego guy, is pulled into a quest to save the world when it's believed he may be "the special" and the only one who can stop the evil President Business.  Chris Pratt, Elizabeth Banks, Will Arnett, Will Ferrell, Liam Neeson and more all lend their voices and Chris Miller and Phil Lord direct.
The Monuments Men: Delayed from last year, George Clooney leads a team of specialists in World War II who are tasked with protecting priceless art from being destroyed/stolen by the Nazis.  Matt Damon, Bill Murray, Jean Dujardin, John Goodman, Hugh Bonneville and Bob Balaban make up the team.
Vampire Academy: A dhampir, half vampire/half human, attends a school to learn how to defend her friend, an important being known as a Moroi, from evil vampires called the Strigoi.
February 12th
Robocop: A remake of the 80's classic, police officer Alex Murphy is injured from a car bomb and becomes the unwitting first human/machine hybrid created by Omni Consumer Products.
February 14th
About Last Night: Michael Ealy and Kevin Hart are two friends starting new relationships with women they picked up at a bar.
Endless Love: A rich girl and a poor but charming boy try to be together despite the efforts to keep them apart by their parents.
Winter's Tale: A burglar falls for a heiress and, after learning he has the power of reincarnation, sets out to try and save her after she dies.
February 21st
3 Days to Kill: Kevin Costner stars as an operative who wants to retire to spend more time with his wife and daughter but his employer injects him with a poison that will kill him in three days unless he performs one last job for them.
Pompeii: Kit Harrington aka Jon Snow stars as a slave in Pompeii who must save the woman he loves and his friend, a gladiator, before the historic eruption of Mt. Vesuvius destroys them all.
February 28th
Non-Stop: Liam Neeson's latest action movie finds him as an air marshal being threatened on a cross Atlantic flight by a mysterious criminal who threatens to kill one passenger every 20 minutes and seemingly sets up Neeson as the hijacker/killer.
Son of God: A new retelling of the life of Jesus, from birth to death to resurrection.
I'm like the J. Jonah Jameson of Everything Action, writing and editing and constantly demanding pictures of Spider-Man.
3 days to kill
about last night
endless love
february
movie preview
non-stop
pompeii
release schedule
robocop
son of god
the lego movie
the monuments men
vampire academy
welcome to yesterday
winter's tale