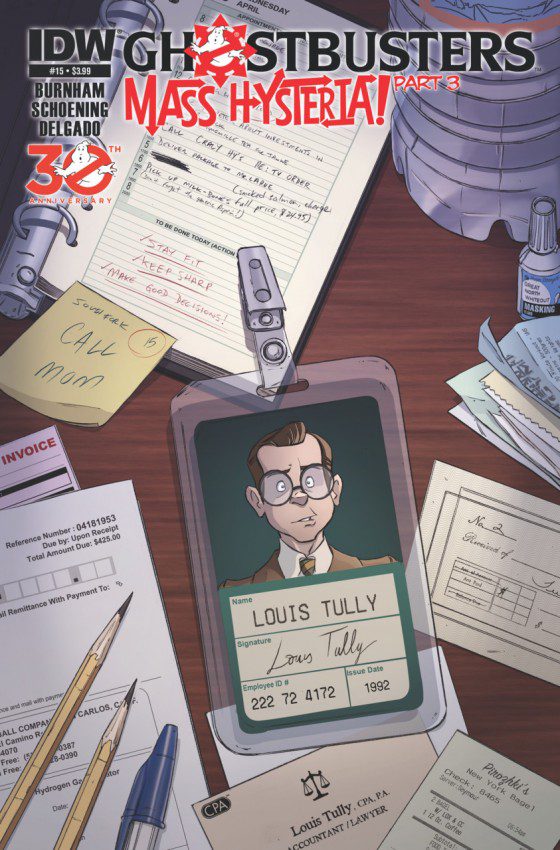 Ghostbusters #15: Louis Tully makes his return to the Ghostbusters universe, being drawn back to NYC by mysterious dreams and is once again, along with Dana Barrett, possessed by demonic forces, this time working for Tiamat, sister of Gozer and goddess of chaos.  The entire roster of Ghostbusters are assembled to try and stop the spirits and the constant blood rain that is plaguing NYC.
GI Joe #15: The Joes try to rescue Cobra agent Siren and her son from a secret brainwashing/training facility but Siren's son is already indoctrinated and stabs Joe communications officer Hashtag and escapes.  Roadblock also gets his ass kicked by Big Boa but is saved by another trainee who wants to escape.  The Joes manage to save a number of kids but Siren and her son remain behind, with Siren's son threatening to kill her if she tries to contact the Joes again.
Silver Surfer #2: Norrin goes to face the Never Queen, an entity who sees all possible futures simultaneously and Norrin is overwhelmed by all his possible futures.  He learns that The Impericon, a giant intergalactic society, stole the Never Queen's heart and are using it to power the city.  Norrin vows to get the heart back and, upon returning, runs into captured Earth girl Dawn Greenwood, who has organized an escape of captured aliens.
Avengers AI #12: The robotic Avengers in the future have their last stand against evil AI Dimitrios, who uses Galactus' head to try and infiltrate the core of the universe and destroy the creator.  In the present, the team is able to stop Dimitrios from infiltrating SHIELD's systems, preventing the future from happening and saving the universe.
Hulk #2: The brain damaged Bruce Banner is put under the protection of a small town full of SHIELD agents but the group who tried to kidnap and implant a control device into his brain use his DNA to create a mindless Abomination clone, who arrives to battle the Hulk while Maria Hill arrives but is ambushed by high tech mercenaries.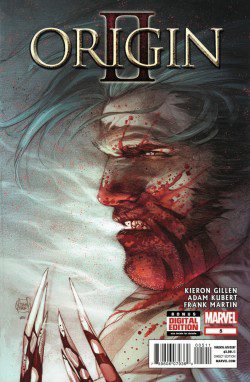 Origin II #5: The newest chapter of Wolverine's past ends with Logan killing the evil Dr. Essex and learning that his newest love, Clara Creed, is still alive but her brother, Saul, was the one who revealed where they were to Essex's men.  Logan hold Saul's head in a vat of Essex's chemicals that he intended to use on Logan to turn him into a mindless soldier.  Clara tells Logan to leave and never come back and some time later tells what happened to her other brother, Victor.
Wolverine #5: In the other Wolverine book, it's a weird issue where Logan gets a tattoo of a rose and then gets into a bar fight with Thor because Thor believe Wolverine is a super villain now, as he's working for crime boss The Offer.
Seekers of the Weird #4: Teens Melody and Maxwell manage to collect all the magical pieces of furniture to obtain the Coffin Clock but they are ambushed by the Shadow Society, who are trying to get the Clock and unleash the Reaper King, who will destroy the world.  It first seems like the kids Uncle Roland betrayed them but he reveals it was a plan to trap the society and destroy them but the Museum of the Weird's, where everything is occuring, defenders, The Wardens, don't believe him and Roland and the kids are forced to flee as a massive battle ensues.
Doc Savage #5: Doc Savage is working on building a satellite system in space when a laser from a nearby, thought to be abandoned, Nazi space station.  Doc and his team heads there and finds a group of religious zealots who follow the "teachings" of a sci fi novel but Doc is able to destroy the station and get one of the zealots and his team back to Earth.
Batman Eternal #4: Batgirl is on the warpath to try and clear her father's name while Batman confronts Falcone and tries to get info on the man that Gordon believed had a gun and shot at, causing the massive subway accident that killed hundreds.  Gordon is sent to Blackgate to await his trial and may not survive long with all the men he and Batman put away targeting him.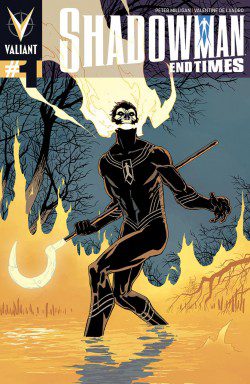 Shadowman: End Times #1: Jack Boniface believed that he had the Shadowman loa, or voodoo spirit, that gives him his power under control but it starts to try and take control again.  He sees visions of his father, the original Shadowman, and comes to realize that Josiah might still be alive, so he abandons his girlfriend Alyssa and his battle against rogue demons to try and find and confront him.
Judge Dredd: Mega City Two #4: Dredd take on perps in the warped theme park of Crimeland while on an exchange program to the West Coast.  He teams with a luchadoresque rogue judge, who sacrifices himself so that they can take down one of the men who might be responsible for smuggling criminals from Mega City One to Mega City Two.  Dredd also learns that someone in the Justice Department might be involved as well.
Chew #41: Tony and his girlfriend Amelia head to Vegas for an FDA convention and, after getting drunk on beet liquor, get married.  The next morning, Tony is called in to find out who killed an FDA weapons expert and stole his experimental hot fudge gun.  Tony stops the perp before he can get the weapon to his boss, Tony's arch nemesis The Collector.
Star Wars: Rebel Heist #1: A young Rebel recruit is teamed on Corellia with Han Solo a short time before The Empire Strikes Back.  As things spiral out of control and they are captured by Imperial forces, the recruit starts to think the legend of Han Solo might have been exaggerated.
I'm like the J. Jonah Jameson of Everything Action, writing and editing and constantly demanding pictures of Spider-Man.
avengers ai
batman eternal
chew
dark horse
DC
doc savage
ghostbusters gi joe
hulk
idw
judge dredd
Marvel
new comics
origin II
rebel heist
seekers of the weird
shadowman
silver surfer
star wars
the pull list
valiant
wolverine