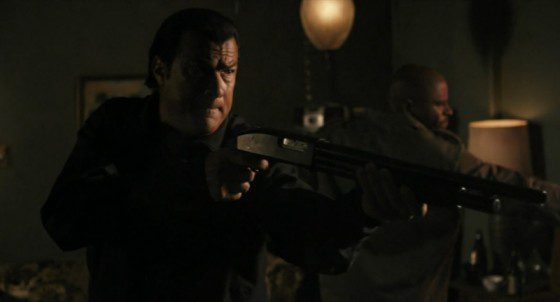 Edgar Wright leaves Ant-Man: The Cornetto Trilogy/Scott Pilgrim director has been set to direct Ant-Man, starring Paul Rudd and Michael Douglas, since 2006 but it was announced that he has now left the project due to "creative differences".  A new director is supposed to be announced soon.  Ant-Man is scheduled to hit next summer after Avengers: Age of Ultron.
Netflix may get a Wet Hot American Summer prequel series: The cult comedy from David Wain and starring pretty much every famous comic actor you love may get a prequel series, as Netflix is interested in a 10 episode prequel series.  A sequel/prequel movie has been discussed for a while.
Quentin Tarantino wants to do a Django mini-series: At the 20th anniversary celebration of Pulp Fiction, Tarantino revealed he wants to do a four hour Django mini-series, incorporating back in over 90 minutes of cut footage, to air on a cable network.
Gareth Edwards tapped for first Star Wars spin-off movie: Hot off Godzilla, Gareth Edwards has been tapped to direct the first Star Wars spin-off, to air in the year between Star Wars numbered episodes.  When this plan was announced, Han Solo, Boba Fett and Yoda were all mentioned as possible contenders for a spin-off, but nothing is confirmed yet.
Stephen King's IT goes to New Line: Directed by True Detective's Cary Fukunaga, the adaptation has gone to the more horror focused New Line and is most likely going to be an extremely hard R rated film.  The deal with Fukunaga is for two films as well, giving him plenty of room to flesh out the insanity of the novel.
Lego Ninjago movie coming in 2016: The "spinoff" of the Lego Movie, the ninja focused Ninjago, will hit theaters in the fall of 2016, with the proper Lego Movie 2 hitting in 2017.  It doesn't seem like it will continue or have any connection to the Cartoon Network show and Phil Lord and Chris Miller will be producing.
Juliette Lewis and Molly Ringwald join Jem and the Holograms: Neither of the actresses' roles have been revealed but they could possibly be part of the Misfits, the Holograms rival band, although that would put them significantly older than the tween Holograms.
Complete Halloween collection coming later this year: There will be two sets, a 10-disc for $130 and a "deluxe" edition for $160, and that set will include the rare Producer's Cut of Halloween: The Curse of Michael Myers, network TV versions of Halloween 1 and 2 and uncut versions of Rob Zombie's Halloween movies.
Renny Harlin directing Jackie Chan in Skiptrace: The Die Hard 2/Cliffhanger director will be directing Chan and Sean William Scott in the buddy action movie that follows a cop and a gambler who have to team up to rescue the cop's girlfriend and stop a crime boss.
The Omen TV series coming to Lifetime:  Following Bates Motel, Hannibal and Rosemary's Baby, Lifetime is jumping into the horror series reboot arena with former Walking Dead showrunner Glen Mazzara helming it.  The series, called Damien, will follow a grown Damien who must confront his dark past and his role as the Antichrist when dark events start occuring.
Alfonso Cuaron may direct Fantastic Beasts and Where to Find Them: The Gravity director, who directed arguably the best entry in the Harry Potter film series, Prisoner of Azkaban, may return to the world of Harry Potter for the spin-off series, Fantastic Beasts and Where to Find Them.  He's apparently "deep" in talks for the film, which is supposed to be a new trilogy.
Godzilla 2 in the works: After making almost $100 million in it's first weekend, Legendary confirmed that Godzilla 2 is definitely on the way.  It's too early to know if Gareth Edwards will return or what Godzilla will fight.
I'm like the J. Jonah Jameson of Everything Action, writing and editing and constantly demanding pictures of Spider-Man.
alfonso cuaron
ant man
cary fukunaga
django
edgar wright
fantastic beasts and where to find them
gareth edwards
godzilla
godzilla 2
halloween
jackie chan
jem and the holograms
juliette lewis
lego ninjago
lifetime
molly ringwald
netflix
new line
news shotgun
quentin tarantino
renny harlin
skiptrace
star wars
stephen king IT
the omen
wet hot american summer