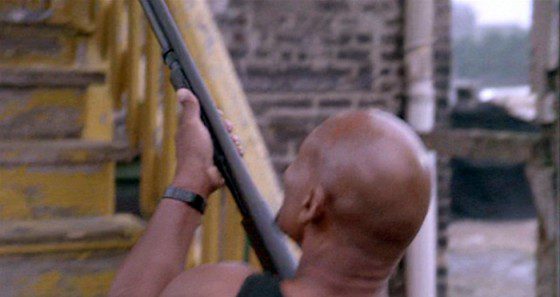 The Green Inferno delayed indefinitely: Eli Roth's upcoming cannibal horror movie has been delayed indefinitely from it's October release date due to financial issues between the distributor and the production company.
The Lonely Island getting their own movie: The trio will write and co-star in an upcoming musical comedy with Judd Apatow producing.  The trio were all previously involved with Hot Rod and, of course, the various Digital Shorts on SNL.
Universal acquires the rights to Anne Rice's Vampire Chronicles series: Universal has gotten the rights to all 13 books in Anne Rice's Vampire Chronicles series, the most famous of which was previously adapted, Interview with a Vampire.  Alex Kurtzman is set to oversee the series along with shepherding the upcoming Universal Monsters universe of films.
Kyle MacLachlan cast in Agents of SHIELD: The Twin Peaks star will star as Skye's mysterious father, who was briefly seen in the Season 1 finale bathing in what looked like blood.
Samuel L Jackson replaces Jamie Foxx in The Black Phantom: Jackson will co-star with Kevin Hart in the action comedy about two hitmen sent against each other but who join forces.
Marvel re-releasing Howard the Duck Omnibus: *Spoiler* After his big cameo at the end of Guardians of the Galaxy, the original run of Howard the Duck is getting re-released in an omnibus by Marvel this October.  Howard was in a mess of legal battles during most of his run but with Marvel and Lucasfilm under the Disney umbrella, all the issues are settled.
Batman v Superman moves to March 2016: DC has blinked in the game of chicken that was May 2016 as they've moved Batman v Superman out of summer, and direct competition with Captain America 3, and instead the movie will come out in March 2016.  WB also announced dates of films through 2020 but no titles but are labeled as "event films".
Kingsman moves to February 2015, Poltergeist moved to July: Matthew Vaughn's latest has been moved from October 2014 to February 2015 while the Poltergeist remake has been bumped up by Fox to July 2015.
Arrested Development Season 5 definitely coming to Netflix: Netflix's chief content officer, Ted Sarandos, said that it's not a question of if but when Arrested Development season 5 would debut.  The actors schedules are increasingly busy, which was one of the big hindrances to Season 4.
Terminator 5 finishes shooting: Arnold tweeted a pictures from the final day of shooting Terminator 5, which is now officially called Terminator Genisys.
Monster Squad remake dead: Platinum Dunes was going to attempt a remake of the cult 80's monster mash, Monster Squad, but during a recent press junket for TMNT, the team at Platinum Dunes confirmed the project was dead.
RIP Marilyn Burns: The actress died at the age of 65 this past week and was best known as Sally in the original Texas Chainsaw Massacre, the only survivor of Leatherface's rampage.
Tony Jaa and Scott Adkins join Kickboxer remake: The martial artists join George St. Pierre, Dave Bautista and stuntman turned star Alain Moussi in a remake of the Van Damme classic.  They will most likely be fighters in the massive tournament that is the plot of the movie.
New stars attached to Pride & Prejudice & Zombies: Lily James is now the new Elizabeth Bennett and Sam Riley is the new Mr. Darcy, whose budding relationship is put in jeopardy by hordes of "stricken" aka zombies.
The Legend of Conan may start filming in 2015: With Terminator Genisys (ugh that title) done, Arnold may move right into filming The Legend of Conan, which may start shooting next spring.
Jennifer Lee signs on to direct A Wrinkle in Time movie: The Frozen co-director will direct the adaptation of the classic sci-fi novel by Madeline L'Engel for Disney, who have been developing the movie since 2010.
Stallone wants Sigourney Weaver for Expendabelles: A female team spin-off from the Expendables has been talked about since the first movie but Stallone wants Sigourney Weaver to lead the new team.  His idea is that Weaver might play Barney Ross' wife and they get into a messy divorce which results in Weaver getting assets, including a mercenary team.
A possible team for True Detective Season 2: The possible quartet of main characters for the next season of True Detective may be Colin Farrell and Taylor Kitsch, who were previously reported to be in talks, and this week it was announced that Vince Vaughn and Mad Men's Elizabeth Moss may round out the cast, who will be based in an underused area of California.
Taylor Kitsch offered lead in The Raid remake: Frank Grillo is already on board and now Taylor Kitsch may join the remake of Gareth Evans' brutal masterpiece in the equivalent of Iko Uwais' rookie cop, Rama.
David Cubbitt joins Arrow: The Medium actor will play Mark Shaw, who will start out as an ARGUS operative in Season 3 of Arrow before becoming the vigilante Manhunter.
Nickelodeon orders a series based on School of Rock: Nick has ordered a 13 episode season of a show based on the Jack Black starring School of Rock.  The show will be an extended take on the movie's plot, where a wannabe rock star, Dewey Finn, poses as a substitute teacher for some extra cash and learns his students are musical prodigies and turns them into his new band.
Sony announces a female centerd Spider-Man spin-off: Along with a possible title of Venom/Carnage for the upcoming Venom movie, Sony announced there would be a female centered spin off of the Amazing Spider-Man series.  Black Cat is the most likely character to star in the movie, as "Felicia" was introduced in Amazing Spider-Man 2 but Spider-Woman is also rumored.
Paul Feig in talks for a possible all-female Ghostbusters reboot/sequel: The latest rumor about Ghostbusters 3 is that Bridesmaids director Paul Feig may be in talks to direct and the movie could feature an all female team of Ghostbusters in a total reboot of the franchise.
Broforce developers unleash Expendabros: The developers of possibly the greatest game of all time, Bro Force, have been given the official go ahead by Stallone and Expendables 3 for an officially licensed, FREE, version of the game, called Expendabros that is on Steam right now.  You play through ten levels as BROney Ross, BRO Christmas, BRO Road and more.
Scream: The Series cast announced: Willa Fitzgerald, currently on Royal Pains, will star as Emma Duval, a recently popular former outcast, Amy Forsyth plays Audrey Jensen, a preacher's daughter who wants to be a filmmaker, John Karna as Noah Foster, a computer nerd and Audrey's best friend and Amadeus Serafini as Brooke Maddox, a mysterious new kid in town with a dark past.
a wrinkle in time
agents of shield
amazing spider-man
anne rice
arrested development
arrow
batman v superman
black cat
broforce
david cubbitt
delay
elizabeth moss
expendabros
ghostbusters
howard the duck
jennfier lee
kickboxer
kingsman
kyle maclachlan
legend of conan
march 2016
marilyn burns
monster squad
netflix
news shotgun
nickelodeon
paul feig
poltergeist
Pride & Predjudice & Zombies
samuel l jackson
school of rock
scott adkins
scream
sigourney weaver
taylor kitsch
terminator genisys
the black phantom
the expedendabelles
the green inferno
the lonely island
the raid
tony jaa
true detective
vampire chronicles
vince vaughn