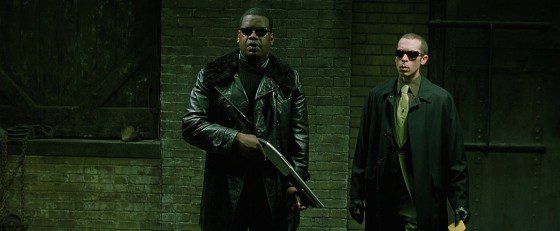 Jay and Silent Bob Strike Back Monopoly coming from Diamond Select: The first Kevin Smith based board game is coming next summer from Diamond Select with a Monopoly set based on Jay and Silent Bob Strike Back.  The game will feature locations from the movie to purchase along with special pieces and themed chance and Community Chest cards.
Fox officially green lights Independence Day 2: Fox has greenlit Roland Emmerich's follow up to Independence Day, which is now set to shoot in May and be out for Summer 2016.  It will just be a single film, as opposed to Emmerich's original plan of a two parter and Will Smith will probably not show up but Bill Pullman and Jeff Goldblum are supposed to be reprising their roles.
Guillermo Del Toro has completed his Justice League Dark script: GDT and his team have finished the script for their Justice Leauge Dark movie and have turned it over to WB for review.  The movie, if it gets greenlit, will feature a team up of DC characters John Constantine, Swamp Thing, The Demon, The Spectre and Deadman.
Ridley Scott not directing Blade Runner 2: The main reason people were excited for another Blade Runner may be gone as Ridley Scott is apparently not going to be directing the sequel to his sci-fi classic and will instead produce will another director takes the reigns.  The plot of the film is apparently also about the "search for Deckard" and Harrison Ford, if he signs on, will appear mainly in the third act.
Pacific Rim 2 has Charlie Day and Burn Gorman returning: Everyone's favorite Kaiju scientist pair are the first confirmed cast members who will return from the first film for the sequel, which is set for Spring 2017.
Matthew McConaughey may join The Stand remake: McConaughey is apparently in talks to play Randall Flagg, a "a grinning cowboy with supernatural powers who establishes a power base in the ruins of Las Vegas", who was played by Jamey Sheridan in the 1990's mini-series of Stephen King's epic apocalyptic story.  This new take is possibly going to be four movies and is being directed by The Fault in Our Stars director, Josh Boone.
Stallone says they are planning a fourth, R rated, Expendables 4: Stallone said that the PG-13 rating of Expendables  3 was  "A huge miscalculation" and that future movies in the series will definitely be R rated, even though the series might be in question after the poor performance of EX3.
More True Detective Season 2 casting confirmation: HBO confirmed this week that Taylor Kitsch, Rachel McAdams and Kelly Reilly (Mary Watson from Guy Ritchie's Sherlock Holmes movies) have been cast in True Detective Season 2, joining Colin Farrell and Vince Vaughn in a California based murder conspiracy.
Michelle McClaren directing Wonder Woman: A director of Breaking Bad and Game of Thrones episodes, McClaren has signed on to direct Gal Gadot in the solo Wonder Woman movie, coming in 2017.
Oscar Issac cast as Apocalypse in X-Men: Apocalypse: Oscar Issac is blowing up, appearing in Star Wars: The Force Awakens and this week it was announced he will be the title villain of 2016's X-Men: Apocalypse, although given Apocalypse's design, it's not clear if Issac would actually appear on screen or possibly be in a role similar to Josh Brolin as Thanos, where it's a CG character with his appearance and voice.
I'm like the J. Jonah Jameson of Everything Action, writing and editing and constantly demanding pictures of Spider-Man.
apocalypse
expendables 4
guillermo del toro
independence day 2
jay and silent bob strike back
justice league dark
kelly reilly
matthew mcconaughey
michelle mcclaren
monopoly
oscar issac
pacific rim 2
rachel mcadams
ridley scott
roland emmerich
Stallone
taylor kitsch
the stand
true detective season 2
wonder woman
x-men: apocalypse