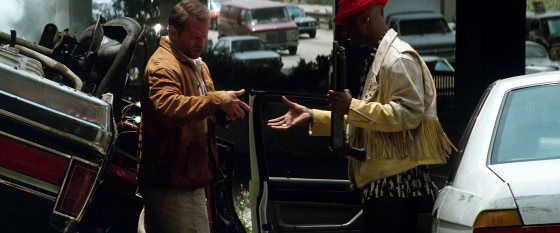 Spider-Man coming to MCU: Sony and Marvel resumed talks and have finally come up with a deal for Spidey to appear in the proper Marvel Cinematic Universe, most likely first in Captain America: Civil War.  Marvel will also help produce any upcoming Sony films and characters from the MCU may appear in future Sony Spidey films.  Andrew Garfield will probably not reprise his role and both studios are apparently looking for a new, younger Spider-Man.
James Franco starring in Hulu's "11/22/63": Franco will star in the adaptation of Stephen King's time travel thriller, where a teacher discovers a portal to 1958 in a diner and plans to figure out a way to stop the Kennedy assassination.
Drea De Matteo guesting on Agents of SHIELD: The Sopranos alum will guest as Karla Faye Gideon, a "Gifted" person with a grudge against Skye's father.  In the comics, the character was featured in Daredevil and was a regular person.
Bautista might be the Kurgan in Highlander reboot: Bautista is becoming the go to villain of big franchises recently, currently shooting Spectre and he may join the Highlander remake as The Kurgan, originally played by Clancy Brown.
Ash vs Evil Dead co-stars announced: Ash will get some help in the upcoming Starz show from Ray Santiago, who will star as Pablo, Ash's sidekick, and Dana DeLorenzo as Kelly, a moody loner who reluctantly joins the fight against the Deadites.
National Treasure director directing Rush Hour pilot: Jon Turteltaub will direct the pilot for CBS' upcoming TV series based on the Jackie Chan/Chris Tucker movies.  The new leads have yet to be announced.
John Travolta starring in I Am Wrath: Travolta will star as a man who is out for revenge when his wife is murdered and he discovers his local police force is corrupt and ineffectual.  The movie was originally going to star Nicolas Cage.
Neill Blomkamp might still make his Alien movie: After he released the concept art a bit ago, Neill Blomkamp has talked this week about the fact that we could still potentially see his Alien sequel.  He basically created the entire pitch for the movie after working with Sigourney Weaver on Chappie and during post-production on that movie.
Ghostbusters board game on the way: Game company Cryptozoic is in the midst of what will be a very successful Kickstart campaign to get the money for an officially licensed board game of Ghostbusters.  The game features art from IDW's Dan Schoening, who drew the Ghostbusters comic.  Each player controls a different Ghostbuster and levels up as they battle various ghosts.  You can check out the Kickstarter here: https://www.kickstarter.com/projects/cze/ghostbusters-the-board-game
Saw writers working on new Halloween: Patrick Melton and Marcus Dunstan, who worked on the last four Saw films, have been hired for a new script for the upcoming Halloween movie, which is being described as "not a remake, not a reboot but a recalibration".
GI Joe 3 may feature Tomax and Xamot and MASK: The upcoming third GI Joe movie, directed by DJ Caruso, may feature Cobra's Crimson Guard commanders, the twins Tomax and Xamot, and also potentially MASK's Matt Trakker and MASKesque vehicles.
Joel Kinnaman takes over for Tom Hardy in Suicide Squad: With Tom Hardy having to drop out, Robocop and The Killing's Joel Kinnaman is taking over in the role of Rick Flagg for DC's upcoming Suicide Squad.
Marion Cotillard joins Assassin's Creed:  Cotillard is joining Michael Fassbender in the upcoming adaptation of Ubisoft's hit game.  There's no word on who Cotillard will play in the movie, which is scheduled for December of next year.
Samuel L Jackson joins Tim Burton's latest: Burton is directing an adaptation of the novel Miss Peregrine's Home for Peculiar Children and Samuel L Jackson has signed on in the role of Barron, a new character just for the film.  The movie is about an island full of superpowered orphans who are in danger from monsters and co-stars Eva Green and Asa Butterfield.
NBC may move Constantine to SyFy: Constantine is doing OK with the inclusion of all ratings numbers but not too great live and NBC may move the show to SyFy for it's possible second season, as it's numbers would seem much stronger on the cable network.
Black Dynamite cancelled: The Adult Swim animated series of the cult movie has been cancelled after it's ridiculous second season.  A sequel to the movie has supposedly been in the works for a while and hopefully still is.
Battlebots returning this Summer: ABC is bringing the robot combat series, that was originally on Comedy Central, back as a summer reality series.  There will be more emphasis on the building of the various competitors and the weight categories have been eliminated.
I'm like the J. Jonah Jameson of Everything Action, writing and editing and constantly demanding pictures of Spider-Man.
11/22/63
agents of shield
Alien
ash vs evil dead
assassin's creed
battlebots
black dynamite
board game
colossus
constantine
dana delorenzo
dave bautista
deadpool
drea de matteo
ghostbusters
gi joe 3
gina carrano
halloween
highlander
i am wrath
james franco
joel kinnaman
john travolta
kickstarter
kurgan
marion cottilard
mask
miss peregrine's home for peculiar children
national treasure
nbc
neill blomkamp
news shotgun
ray santiago
rush hour
samuel l jackson
saw
spider man
suicide squad
syfy
tj miller
tom hardy
tomax and xamot