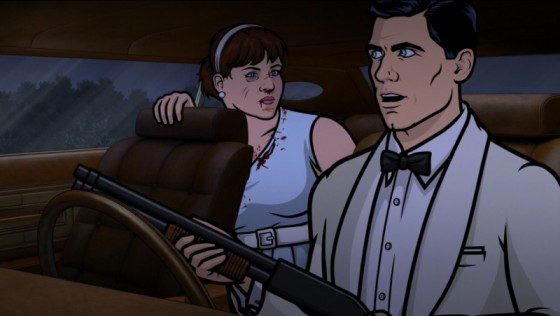 Dominic Cooper rumored to be top choice for Preacher: Current Howard Stark Dominic Cooper is apparently being eyed by AMC to star as Jesse Custer in their upcoming Preacher series,  being written by Evan Goldberg and Seth Rogen.
Fargo casts Betsy Solverson: Cristin Miloni, who previously played The Mother on How I Met Your Mother, will play Betsy Solverson, mother to Season 1 protagonist Molly on the upcoming prequel Season 2 of Fargo.
Stallone producing Biggest Loseresque reality series: Stallone will produce along Dave Broome, creator of Biggest Loser, the show S.T.R.O.N.G., which stands for Start to Realize Our Natural Greatness.
Bruce Campbell wants to make "The Expendables of horror": Campbell has mentioned it before but apparently he's a little close to making an Expendables style team up in the horror genre with his fellow horror icons and has been working on a script.
Jamie Foxx says Martin Scorsese will direct Mike Tyson biopic:  Foxx has been working on a Mike Tyson biopic for a while and now it seems like Martin Scorsese will be directing, according to Foxx himself.  Tyson has given his blessing for the film and Terence Winter, writer of The Wolf of Wall Street and Boardwalk Empire, is writing the movie.
Genndy Tartakovsky leaves Popeye: The Samurai Jack creator was working on a CG reboot of Popeye but has now left the project due to differences he felt with the studio changes that he felt would have been made to get the movie greenlit.  Tartakovsky had a well received sizzle reel for the movie that debuted online last fall.
Josh Gad joins Beauty and the Beast: The live action Beauty and the Beast has rounded out it's main cast as Josh Gad, Olaf from Frozen, has signed on to play Gaston's sidekick Le Fou.  Gaston is being played by Luke Evans, Dan Stevens is Beast and Emma Watson is Belle.
Jason Voorhees joins Mortal Kombat X:
Joe Carnahan directing "Motorcade": The director of The Grey and the recent Stretch, Joe Carnahan, is directing Motorcade for Dreamworks.  The movie is a kind of Olympus Has Fallen type as a disgraced Secret Service agent must return to action when the President's motorcade is attacked by terrorists.  Tom Cruise and Ryan Reynolds were attached to star at various points in development.
Liam Neeson says he has "maybe 2 years" of action left: During a recent interview for Run All Night, Neeson said that he thinks he probably has about 2 years left of doing action movies before he sort of retires from ass kicking.
Star Wars news: During the stockholder call for Disney, CEO Bob Iger confirmed that the Rian Johnson directed Episode VIII will arrive in May 2017 and the first spin-off movie is Star Wars: Rogue One, which will star Felicity Jones and will arrive in December 2016.  There's no official synopsis for Rogue One but the rumored plot was about a group of bounty hunters hired to steal the Death Star plans, Ocean's Eleven style.
Frozen 2 announced: Also on their stockholder call, Iger confirmed Frozen 2 is coming with Chris Buck and Jennifer Lee returning to direct and Josh Gad officially confirmed to return as Olaf.  In front of this weekend's Cinderella is a new Frozen short called Frozen Fever.
The Ring prequel "Rings" coming in November: Paramount has hired relatively unknown director F. Javier Gutierrez to direct a prequel to The Ring movies, Rings.  It will explore the origins of the creepy girl Samara before the characters in the first two Ring movies found the cursed VHS tape.  The movie will arrive in 3D in November 13, 2015.
Limitless TV series gets it's star: Jake McDorman, who coincidentally co-starred with original Limitless star Bradley Cooper in American Sniper, will star in the upcoming Limitless TV series.  Marc Webb is directing the pilot for CBS.
Three Days of the Condor TV series being developed: The classic espionage thriller will be turned into a TV series by Skydance and MGM/Paramount TV.  The original starred Robert Redford as a CIA agent who returns to his office after lunch to find all his co-workers dead and he goes on the run when he is the target.
Ruben Fleischer directing true crime movie The Life and Times of The Stopwatch Gang:  The Zombieland director will direct a movie based on the real life exploits of The Stopwatch Gang, a group of bank robbers in the 80's who had Clock King level precision and pulled over 100 heists without having to fire a shot.  Miles Teller will star as one of the gang members.
Chris Pine rumored to be wanted by DC for Green Lantern: With the other big Hollywood Chrises over at Marvel, WB/DC is apparently looking to get their own Chris, Chris Pine, to be the new Green Lantern in the upcoming Justice League and other DCU movies.  If WB/DC went the John Stewart route, both Common and Tyrese Gibson are extremely interested in the role.
Inferno casts Ben Foster as villain: Ben Foster is apparently in talks to play the antagonist of the upcoming third entry in Ron Howard and Tom Hanks adaptations of Dan Brown's Robert Langdon series.  Foster would play Bertrand Zobrist, a wealthy scientist who uses Dante's Inferno as inspiration for a horrific plan to solve the problem of overpopulation.
Tron 3 shooting in the fall: Get ready to return to The Grid as Tron 3 is going to start shooting this fall in Vancouver.  Garret Hedlund is expected to return as Sam Flynn and the implied plot from Tron: Legacy would see him up against Cillian Murphy's Edward Dillinger, the son of the first film's antagonist, who would most likely have nefarious plans for the digital world or Quorra, who is the first digital being brought into the real world.
Tim Burton directing a new Dumbo for Disney: Burton will put his usual creepy gothic spin to another new live action reboot of a Disney classic, Dumbo, which will have apparently have a parallel human family storyline to compliment Dumbo's adventures in the circus.
Lucy Lawless co-starring Ash vs The Evil Dead: Lawless will co-star with Bruce Campbell in the upcoming Evil Dead series as a woman who has been investigating the Deadites on her own and believes that Ash is the reason they are back but begrudgingly agrees to help him fight them.
Second Ghostbusters movie coming starring Channing Tatum: Sony announced a second Ghostbusters movie with Channing Tatum starring and The Russo Brothers, of Winter Soldier, directing.  This would follow up the Paul Feig female Ghostbusters movie and Sony wants to set up an MCU style connected Ghostbusters universe.
Marvel is skipping SDCC 2015:  According to James Gunn, director of Guardians of the Galaxy and the upcoming sequel, Marvel is not attending SDCC this coming summer.  Marvel previously skipped Comic Con in 2011 and only attended NYCC that year.
Lucius Fox coming to Gotham: Chris Chalk, of the Newsroom and Justified, will guest star as tech expert Lucius Fox in the final two episodes of Gotham this season and then will possibly have a larger role in the second season.  In other Gotham news, Jada Pinkett Smith is apparently not returning as Fish Mooney for the second season.
Disneyland closing Innoventions: Disneyland is closing their long running tech showcase, Innoventions, on March 31st.  The rumor is that this might be the first step for a massive increase in Star Wars at the park.
Valiant Comics creating their own cinematic universe: Valiant, which puts out comics like X-O Manowar, Shadowman, Archer and Armstrong, Ninjak and Bloodshot, has just signed a massive deal to create their own cinematic universe in movies and TV.  The first three films in this deal will be Shadowman, Bloodshot and Archer & Armstrong.
Zoolander 2 coming in 2016: After Ben Stiller and Owen Wilson invaded Paris Fashion Week in character, Zoolander 2 was officially confirmed for a release next February.  Justin Theroux will be directing and Christine Taylor and Will Ferrell are set to return and Penelope Cruz will join as a new character.
New Leatherface cast: For the upcoming origin story, Leatherface, UK actor Sam Strike will portray the legendary murderer, who starts out in the 70's as a teenager named Jackson.  Strike is probably best known for his role on EastEnders in the UK.
I'm like the J. Jonah Jameson of Everything Action, writing and editing and constantly demanding pictures of Spider-Man.
ash vs the evil dead
beauty and the beast
ben foster
betsy solverson
bruce campbell
chris pine
cristin miloni
dominic cooper
dumbo
fargo
fish mooney
frozen 2
genndy tartakovsky
ghostbusters
gotham
green lantern
innoventions
Jamie Foxx
jason voorhees
joe carnahan
josh gad
le fou
leatherface
liam neeson
limitless
lucius fox
lucy lawless
martin scorsese
Marvel
mike tyson
miles teller
mortal kombat x
motorcade
news shotgun
popeye
preacher
prequel
rings
ruben fleischer
sam strike
sdcc 2015
Stallone
star wars
star wars: rogue one
strong
the stopwatch gang
threed days of the condor
tim burton
tron 3
valiant
zoolander 2