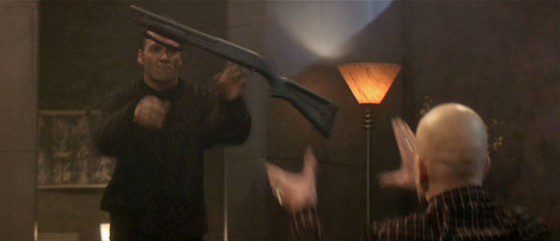 John Wick directors directing Bloodshot movie: The first in what is hopefully going to be a Valiant Comics cinematic universe, Bloodshot is going to be directed by David Leitch and Chad Stahelski, who directed last year's John Wick.  Bloodshot is an enhanced assassin whose body is filled with nanobots, which gives him enhanced senses, strength and make him almost invulnerable to damage.
Hasbro believes Transformers 5 will arrive in 2017: Hasbro CEO Brian Goldner announced during an investors call that he believes Transformers 5 will arrive in 2017.  Mark Wahlberg is expected to return but Michael Bay may have had enough and another director may step in to the series.  Hasbro also wants to create a Marvel style Tranformers cinematic universe starting with 5.
Release date news: Pan, starring Hugh Jackman, has been bumped from July to October this year and Lego Batman, The Lego Movie spin-off, will arrive on February 10, 2017, with Will Arnett returning as Batman.  Warcraft is coming out in June 2016, Pacific Rim 2 is August 2017, The Mummy is out March 2017 and Furious 8 is April 2017.
Wes Craven developing a "People Under the Stairs" series for SyFy: Craven is adapting his 90's horror classic into a new TV series for SyFy that is being described as "Downton Abbey meets The Amityville Horror"
John Ridley hired for a secret Marvel TV project: The 12 Years a Slave screenwriter is "reinventing an existing Marvel character or property" for Marvel/ABC but no word if it's for the spin-off of SHIELD or something new.  On the spin-off side of things, Adrianne Palicki and Nick Blood will star in that show as Bobbi Morse and Lance Hunter, who were introduced in Season 2 of SHIELD.
Lucas Till returning as Havok in X-Men: Apocalpyse: He appeared briefly in Days of Future Past in Vietnam but Lucas Till will return as Havok aka Alex Summers in the upcoming X-Men: Apocalypse.  With his brother, Scott Summers aka Cyclops in the movie as well, he should have slightly more to do.
Bill Pullman and Judd Hirsh returning for Independence Day 2: Pullman will return as Thomas Whitmore, the President of the United States in the first movie, and Hirsch will return as Julius Levinson, the father of Jeff Goldblum's David Levinson.
Sony rebooting The Invisible Man: Sony is rebooting the HG Wells turned Universal classic, The Invisible Man, with Lucy Fisher and Doug Wick on board to produce, who have previously produced The Great Gatsby and the Divergent series.
Traveling Avatar exhibit coming in 2016: A 10,000 square foot traveling exhibit for James Cameron's Avatar will begin traveling around the US in 2016 and feature a number of exhibits around the world of Pandora.  Avatar 2 is supposed to hit in 2017.
Telltale making a Marvel game: The next franchise Telltale will put their patented adventure spin on will be something based on Marvel comics, although it's not clear if it will be based on the comics or the movies.
Adventure Time, Rick & Morty and Venture Bros coming to Hulu:  Hulu is getting the exclusive streaming rights to various Turner properties, including all past seasons of shows like Aventure Time, Rick & Morty, Venture Bros, NTSF, Tim & Eric, Ben 10, Dexter's Laboratory and more.  The Cartoon Network series will be ad free.
I'm like the J. Jonah Jameson of Everything Action, writing and editing and constantly demanding pictures of Spider-Man.
adult swim
avatar
baxter stockman
beauty and the beast
bill pullman
bloodshot
cartoon network
chris milller
common
daredevil
disney
ewan mcgregor
fred armisen
galaxy quest
hasbro
havok
hulu
independence day 2
jack and the beanstalk
james wan
john ridley
john wick
judd hirsch
lucas till
Marvel
mockumentary
muppets
netflix
news shotgun
people under the stairs
phil lord
season 2
sony
spider man
stanley tucci
suicide squad
syfy
telltale games
the entity
the equalizer
the invisible man
transformers
transformers 5
Tyler Perry
vince gilligan
wes craven
x-men: apocalypse
zoolander 2