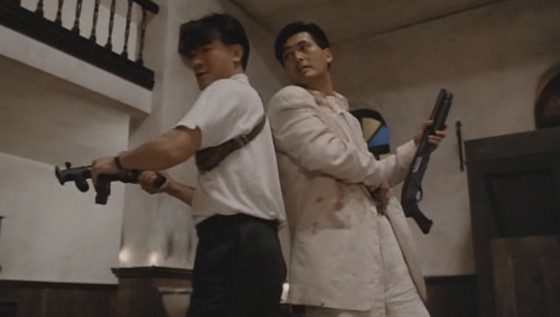 Jaws returning to theaters for 40th Anniversary: The OG summer blockbuster is returning to select theaters on June 21st and 24th.  You can see theaters and buy tickets here: http://www.fathomevents.com/event/jaws-second-showing/more-info/details
Andy Serkis' Star Wars character revealed: Serkis will be playing a character named Supreme Lord Snoke and it will be, not surprisingly, a mo-capped CG character.
Fox developing an Urban Cowboy reboot show: Fox is teaming with the producer of Hustle & Flow to bring back Urban Cowboy to the small screen.  The original movie starred John Travolta and was basically a country western version of Saturday Night Fever.
Chris Pine in talks for Wonder Woman movie: Pine is apparently the top choice for Wonder Woman's love interest, Army officer t Steve Trevor, who is the first outsider to stumble onto the Amazon homeland of Paradise Island.
Fantastic Beasts close to casting two co-starring female characters: Eddie Redmayne has been cast in the Harry Potter spin-off about a "Magizoologist", who writes the magical creatures textbook that is used by students at Hogwarts and now the movie is apparently close to finding two of it's female characters, a pair of sisters named Queenie and Tina.  For Queenie, the shortlist is Saoirse Ronan, Dakota Fanning, Lili Simmons, Alison Sudol and for Tina, the shortlist is Kate Upton, Katherine Waterson and Elizabeth Debicki.
Tilda Swinton in talks for Doctor Strange: Swinton is in talks to play The Ancient One, who would be the magical mentor to Benedict Cumberbatch's Stephen Strange.
Fox planning on rebooting League of Extraordinary Gentlemen: It's been 12 years since LXG caused Sean Connery to quit acting but now Fox seems ready to try again with a reboot of League of Extraordinary Gentlemen.  Originally possibly launching it as a series, Fox is instead going to do a new film.
Vincent D'Onofrio cast as CHIPs villain: Coming off one awesome villain role in Daredevil, Vincent D'Onofrio has been cast as the villain in the upcoming CHIPs remake movie.  Michael Pena and Dax Shepherd are starring as Frank Poncerello and Jon Baker and Shepherd is also directing the movie, which is being compared to Lethal Weapons or Bad Boys.
Robert Rodriguez directing a Johnny Quest movie: Rodriguez will be directing a new take on the adventures of the Quest clan for Warner Bros.
Documentary about George Miller's Justice League movie coming: Much like "The Death of Superman Lives", a new documentary is in the works looking at what happened to Mad Max director George Miller's Justice League movie.  Justice League Mortal was pretty much ready to go, with the cast like Armie Hammer as Batman doing screen tests but the budget and writer's strike caused it to get cancelled.
Hulk Hogan may be the villain of Expendables 4: Hogan has apparently been in talks with Stallone to play the villain of the upcoming Expendables 4.
It remake indefinitely delayed: Director Cary Fukunaga departed the Stephen King remake and it's not clear if New Line is going to try and find another director, leave the project dead or start completely from scratch.  The movie was supposed to start shooting this summer with Will Poulter, of Maze Runner and We're the Millers, playing Pennywise the Clown.
Jaden Smith possibly playing Static Shock: Walking Dead actor Tyler James Williams was doing an interview recently when he off handedly mentioned that he knew Jaden Smith was playing Static Shock.  It would make sense since his dad, Will Smith, is playing Deadshot in the upcoming Suicide Squad movie.
Zombies vs Robots movie gets a screenwriter: Craig Borten, who wrote Dallas Buyers Club, is writing a script for the adaptation of the awesome IDW comic set in a world where robots fight to protect that last remaining human baby from zombies.  Andrew Adamson, who directed Shrek and the first Narnia movie, is signed on to direct.
Rocksteady cast for TMNT 2: WWE Superstar Sheamus will play Rocksteady opposite Gary Anthony Williams as Bebop.
FX Legend Rick Baker retiring: Practical effects master Rick Baker is retiring from working on films at age 64.  He worked on movies like Gremlins, Star Wars, Thriller, American Werewolf in London and more.  He cited the increased use of CG and shrinking budgets for practical effects as the main reasons he decided to retire now.
New Speed Racer series coming soon: Tatsunoko Productions is developing a new anime series of Speed Racer that is targetted for a "modern audience".
I'm like the J. Jonah Jameson of Everything Action, writing and editing and constantly demanding pictures of Spider-Man.
andy serkis
cary fukunaga
chips
chris pine
doctor strange
expendables 4
fantastic beasts
george miller
hulk hogan
It
jaden smith
jaws
johnny quest
justice league
league of extraordinary gentlemen
rick baker
robert rodriguez
rocksteady
sheamus
shortlist
special effects
speed racer
static shock
the force awakens
tilda swinton
tmnt 2
vincent d'onofrio
wonder woman
zombies vs robots