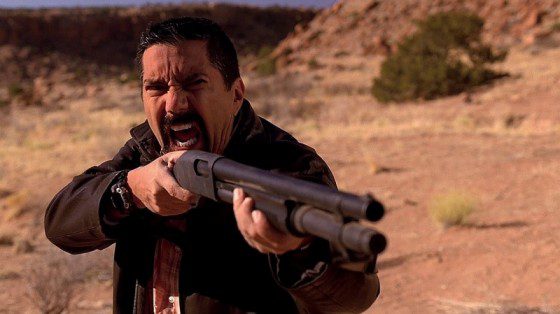 Jon Bernthal cast as the Punisher in Daredevil Season 2: The Walking Dead and Mob City actor will be playing Frank Castle aka The Punisher on the upcoming second season of Netflix's Daredevil.
HBO halts production on David Fincher's 80's music video comedy: Fincher was halfway through production on his comedy set in the world of 1980's music videos, Videosynchrazy.  The show had four or five episodes done but HBO called for a stop in production.
Matthew Vaughn writing Kingsman 2:  Vaughn revealed this week he's working on a script for the sequel to Kingsman and, if it's good enough, he'll get it made.  There's currently no comic book sequel to Kingsman, unlike Mark Millar's other books like Kick Ass.
The Equalizer 2 coming in 2017: Denzel Washington will return to deliver justice as former special ops agent Robert McCall in a sequel to The Equalizer.  The sequel will be out on September 29, 2017 and Richard Wenk, who wrote the first movie, will write the sequel but it's not confirmed if Antoine Fuqua will return to direct.
Spider-Man casting down to three or four contenders: After testing on the set of Captain America: Civil War in Atlanta, the casting for Spider-Man in the MCU is down to three or four contenders, but frontrunner Asa Buttefield is apparently out.  Charles Plummer, Tom Holland, Matthew Linz and Charles Rowe are apparently the ones left in the running.
Chiwetel Ejifor playing Baron Mordo in Dr. Strange: The 12 Years a Slave star will play the classic Dr. Strange villain, who trains at the same time as Strange in the mystic arts but they become enemies when Mordo plots to kill their teacher, The Ancient One (Tilda Swinton in the movie)
RIP Dusty Rhodes: WWE legend Dusty "The American Dream" Rhodes passed away at age 69 this week.  He's a WWE and WCW Hall of Famer and a multi time WWE Tag Team and Heavyweight champion.
Kindergarten Cop getting a direct to DVD sequel: The Arnold comedy classic is getting a sequel, most likely sans Arnold or anyone else involved in the first movie.  In this new movie, John Kimble, or his equivalent, is teamed with an Indian sidekick named Sanjit, who are hunting for a flash drive with critical info on the witness protection program, which somehow ends up in a kindergarten class.
Chris Hemsworth joins Ghostbusters: Thor will be answering the phone for the female Ghostbusters, as director Paul Feig revealed that Hemsworth was cast as the Janine Melnitz equivalent for the upcoming reboot.
Tomorrowland's costing Disney over $100 million: With incredibly polarizing reviews and a vague advertising campaign, Brad Bird's Tomorrowland is struggling at the box office so far and it was revealed this week that the movie will most likely cost Disney over $100 million when all is said and done.  The movie cost $150 million to advertise and $180 million to make and it's made about $170 worldwide so far.
Bradley Cooper producing Hyperion event series for SyFy: Cooper, Todd Phillips and Graham King will produce an adaptation of the two part sci-fi novel series by Dan Simmons, which follows seven characters who are journeying to a time warped tomb for various reasons.  It's basically a sci-fi version of The Canterbury Tales.
Lonely Island movie coming in 2016: The comedy rap trio is coming to theaters next June as Andy Samberg, Jorma Taccone and Akiva Schaffer will star in The Lonely Island movie.  Samberg stars as a rap star named Conner, who has a career setback and has to reunite with his old boy band (Taccone and Schaffer).  Tim Meadows and Sarah Silverman are co-starring, with Judd Apatow producing.
Reboot getting a Reboot: The classic (at least to 90's kids) animated series Reboot is getting a reboot with Reboot: The Guardian Code.  The new show will be a live action/CG hybrid show and follows four kids who learn they are the new Guardians of Mainframe and they must enter the computer world to defend it from various threats.
Boondock Saints prequel TV show in the works: Director Troy Duffy revealed that he's working on a prequel series to the movie series and he will most likely direct the pilot.  The show will obviously be set before the first Saints movie and show the origin of the McManus brothers.  Original stars Sean Patrick Flannery and Norman Reedus may executive produce but will most likely not star.
Cut the Rope movie coming in 2016: Joining fellow app turned movie Angry Birds, Cut the Rope is getting a movie next year. The movie will be called Om Nom and follow a young boy who recieves a mysterious package that turns out to have the game's adorable monster mascot inside and wacky hijinks ensue.
Constantine is completely dead: After being cancelled by NBC, the showrunners on Constantine were trying to find a new home for the DC comics adaptation but it was confirmed early this week that the show is 100% dead and not coming back.  Star Matt Ryan confirmed as well later in the week.
Official synopsis for Batman v Superman: Dawn of Justice:
"Fearing the actions of a god-like super hero left unchecked, Gotham City's own formidable, forceful vigilante takes on Metropolis's most revered, modern-day savior, while the world wrestles with what sort of hero it really needs. And with Batman and Superman at war with one another, a new threat quickly arises, putting mankind in greater danger than it's ever known before."
Joe Carnahan may direct Bad Boys 3: With Michael Bay off in the Transformers Cinematic Universe (*shudder*), one of his other movie franchises may be transferred to other hands, as it seems like Joe Carnahan, director of Smoking Aces, The A-Team, The Grey, Stretch and more, is in talks to direct the long rumored Bad Boys 3.  Carnahan is writing the script with David Guggenheim, who wrote Safe House.
I'm like the J. Jonah Jameson of Everything Action, writing and editing and constantly demanding pictures of Spider-Man.
bad boys 3
baron mordo
batman v superman: dawn of justice
boondock saints
bradley cooper
chiwetel ejiofor
chris hemsworth
constantine
cut the rope
daredevil
denzel washington
dr. strange
dusty rhodes
ghostbusters
hyperion
joe carnahan
jon bernthal
kindergarten cop
kingsman 2
lonely island
matthew vaughn
reboot
spider man
the equalizer 2
the punisher
tomorrowland