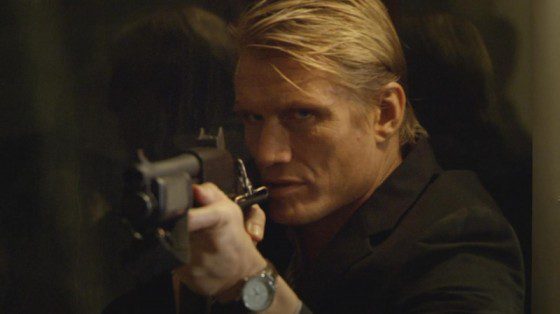 Kojak remake with Vin Diesel moving forward: Universal has been working on a movie remake of the Telly Savalas classic detective show and Vin Diesel has been attached for a while now and the project is moving forward with a new writer, Phillip Gawthorne.  Gawthorne is also working on the Cube remake and has written for a variety of BBC shows.
Tom Hanks playing Sully Sullenberger:  Hanks will play the heroic pilot who performed the incredible landing of his crippled plane in the Hudson River in 2009, saving 155 lives.  Clint Eastwood will be directing the movie about the event,
Soska Sisters hosting game show Hellevator for GSN: The directors of American Mary and See No Evil 2 will host a new horror game show on GSN called Hellevator, which puts a team of contestants on an elevator in an abandoned warehouse and, on each floor, one of them must get out and beat a horrific challenge and get back to the elevator in time before it moves to the next floor.  If they don't make it back in time, they are left behind and out of the running for the prize money, which could be up to $50,000.
Gambit updates: Channing Tatum's entry into the X-Men universe won't be in X-Men: Apocalpyse and instead will be in his solo movie, which will be directed by Rise of the Planet of the Apes director, Rupert Wyatt.
Matthew Vaughn thinking about Kick Ass prequel and sequel: The director mentioned there have been some ideas about a Kick Ass prequel movie starring Hit Girl and Big Daddy and then Kick Ass 3 but comic writer Mark Millar said there's nothing solid, he and Vaughn have been just chatting about various ideas and are working on adapting Millar's Superior at the moment.
Lord and Miller working on new show for Fox: After the brilliant and hilarious Last Man on Earth this past season, Lord and Miller are developing another, just as strange, show for Fox called Son of Zahn.  The show is a live action/animation hybrid that follows an animated barbarian who returns home after 10 years of war to his real life ex-wife and son and must try to reconnect with them.
Telltale working on Michonne mini-series: Much like the previous mini-series, 400 Days, before the proper Season 3 of The Walking Dead game, Telltale will be releasing a mini-series focusing on fan favorite that is set between the events of issues #126 and #139 of the comics.  The series will be 3 episodes and be released sometime this fall.
Eli Roth directing adaptation of Meg:  Roth will be directing the adaptation of Steve Allen's thriller novel, which is about a submarine pilot turned paleontologist who is exploring the Marianas Trench when he and his team encounter a group of Megalodons that have been surviving near the geothermal vents and accidentally allow the creatures to come into the main ocean waters, where the gigantic female causes massive havoc.
Winona Ryder starring in Netflix supernatural series: Formerly called Montauk, the upcoming supernatural mystery show coming to Netflix, from the Wayward Pines team, now has Winona Ryder starring. Ryder plays the mother of a young boy who disappears in the 80's and the investigation by the small town of Montauk, Long Island uncovers a government conspiracy and strange supernatural forces.  No word on when it will drop but it will be 8 episodes.
Bradley Cooper producing, possibly starring, in Ghost Army: Cooper and Todd Phillips are teaming up to produce, and Cooper may possibly star, in a movie called Ghost Army, which is about the US Army's "Deception Unit" during World War II, who created elaborate fake bases, vehicles and intelligence in order to fool the Axis into moving units out of position or attack harmless targets.
Starz orders American Gods TV series: Starz is getting some very interesting shows, with Ash vs Evil Dead and now an adaptation of Neil Gaiman's acclaimed novel, American Gods.  The book follows a man named Shadow Moon, who gets caught up in an impending war between the ancient gods and the new gods who have sprung up around modern day culture.  Hannibal's Bryan Fuller will be the showrunner along with Michael Green.
Kenneth Branagh directing remake of Murder on the Orient Express:  Branagh will take on the Agatha Christie classic with a new version for Fox.  The most widely known film version is the 70's version by Sidney Lument, which starred Sean Connery, Albert Finney, Lauren Bacall, Ingrid Bergman, Anthony Perkins and Vanessa Redgrave and was nominated for six Oscars.  Fox hopes to get a cast of contemporary A-List actors for the new version.
Damian Lewis may be front runner for Bond: The talk of the next Bond after Daniel Craig has been going on for a few years now and apparently, according to a British odds making company, Damian Lewis may be the front runner for Bond.  The Band of Brothers and Homeland star had his odds slashed to a 3/1 chance of being the next Bond.  Idris Elba is also a front runner.
Forest Whitaker joins Star Wars: Rebel One: Whitaker joins Felicity Jones, Riz Ahmed, Diego Luna and Ben Mendelsohn in the first Star Wars Anthology spin-off, which is about the theft of the original Death Star plans by a team of rebels.  Godzilla's Gareth Edwards is directing the movie.
Fantastic Beasts gets female lead: Joining Eddie Redmayne in the world of Harry Potter creatures is Inherent Vice's Katherine Waterson, who will play a witch named Porpetina who meets Redmayne's Newt Scamander on his travels to document and research the various magical creatures of the Harry Potter world.
Halloween getting a reboot: Michael Myers is returning in a new reboot called Halloween Returns.  The movie apparently is not a full on reboot and will have elements and references to earlier films and find Michael Myers in a maximum security prison awaiting execution on death row when some kids looking for revenge sneak in to try and get justice themselves and things go wrong.
Jack Huston leaves The Crow: The Crow reboot needs to go back to the drawing board yet again, as Jack Huston has left the project.  Nicholas Hoult and Jack O'Connell are apparently the two new leads being targetted by the studio.
Amy Poehler and Will Ferrell starring in new comedy: The duo will star as a married couple who open an illegal casino in their home in The House, being directed by Andrew J. Cohen, who also wrote the script and he previously worked on Neighbors.
I'm like the J. Jonah Jameson of Everything Action, writing and editing and constantly demanding pictures of Spider-Man.
american gods
amy poehler
bradley cooper
channing tatum
clint eastwood
damian lewis
eddie redmayne
eli roth
fantastic beasts
forest whitaker
fox
gambit
ghost army
halloween
harry potter
hellevator
idris elba
jack huston
james bond
katherine waterson
kenneth branagh
kick ass
kojak
lord and miller
matthew vaughn
meg
megalodon
michonne
murder on the orient express
neil gaiman
netflix
news shotgun
reboot
rupert wyatt
son of zahn
soska sisters
star wars: rogue one
starz
sully sullenberger
telltale games
the crow
the house
the walking dead
tom hanks
vin diesel
wayward pines
will ferrell
winona ryder
world war II