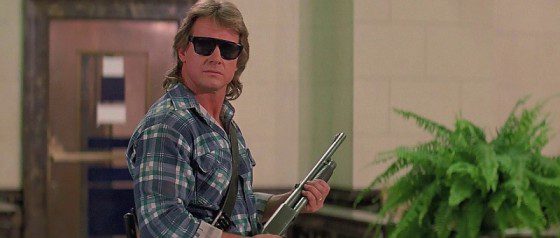 RIP Rowdy Roddy Piper: The They Live star and WWE legend passed away at age 61 this week.  Hot Rod started what was the first "talk show" segment during his time in the WWF with Piper's Pit, where all sorts of wacky hi-jinks happened when he interviewed his fellow wrestlers and along with starring in They Live, also starred in the cult classic "Hell Comes to Frogtown".
Jason Sudeikis starring on Son of Zorn: Lord & Miller's new show joining their excellent Last Man on Earth on Fox has it's star with Jason Sudeikis, who will voice the animated barbarian Zorn, who returns home after ten years of raiding and pillaging to his live action family.  Cheryl Hines, Tim Meadows and Artemis Pebdani also joined the show this week.
The Crow remake put on hold: With the studio behind it, Relativity Media, going bankrupt, the remake of The Crow is on hold, with all pre-production at Pinewood Studios halted.  It was extremely troubled in pre-production, going through multiple directors and stars.
Adi Shankar making directing debut with superhero project: The producer of Power/Rangers and Punisher: Dirty Laundry is making his directing debut with Gods and Secrets.  Inspired by things like Watchmen, the movie will follow superheroes who form The Guardians of Justice who are struck by a tragedy and must deal with the aftermath.  Jane Seymour, Diamond Dallas Page, Kellan Lutz, Denise Richards and Jackson Rathbone are starring.
Neil Marshall directing new sci-fi movie: Neil Marshall has been involved with tons of TV as of late, directing some of the biggest episodes of Game of Thrones and kicking off Hannibal's Red Dragon arc but he's going back to film soon with The Sentence, which is being described as a "futuristic revenge thriller in the vein of Death Wish".
Wonder Woman starts shooting this fall: The solo Wonder Woman movie starring Gal Gadot and Chris Pine will begin shooting this fall with director Patty Jenkins behind the camera.  There's still no details about what the plot will be, or even what her role in Batman v Superman will be for that matter.
Five Nights at Freddy's movie gets a director: The director of the recent Poltergeist movie, Gil Kenan, will take the reigns of the adaptation of the insanely popular video game where you must survive the night as the guard of a Chuck E. Cheeseesque pizza place/arcade where the animatronics come to life and want to kill you.
Shaft reboot gets new writers: The Shaft reboot has gotten Kenya Barris, creator of Black-ish, and Alex Barnow, writer and executive producer of The Goldbergs, have been hired to write the screenplay, which if you couldn't tell by their credits, will be an action/comedy take on the world's greatest private dick.
Nosferatu getting remade: Production company Studio 8 is prepping a remake of the vampire classic, from which all vampire movies trace back to, Nosferatu, with indie horror director Robert Eggers hired to write and direct the movie.
Michael Douglas not signed on for any Ant-Man sequels: Unlike most every other actor in the MCU, Michael Douglas apparently does not have a multi-film deal with Marvel, so it's not guaranteed that he'll show up in any future movies.
Tommy Lee Jones co-starring on Bourne 5: It seems like Jason Bourne may be up against Tommy Lee Jones in the upcoming Bourne 5, as Jones has been cast as a "high ranking CIA official" which seems to place him in the same role as former antagonists like Ed Norton, Chris Cooper and Brian Cox.  Viggo Mortensen is rumored to also be in talks for a villain role and Ex Machina's Alicia Vikander will co-star in a mysterious role.  Paul Greengrass is back to direct and it's supposed to be out next Summer.
Mark Hamill confirmed to voice The Joker in The Killing Joke: Arguably the greatest Joker will return for the animated adaptation of arguably the greatest Joker story, The Killing Joke.  Hamill most recently voiced The Joker in Arkham Knight.  Animated Batman Kevin Conroy is rumored to be pretty much confirmed to be voicing Batman in The Killing Joke as well.
Ed Sheeran cast as a regular on The Bastard Executioner: Pop star Ed Sheeran will be a regular on Kurt Sutter's upcoming grim and gritty medieval drama The Bastard Executioner as Sir Cormac, the ambitious and deadly protege of a high ranking church elder. Stephen Moyer is starring in the title role and Katey Sagal, Lee Jones and Flora Spencer-Longhurst will co-star.
TV shows ending after next season: Two shows announced they will be ending after their upcoming seasons with Key & Peele ending with it's fifth season and Da Vinci's Demons ending with it's third season.
I'm like the J. Jonah Jameson of Everything Action, writing and editing and constantly demanding pictures of Spider-Man.
adi shankar
ant man
bourne 5
da vinci's demons
ed sheeran
five nights at freddy's
gil kenan
gods and secrets
jason sudeikis
key & peele
mark hamill
michael douglas
neil marshall
news shotgun
nosferatu
RIP
robert eggers
rowdy roddy piper
shaft
son of zorn
the bastard executioner
the crow
the joker
the killing joke
tommy lee jones
wonder woman