Everything Actioncast Ep 268 "Fantastic Baywatch Nights"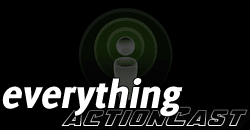 This week on the Everything Actioncast, Zach, Chris and Joe talk about the terrible plot points of the new Fantastic Four, the insanity of Baywatch Nights, True Detective Season 2, the latest from Tarantino, robot theme parks and much more.
News: Westworld, The Hateful Eight and Trumbo trailers, Constantine will appear on Arrow,  The CW developing a Friday the 13th show, Zach Galifinakis is the Lego Joker, Zac Effron joins The Rock in the Baywatch movie, will be R rated, Bill Murray will cameo in the new Ghostbusters, possible teams for Civil War, Hansel and Gretel 2 on the way with a new director, James Wan producing a new Mortal Kombat movie, Archer moving to FXX, being joined by new Adam Reed show, Cassius and Clay.
Show and Tell: Zach saw Fantastic Four, finished Wet Hot American Summer: First Day of Camp and True Detective Season 2, Maggie, Pound of Flesh and War, Joe saw Let's Be Cops and Chris saw Mission Impossible: Rogue Nation.
We want to hear your comments and feedback. Send them all to [email protected]. Also, be sure to subscribe, rate and review us in the iTunes music store (just do a search for Everything Action in the store) and follow us on twitter @evaction, Facebook (www.facebook.com/everything.action) and Tumblr (everythingaction.tumblr.com)
Podcast: Download (Duration: 1:37:34 — 89.3MB)
archer
arrow
baywatch
bill murray
captain america: civil war
cassius & clay
chris
constantine
episode
Everything Actioncast
fantastic four
friday the 13th
fxx
ghostbusters
hansel and gretel 2
james wan
joe
lego joker
let's be cops
maggie
mission impossible: rogue nation
mortal kombat
podcast
pound of flesh
the CW
the hateful eight
the rock
true detective
trumbo
war
westworld
wet hot american summer: first day of camp
zac effron
zach
zach galifinakis