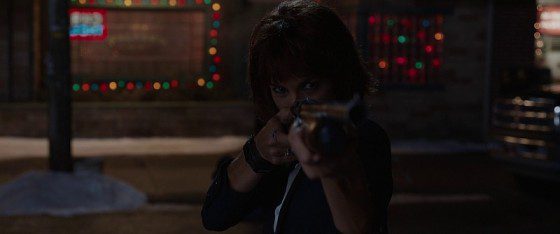 Red getting an NBC series: Based on the movie series (which was in turn based on the comic), NBC is bringing Red to TV.  Saying it will be slightly more grounded than the movies, the show will focus on "a more grounded and authentic world, focusing on the characters' darkly hilarious struggles to survive civilian life as they simultaneously fight for and against the very organization that threw them out"
Cobie Smulders joins Jack Reacher 2: The once and future Maria Hill is joining Tom Cruise in the sequel to Jack Reacher, which is set to start shooting this November.  She'll play a character named Danika, who seems like she will be springboard for Reacher's next case.
NBC getting Powerless, set in the DC universe: NBC is trying again to get a DC comics show to stick after Constantine failed last year.  Powerless is being described as "The Office plus superpowers" and it will feature, as of yet unnamed, DC superheroes and/or villains.
Training Day getting a series at CBS: The classic Denzel Washington/Ethan Hawke movie is getting turned into a series at CBS.  It's not clear if it will have the same characters as the movie or just have a similar premise of an older cop showing a younger cop the ropes.
Patrick Stewart joins Wolverine 3: Sir Patrick will join Hugh Jackman in his final Wolverine movie as Professor X, who will have more than just a cameo appearance in the movie.  The rumor is that this movie will be a version of the Old Man Logan storyline.
This is the End and Halloween mazes coming to Halloween Horror Nights: If you are less into scares (but are still going to Halloween Horror Nights at one of the Universal parks for some reason), there will be a maze that is based on the hilarious This is the End.  Universal also announced there would be a maze based on the original Halloween and be a 1963 neighborhood decorated for Halloween.
Xena reboot confirmed to be in the works at NBC: NBC chairman Bob Greenblatt confirmed that they are in the early stages of developing a Xena reboot.  Lucy Lawless may appear but it seems like they are looking to cast a new Xena.
NBC may develop an ALF reboot: If the upcoming Coach reboot does well, NBC may move forward with bringing back ALF next.  This would actually make a little bit of sense because they could resolve the insane cliffhanger of the series where ALF is seemingly captured by the government.
Sesame Street moves to HBO: In the fall, new episodes of Sesame Street will air first on HBO and then arrive a few months later on PBS. This new deal will allow PBS to get the episodes completely free and HBO is developing several other projects around the series.
Will Smith developing a Fresh Prince reboot: Smith is apparently in the early stages of developing a present day take on Fresh Prince but it's not clear if it will be a full reboot or if it will pick up the characters in the present day a la Fuller House, the aforementioned Coach or Girl Meets World.
Dolph Lundgren shooting Kindergarten Cop 2 right now: Dolph is taking over for Arnold in the sequel to Kindergarten Cop, shooting as we speak.  Lundgren goes undercover as a teacher to find a missing flash drive that has sensitive information about where everyone in the witness protection program are hiding.
David Oyelowo playing Bond in a new Audiobook: Oyelowo will play Bond in a new audiobook, Trigger Mortis.  This possibly might be a testing of the waters to see if the world is ready for the Broccoli family's first pick for Daniel Craig's successor, Idris Elba.
Deadwood movie in early talks at HBO: The acclaimed western may return to HBO for a movie finale as apparently "preliminary" talks are started with show creator David Milch.
Rutina Wesley playing Lady Cop on Arrow: Currently playing the love interest of The Red Dragon on Hannibal, Rutina Wesley will head to Star City next to play Lady Cop aka Liza Warner, who seems will be part of an anti-vigilante task force in Season 4 of Arrow.
Capcom making an HD remake of Resident Evil 2: Capcom will be creating a brand new, HD remake of Resident Evil 2.  Resident Evil 1 was remade at least once with a Gamecube version shortly after Resident Evil 4 hit the console.
Zach Galifinakis playing Lego Joker: Facing off against Will Arnett's Batman and Michael Cera's Robin will be Zach Galifinakis as Joker.  The Lego Batman movie will arrive in 2017.
The Last Ship and Rick & Morty renewed: TNT renewed their viral outbreak action series for a third season and Adult Swim renewed Rick & Morty for a third season as well.
CW developing a new Friday the 13th: The CW is developing a new Friday the 13th series, with the showrunners behind the 90's show, The Pretender, working on the script.  This new series is apparently going to try and be a more "grounded take"  on Jason.
Constantine joining Arrow next season: Despite his show being cancelled, Matt Ryan's Constantine will return on season 4 of Arrow in the fall to help Team Arrow with a case involving dark magic in a one-shot episode.
Tom Hardy producing a movie version of 100 Bullets: Hardy may also star as well in the movie version of the comic, which follows a mysterious man who finds people who have been wronged and gives them a chance at justice by giving them an untraceable pistol and 100 bullets.
Twin Peaks starts production in September: After some back and forth negotiations, David Lynch will start production on his continuation of Twin Peaks in September.  The show will air on Showtime.
Martin Scorsese and Leonardo DiCaprio teaming back up: The duo are bringing us crime thriller "Devil in the White City", where DiCaprio plays a serial killer who stalks the attendants of the 1893 World's Fair in Chicago.
Young Ned Stark cast in Game of Thrones Season 6: Season 6 of Game of Thrones will feature at least one flashback to the past as Sebastian Croft has been cast as a young Ned Stark, played in season 1 by Sean Bean.  Season 5 featured the show's first flashback, showing a young Cersei being given a prophesy by a witch.
Zac Efron joins The Rock in Baywatch: Efron will play the younger, crazier lifeguard to The Rock's older, more serious lifeguard.  The Rock promised recently that this Baywatch movie is going to be R rated and crazy.
HBO passes on both David Fincher projects: Fincher has two projects at HBO that are apparently done.  Utopia was a remake of a British series and Video Synchronicity, which was about the world of 80's music videos.
I'm like the J. Jonah Jameson of Everything Action, writing and editing and constantly demanding pictures of Spider-Man.
100 bullets
alf
arrow
baywatch
capcom
cbs
cobie smulders
constantine
david fincher
david lynch
david oyelowo
deadwood
devil in the white city
dolph lundgren
fresh prince
friday the 13th
game of thrones
halloween
HBO
jack reacher 2
james bond
kindergarten cop 2
lady cop
lego joker
leonardo dicaprio
martin scorsese
nbc
ned stark
patrick stewart
powerless
red
resident evil 2
rick & morty
rutina wesley
sesame street
the last ship
the rock
this is the end
tom hardy
training day
twin peaks
will smitih
wolverine 3
xena
zac efron
zach galfinakis