Everything Actioncast Ep 269 "The Man from D23"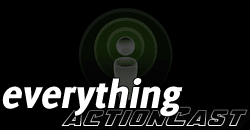 This week on the podcast, Zach, Chris and Joe talk about the massive expansions coming to the Disney parks, some sad recent deaths, Zorro, the end of Alf, human/cartoon relations in Cool World, Vince Vaughn and more.
News: RIP Yvonne Craig, Lenny Robinson and David Prior, Victor Frankenstein and Ride Along 2 trailers, The Rock starring in Jungle Cruise movie, Star Wars and Toy Story expansions coming to the Disney parks, Rogue One expands cast, Colin Trevorrow directing Episode IX, Will Turner and Barbossa returning in Pirates 5, post-apocalyptic Zorro in development, Red getting a TV series on NBC, Xena reboot is in development, Alf may come back, Will Smith working on a Fresh Prince reboot, Dolph Lundgren starring in Kindergarten Cop 2, Jack Reacher 2 shooting in November, Cobie Smulders co-starring, This is the End maze coming to Halloween Horror Nights.
Show and Tell: Joe started rewatching Prison Break and watched Left Behind and Unfinished Business, Chris watched Cool World and Candyman and Zach watched The Lazerus Effect, New Nightmare and The Man from UNCLE.
We want to hear your comments and feedback. Send them all to [email protected]. Also, be sure to subscribe, rate and review us in the iTunes music store (just do a search for Everything Action in the store) and follow us on twitter @evaction, Facebook (www.facebook.com/everything.action) and Tumblr (everythingaction.tumblr.com)
Podcast: Download (Duration: 1:49:32 — 100.3MB)
alf
barbossa
candyman
chris
cobie smulders
colin trevorrow
cool world
D23
david a prior
disney
dolph lundgren
episode
episode IX
Everything Actioncast
fresh prince of bel air
halloween horror nights
jack reacher 2
joe
jungle cruise
kindergarten cop 2
left behind
lenny robinson
nbc
new nightmare
november
podcast
Prison Break
red
ride along 2
rogue one
star wars
the lazerus effect
the man from UNCLE
the rock
this is the end
toy story
unfinished business
victor frankenstein
vince vaughn
will smith
will turner
xena
yvonne craig
zach
zorro