Battle at the Box Office 8/24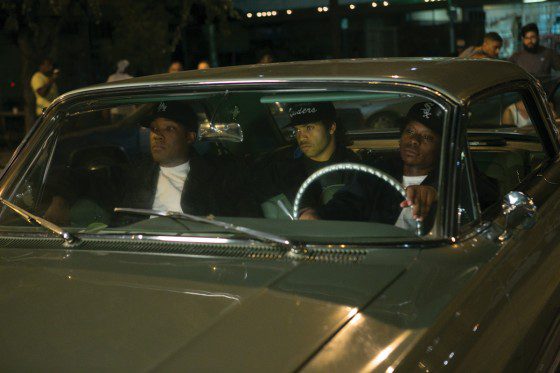 Straight Outta Compton continued to dominate at the box office thanks to basically zero competition from the new movies.  Compton fell about 56% from it's opening weekend but took in another $26.8 million, putting it over $111 million for it's two weeks out.  It also expanded to 268 theaters over the weekend.
Mission Impossible: Rogue Nation stayed in second with another $11.7 million, putting it over $157.7 million for it's four weeks out.  It's currently still fourth in the MI series as far as total gross goes, between MI 1 and MI 3.
Sinister 2 took a weak third place with $10.6 million, well below the first Sinister's $18 million opening and it's 16th as far as the movies coming out Blumhouse Productions, barely topping The Lazerus Effect from earlier this year and also doing worse than all three Insidious movies.  It did do better than last month's The Gallows.
Hitman: Agent 47 took fourth place, also well below the first film, with $8.1 million.  The Timothy Olyphant starring Hitman took in $13 million on it's opening weekend.
The Man from UNCLE rounded out the top 5 with $7.4 million, putting it over $26 million for it's two weeks out.
American Ultra crashed and burned with a sixth place opening and $5.5 million, worse than the last Eisenberg/Stewart collaboration, Adventureland.
In the weekly Fantastic Four trainwreck report, the movie barely stayed in the top 10, going from fourth to tenth with $3.7 million, putting it just over $49 million for it's three weeks out and it's barely crossed over $100 million worldwide thanks to opening in some of the bigger international markets but Fox is still apparently going to lose at least $60 million on this disaster.
Speaking of international news, Terminator: Genisys got a huge boost from China, where it made more on it's first day there than it's entire opening weekend here in the states.  It was the fourth best opening in China and it could potentially make enough there to get another entry in the series made.
I'm like the J. Jonah Jameson of Everything Action, writing and editing and constantly demanding pictures of Spider-Man.
Battle at the Box Office
fantastic four
hitman: agent 47
mission impossible: rogue nation
sinister 2
straight outt a compton
terminator genisys
the man from UNCLE