Going to NYCC? Party Like a Vampire!
By Joe
Ok, this is the coolest thing we've seen in a long time…
Our pals at BBQ Films are bringing the blood-drenched vampire rave from the first Blade movie to life. But they're not stopping there… They're bringing out the big guns for this one.
Blood? Check. Booze? Double check. Mid-to-late 90s techno icons? You bet your fangs…
If you plan on going to New York Comic Con this year… Plan on going to the BBQ Films Blade Rave.
Here are the details, via BBQ Films:
BBQ FILMS PRESENTS: BLADE RAVE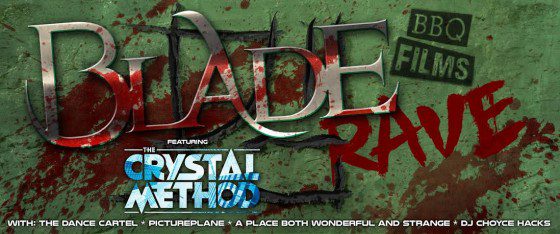 A BBQ FILMS IMMERSIVE CINEMATIC EVENT WITH THE CRYSTAL METHOD  AND OTHER GUESTS AND THE 1998 FILM BLADE
FRIDAY, OCTOBER 9TH TERMINAL 5 / MANHATTAN, NEW YORK
One hour after sundown on October 9th, BBQ Films is bringing another movie to life. This time, BBQ Films invites you to walk into the opening rave scene of the 1998 classic vampire movie, BLADE, for the BLADE RAVE. And now, the lineup can be revealed…
The BLADE RAVE headliners are none other than celebrated electronic artists THE CRYSTAL METHOD. Scott Kirkland and Ken Jordan took US dance music to new heights long before anyone in the mainstream had heard of EDM, and they'll be bringing their blood-pumping music to Terminal 5 in October. The BBQ Films crew can think of no better act to bring you into the world of the movie — they in fact contributed to the BLADE II soundtrack, and have appeared on dozens of television and film soundtracks since.
The Crystal Method will be joined by other musical acts, including Pictureplane, a place both wonderful and strange, and DJ Choyce Hacks. There will also be a very special BLADE RAVE performance from immersive dance collective The Dance Cartel.
BBQ Films and all the performers invite you to step into Deacon Frost's vampire underworld this October: The time has come. Vampires have lived in the shadows long enough. Sharpen your fangs. And plan to wear something that you don't mind getting a little bloody…
BLADE RAVE is the latest in a series of 19 events hosted by BBQ Films that brings cult classic films to life. Other movies that have received BBQ Films treatment include E mpire Records (Rex Manning Day), Weekend at Bernie's (Weekend at Bernie Jr's, with Bernie himself, Terry Kiser), B ack to the Future  (BACK TO the Enchantment Under the Sea Dance) Teenage Mutant Ninja Turtles (The Fall Foot Clan Tryouts), The Fifth Element (Holiday on the Fhloston Paradise), Dazed and Confused  ( Party at the Moon Tower), Zoolander  ( Derelicte the Fashion Show), and American Psycho (Patrick Bateman's 27th Birthday Party).
What:
BLADE RAVE
When:
Friday, October 9th, 8.30p (doors 7.30pm)
Where:
Terminal 5 / 610 W 56th St, New York, NY 10019
Tickets:
Early bite Tickets are sold out. Regular tickets are now available at a cost of $56 for Vampires and Familiars / $108 for Purebloods, with a portion of proceeds going to charity (TBA in advance of the event).
All ticket levels will bring you into the world of BLADE, with the immersive cinematic detail that guests have come to expect from BBQ Films. All tickets include a screening, live music and performances, a limited-edition event poster, and more. Purebloods get the special treatment they deserve as centuries-old royalty, including access to private areas, unique performances, and special one-of-a-kind gifts. Together, we raise the blood god.
MUST BE 21 OR OLDER (WITH ID) TO ATTEND
Ticket link: http://www.bbqfilms.com/project/blade-rave/ 
I'm Joe, a chaotic amalgamation of manly characteristics who still regrets not officially declaring "SMASH!" as his major in college. An action addict, I seek to entertain and inform. I write things too.
BBQ Films
blade
Marvel
NYCC