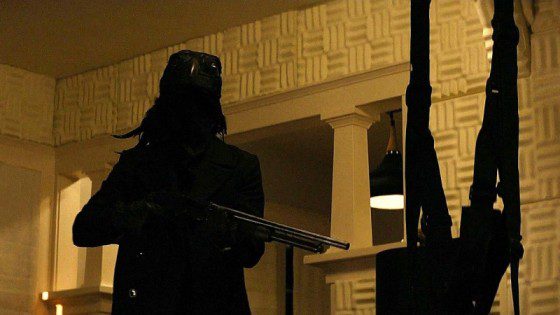 Denzel Washington starring and directing HBO film based on Fences: Denzel has apparently signed a deal with HBO to adapt the August Wilson play Fences into a movie for the network, which Washington will direct and star in.  The play follows an African-American baseball player who is denied from joining the MLB in the 50's and must now support his family as a garbage man.  Washington may adapt other Wilson plays for HBO after Fences.
Jason Statham coming to TV with Viva La Madness: Originally going to be a movie, the sequel to Layer Cake with Statham taking over for Daniel Craig is now being reworked as a TV show with Statham starring.  The show finds the unnamed protagonist of Layer Cake in the Caribbean itching for another score.  No network has been named yet.
Possible shortlist of Tomb Raider directors: The list of possible directors for a new version of Tomb Raider is rumored to include Kathryn Bigelow, Catherine Hardwicke and Mimi Leder.  This new movie is most likely to be influenced by the the current relaunched series, which has Rise of the Tomb Raider hitting this fall.
Booster Gold/Blue Beetle movie rumored in development: According to El Mayimbe at Heroic Hollywood, Greg Berlanti, producer of Arrow/Flash, is going to be producing a movie based on the duo of Booster Gold and Blue Beetle.  Booster is a time traveler from the 25th century who comes back to our time and uses his future tech to become a superhero and he teams up with nerdy inventor who become a superhero with various gadgets.  Zak Penn, who wrote X2 and The Avengers, is apparently being eyed to write the script.
Pacific Rim 2 delayed at WB: Although it seemed like earlier in the week that the movie might be cancelled, Guillermo Del Toro has said they are still moving forward on the movie but it will be delayed and he may work on another film in between.  WB recently got Skull Island, the King Kong prequel, and they are setting up a three movie series that will include Godzilla 2 and then a team up/battle movie between the monsters.
NBC orders a Taken prequel show: NBC has ordered a show from producer Luc Besson that will follow the early CIA adventures of Liam Neeson's Bryan Mills, although Neeson will almost assuredly not be in the show.  The show will go straight to series and as showrunner and writer are currently being looked for.
Scott Glenn returning as Stick for Daredevil season 2: Matt Murdock's mysterious martial arts master will return for three episodes of next year's second season of Daredevil.
Xander Berkeley joins Walking Dead: The former 24 co-star will be a recurring character on the upcoming sixth season of The Walking Dead, but not as comic villain Negan, who fans believe is very close to arriving on the show.
Animated Cybertron movie coming from Dreamworks: Dreamworks announced as part of their massive Transformers universe an animated prequel that will detail the origins of the planet Cybertron.  Transformers 5 is also apparently going to begin shooting soon but Michael Bay is not committed to directing yet.
Bryan Singer directing 20,000 Leagues Under the Sea reboot: There's been a few projects in the works trying to bring 20,000 Leagues Under the Sea back to the big screen and now Bryan Singer has revealed he will be directing an adaptation for his next project after X-Men: Apocalypse.
Pete Holmes starring in Judd Apatow HBO show: Holmes will star as an exaggerated version of himself for a new HBO show called Crashing that is being produced, and the pilot directed by, Judd Apatow.  The show follows Holmes as a stand up who crashes on the couches of his various funny friends after his wife divorces him.
The Mist getting a TV series: The Weinstein Company is attempting to bring a new version of Stephen King's short story to the small screen with a new TV series.  Frank Darabont adapted the story into the brilliant 2007 film with Tom Jane and the show will expand the plight of the townspeople of a small town in Maine who are trapped in a supermarket by a mysterious fog that contains deadly, otherworldly creatures.
Liam Neeson starring in The Revenger: Neeson will star in the action/comedy The Revenger, directed by Ruben Fleischer and written by Tom Lennon and Robert Ben Garant.  There are not really any details but based on the comedy chops at the helm and the title, it seems like it might be a parody of Liam Neeson's current string of revenge based action movies like the Taken trilogy.
Elizabeth Banks may direct a reboot of Charlie's Angels: Banks is apparently in talks to direct a new movie version of the classic 70's show Charlie's Angels.  Banks directed Pitch Perfect 2 this summer, which was one of the highest grossing movies of the summer.  ABC tried and failed horribly to reboot Charlie's Angels on TV a year or two ago.
In the Line of Fire getting a TV series: The Clint Eastwood thriller is getting turned into a TV show at NBC.  The series will have the same ongoing plot of an assassin targeting the President but the main Secret Service partners, a man and a woman, will be investigating other cases as well.
Behind Enemy Lines getting a TV series: The Owen Wilson action movie that spawned two sequels will be becoming a TV show at Fox.  The show will follow a pilot who is shot down over a Latin American  country and must escape before getting captured by the country's military.
Evel Knievel biopic may be on the way from Darren Aronofsky: The Wrestler and Black Swan director may be directing a biopic based on the legendary stuntman Evel Knievel.  Channing Tatum may be in talks to star as Knievel.  There's a documentary based around Knievel either out now or coming soon that features interviews with people like Tatum, Johnny Knoxville and more.
Nickelodeon launching 90's network called The Splat: Nickelodeon is launching a new network based all around their 90's shows like Rugrats, Hey Arnold, Ren & Stimpy and more.  The network is called The Splat and is launching soon.
Arnold is the new host of The Celebrity Apprentice: Our patron saint will take over the reigns of Celebrity Apprentice from Donald Trump for the season that will most likely premiere in 2016.
Snowden pushed to 2016: Supposed to come out on Christmas Day, the Edward Snowden biopic with Joseph Gordon-Levitt starring has been delayed to an undetermined date in 2016 by Open Road.
Michael Fassbender definitely back for Prometheus 2: One of the first confirmed returning cast members for Prometheus 2 is Michael Fassbender, who director Ridley Scott said is returning as the android David, who was last seen as a head in a bag heading with Dr. Elizabeth Shaw to the homeworld of the Engineers.
Rachel McAdams co-starring in Doctor Strange: McAdams will co-star with Benedict Cumberbatch in the upcoming Marvel movie Doctor Strange.  McAdams' role was not revealed but the rumor is that she may be playing Clea, a student and eventually magical equal to Strange.
Disney making a sequel to Mary Poppins: Rob Marshall is apparently in talks to direct a sequel to the classic 1964 Disney version of Mary Poppins.  The new movie will follow Mary returning to visit the Banks family in Depression-era London.  Emily Blunt is apparently Disney's first choice for the new Mary.
Woody Harreslon is the main villain of War of the Planet of the Apes: Harrelson will take over from Gary Oldman as the main human antagonist of the upcoming third Apes movie, directed by Matt Reeves.  Based on the title and the end of Dawn of the Planet of the Apes, I'm assuming Harrelson will play some sort of military leader up against Caesar and his ape army.
Lego Dimensions voice cast revealed: Lego Dimensions is pulling in the voice talents of all it's various properties as the game will feature Michael J. Fox and Christopher Lloyd for Back to the Future, Chris Pratt, Elizabeth Banks, Alison Brie and Charlie Day for The Lego Movie, Peter Capaldi and Jenna Coleman for Doctor Who, Christ Pratt, Bryce Dallas Howard and Irrfan Khan for Jurassic World, Stephen Merchant and Ellen Mclain for Portal and Matthew Lillard and Frank Welker for Scooby Doo.  Joel McHale will also voice your robotic guide, X-PO and Gary Oldman is the main villain, Lord Vortech.
Novel Time After Time becoming an ABC show: The sci-fi novel by Karl Alexander is being adapted into a TV show at ABC.  The book follows author HG Wells, who actually invents the Time Machine he wrote about, and is showing it to a group of assembled friends, one of whom is secretly the infamous Jack the Ripper.  Jack steals the machine and jumps into the future to 1979 and Wells, after the machine returns as designed, goes into the future to find and stop Jack before he goes on another killing spree.  Kevin Williamson, of Scream and The Following, will be writing and producing the show.
000 leagues under the sea
20
arnold scharwzenegger
behind enemy lines
blue beetle
booster gold
bryan singer
charlie's angels
cybertron
daredevil
darren aronofsky
denzel washington
doctor strange
elizabeth banks
evel knievel
fences
hg wells
in the line of fire
jack the ripper
jason statham
Judd Apatow
kathryn bigelow
lego dimensions
liam neeson
michael fassbender
nbc
news shotgun
nickelodeon
pacific rim 2
pete holmes
prometheus 2
rachel mcadams
scott glenn
snowden
stick
taken
the celebrity apprentice
the mist
the revenger
the splat
the walking dead
time after time
tomb raider
transformers
viva la madness
ware of the planet of the apes
woody harrelson
xander berkely