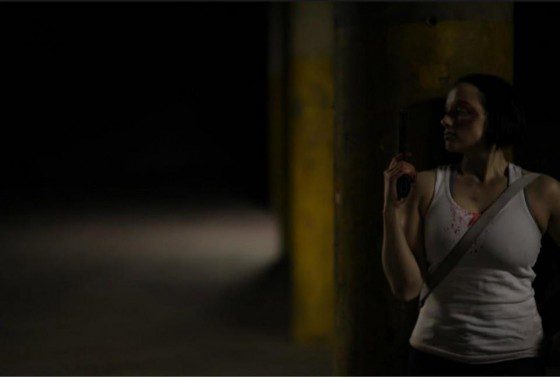 Even though it seems like a fairly straightforward concept, most vigilante movies try and fail to reach the bar set by Death Wish.  Even The Punisher, arguably the greatest vigilante in pop culture, has not really gotten a good adaptation to the big screen.  For basically no money though, husband/wife team Guy and Dana Patton have delivered a solid entry into the genre with Pearl.
After her family is brutally murdered, a woman named Pearl (Dana Patton) goes on a crusade to take down the various scumbags and criminals in the NYC/Jersey City area.  Her latest target is a drug dealer named Tre (Justin Brown), who is using teddy bears to spread meth.  Pearl captures Tre's main cook, Erik (Scott Morales), who reluctantly gives up info on Tre's operation.  There's also a detective, John Wyatt (George Morafetis), who investigated the murder of Pearl's family and Daniel (Jeff Kim), a local priest who is Pearl's only ally.  The movie doesn't waste any time filling in any background info and trusts that you'll pick it up through context.  We don't see Pearl training or gathering weapons but we learn she's been at it for years thanks to dialogue from Daniel and Wyatt.  The main plot is simple but effective, as Pearl unravels Tre's operation on the way to face off with him.  The movie is also self aware and makes references to other movies, like the aforementioned Death Wish.
With the budget in mind, the action is well done, although the shootouts are done slightly better than the hand to hand segments.  The action sequences in general are fairly short, but effective.  There's some fun creative ways Pearl interrogates people, including lots of duct tape and an electric iron.  Dana Patton is great portraying the icy detachment Pearl has developed since the murders but you slowly see it crack as the movie goes on.  Justin Brown is excellent as Tre, especially his introduction where he is getting ready for work with his girlfriend and it ends in a way you do not expect.  Scott Morales offers up some fun comic relief as Erik, who becomes more and more freaked out as the movie goes on and he gets deeper and deeper into Pearl's mission.
If you are looking for a solid vigilante movie that pays homage to classic like Death Wish, Pearl is definitely worth checking out, especially considering that it's entirely independently made.  It's on VOD and DVD now and you can get more details at www.pearlfilm.com
[rating=4]
I'm like the J. Jonah Jameson of Everything Action, writing and editing and constantly demanding pictures of Spider-Man.
charles bronson
dana patton
daniel
death wish
drug dealers
erik
george morafetis
gritty
guy patton
jeff kim
john wyatt
justin brown
NYC
pearl
Reviews
scott morales
the punisher
vigilante